Vietnam Projects & Programs
As of January 1, 2013, Vietnam's portfolio consisted of 46 active IDA/IBRD investment and development policy operations totaling US$6.15 billion and US$1.87 billion in net IDA and IBRD commitments, respectively. The portfolio concentrates on infrastructure, including transportation and urban development, rural development, energy, water resources management, public administration reforms, finance, education, health and social services, and environment.
LENDING
Vietnam: Commitments by Fiscal Year (in millions of dollars)*
*Amounts include IBRD and IDA commitments
FEATURED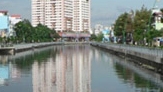 The newly transformed and clean waterway under the Ho Chi Minh City Environmental Sanitation Project helps over 1.2 million people have better sanitation conditions. Read More »

25 percent
less than a man. That's what the average Vietnamese woman gets paid.