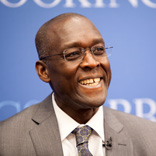 Vice President, Africa
Makhtar Diop
has served as the World Bank's Vice President for Africa since May 2012.
Under his leadership, the World Bank Group committed a record-breaking $15.3 billion to Sub-Saharan Africa in FY2014 to help tackle development challenges such as increasing food security and agricultural productivity; improving access to affordable, reliable, and sustainable energy, creating economic opportunities for Africa's youth; and responding quickly and effectively to emergency situations such as the recent Ebola epidemic.
Before taking up this position, Diop was World Bank Country Director for Brazil, based in Brasilia, between January 2009 and April 2012; he previously held the positions of Director of Strategy and Operations, and Sector Director for Finance, Private Sector and Infrastructure, both in the Latin America and the Caribbean Region. Between 2002 and 2005, Mr. Diop was the Bank's Country Director for Kenya, Eritrea, and Somalia, based in Nairobi.
Before joining the World Bank, Mr. Diop worked at the International Monetary Fund, focusing on the Central African Republic. He also served as Minister of Economy and Finance of Senegal.
In 2014,
Jeune Afrique
named him "one of the 50 most influential Africans."
Makhtar Diop is married and has two sons. He's fluent in four languages: English, French, Portuguese and Wolof.
Follow him on Twitter:
@Diop_WB
Listen More Closely to Africa's Voice on Climate Change, Septembrer 22, 2014
Powering Science and Technology for Africa's Economic Transformation, May 20, 2014
More Irrigation and Pastoralism Could Transform Africa's Sahel Region, October 28, 2013
Securing Africa's Land for Shared Prosperity, July 23, 2013