Farmer-led Irrigation Development (FLID) is the process where farmers, alone or as a collective, take the lead in the establishment, improvement, or expansion of irrigated agriculture. Characteristically, farmers who autonomously develop irrigation are entrepreneurial innovators, targeting new markets and investing their own resources. They develop technologies, make investments, and create market linkages. These farmers experience quick returns on their efforts, often against all odds. However, many more farmers could benefit from improved agricultural water use practices. Many smallholder farmers remain constrained by unfavorable conditions that slow their growth. They face hurdles which elevate risks and increase both financial and transaction costs.
Governments and development partners are increasingly aware of the massive areas involved and the potential gains that FLID can bring. Although FLID is commonly characterized by smallholder farmers, it does have a small impact. While individual farms are mostly small, they occur in such massive numbers that, collectively, they have large impacts on food production, the economy, and their surrounding landscapes.
It makes sense for Governments to catalyze farmers' own initiatives. Indeed, FLID:
Fast-tracks irrigation at a larger scale;

Enhances diversity and inclusion, with particular reference to gender;

Supports sustainability, economic growth, and poverty reduction;

Increases resilience to climate shocks and stressors, as well as disasters such as COVID-19;

Holds significant potential for short-term recovery for the most vulnerable farmers;

Helps safeguard domestic food security in the long term; and

Strengthen farmers' ability to recover from shocks and adapt to a changing environment.
The FLID Initiative at the World Bank delves into the challenges of feeding a growing population, improving nutrition, adapting to the impacts of climate change, and reducing global poverty. In addition to the benefits listed above, FLID has potential to make substantive contributions to the attainment of many of the Sustainable Development Goals – particularly Goal 1: No poverty, Goal 2: Zero hunger, and Goal 3: Health.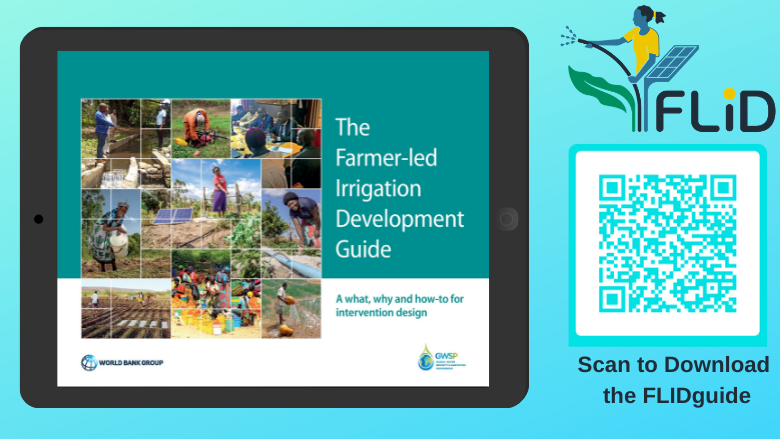 About the FLID Guide
FLID requires a new frame of mind, new modes of engagement, new ways of learning, new technologies, new partnerships, and new tools. This is why the Farmer-led Irrigation Development Guide: A what, why and how-to for intervention design is an indispensable resource pack for government teams and development partners working in the agricultural, water, and irrigation sector. The FLIDguide has been created as a practical tool to help shape a new way of engaging in irrigation development. The guide can be used for many purposes, including but not limited to:

Carrying out a rapid diagnostic

Guiding debate on outcomes with key stakeholders

Identifying critical and catalytic interventions and packaging these interventions into an operation.
The FLIDguide consolidates a wealth of knowledge on the topic and hopes to inspire informed action so that FLID continues to take root as a major driver of positive, inclusive, and sustainable change. And, importantly, improves the lives of millions of small-scale farmers.
| | | | |
| --- | --- | --- | --- |
| | English | French | Portuguese |
| Main guide | Coming up soon! | Coming up soon! | Coming up soon! |
| Modules 1 - 7 | Coming up soon! | | |
| Complete guide | | | |

Blogs:
Brochures:
Videos:


Do you want to know more about FLID? Please contact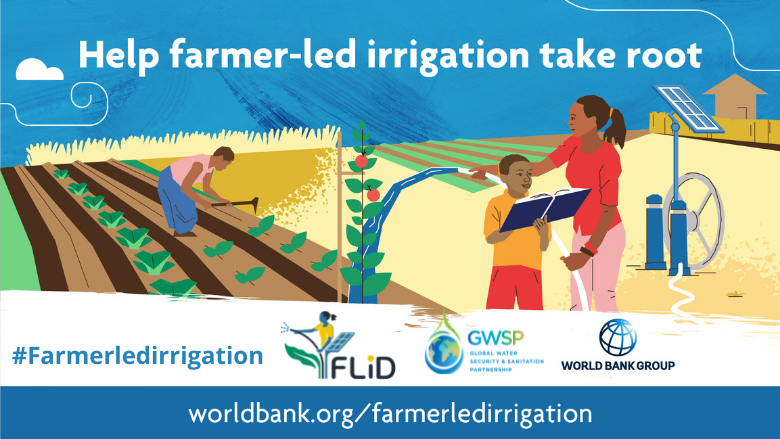 Join the farmer-led irrigation revolution discussion at @WorldBankWater with #Farmerledirrigation.