About one billion people globally live with disabilities — around 80 percent of them in developing countries.
In Sub-Saharan Africa, disability data recently collected through regular household surveys in Botswana, Gabon, Lesotho, Namibia, Rwanda, Sierra Leone, South Africa, Swaziland, Tanzania, and Zimbabwe help improve understanding of the challenges facing persons with disabilities in the region.
Gathering data and information on persons with disabilities — and making them a regular part of publications such as poverty assessments — provides visibility to a group often neglected in socio-economic analysis. This potentially also helps countries develop policies in support of persons with disabilities.
_______
1. Disability rates are higher in rural areas. The distance required to travel from more remote areas to find healthcare, combined with fewer financial resources to travel, are obstacles to accessing and benefiting from treatment.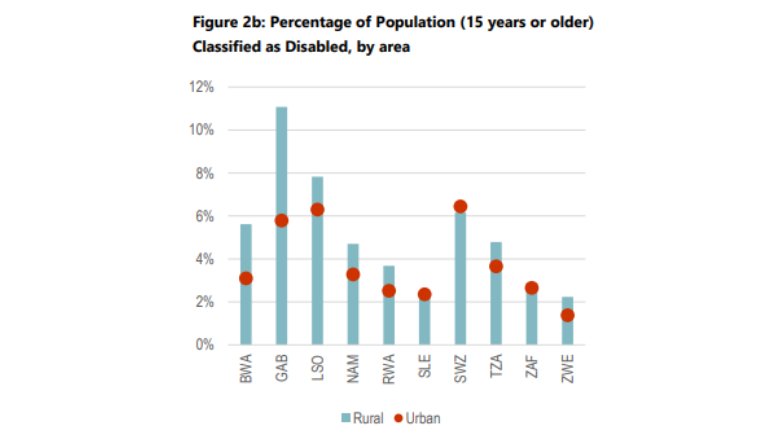 2. Women experience higher rates of disability than men. Unequal levels of protections and rights contribute to a higher occurrence of disabilities among women. Many families with limited financial resources might choose to invest in the earning potential of male children, prioritizing their health.
Pregnancy and childbirth also contribute to the higher prevalence of disabilities among women. Many pregnant women are unable to access adequate perinatal care due to unaffordable costs and insufficient supply of medical personnel, with consequences for their well-being.
Domestic violence also gives rise to more cases of disability among women — and women with disabilities are at a higher risk of being victims of violence.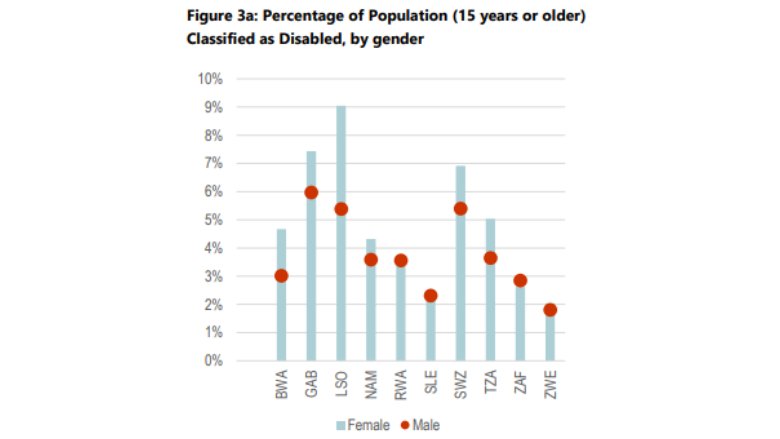 3. Older people report more disabilities. In addition to limitations to mobility, reductions in eyesight and hearing capacity, and difficulty in concentration due to aging, lack of access to healthcare can compound over time. An untreated condition can worsen to the point of impairing function.
As the young population of Sub-Saharan Africa gets older, pressure will only grow on the already limited availability and accessibility of healthcare services and providers.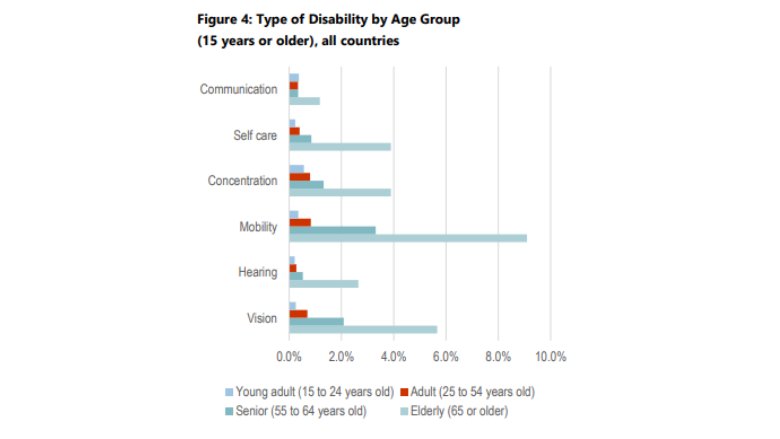 4. Persons with disabilities have a lower level of educational attainment. Schools often have insufficient resources to accommodate children with disabilities, which leads to higher numbers of children with disabilities leaving the formal education system earlier than their non-disabled classmates.
If a school-age child has eyesight problems, but his/her family cannot buy eyeglasses, he/she may drop out of school earlier and suffer worsening eyesight to the point of impairment later in life.
In addition, children with disabilities might be bullied or excluded from activities at school, which can increase the risk of limited educational attainment.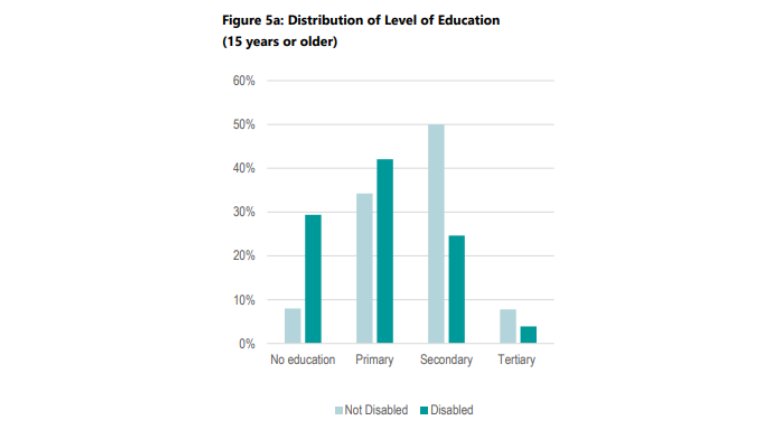 5. Participating in the labor force is a challenge for persons with disabilities. The primary barriers to employment include discrimination and lack of accommodation offered by the employer. Those who find work, often part-time jobs, are paid less and are less likely to be promoted.
Unstable employment and insufficient financial resources can lead to many persons with disabilities being reliant on their families or social programs, which can put them in a more vulnerable position.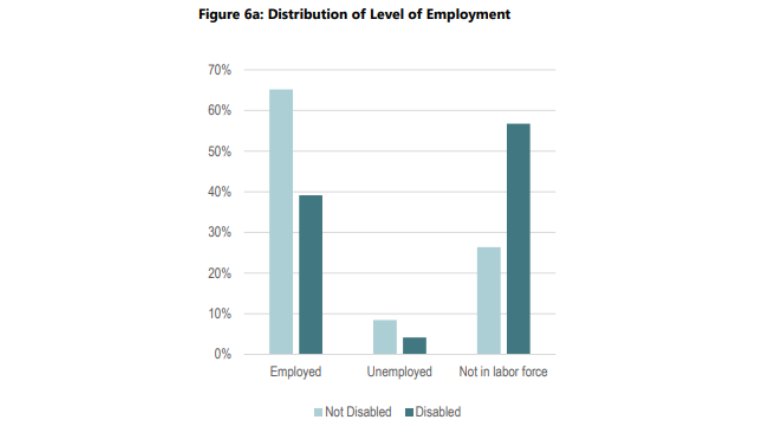 These findings highlight the importance of providing high-quality education to children with disabilities, encouraging human capital investment in girls to reduce gender disparities in disability, and preparing health systems for an aging population with increasingly diverse and complex care requirements.