- Program for Thursday, November 7th, 2019 -
LJD Weeks videos expire one year from publishing date except World Bank Live videos
Session 48 | Panel on the Future of Justice: Unraveling the Potential for Coded Bias in Algorithmic Regulatory and Judicial Decision-Making
In this session, Hon. Michael Whitten, Lord Chief Justice for the Kingdom of Tonga, Ramin Gurbanov, President of the European Commission for the Efficiency of Justice, Alison Jimenez, President of Dynamic Securities Analytics and Eva Melis, Public Sector Specialist at the World Bank discuss how different innovative solutions can unwittignly play a role in perpetuating inequalities and ask the provative question of where we should draw the line. Watch the replay.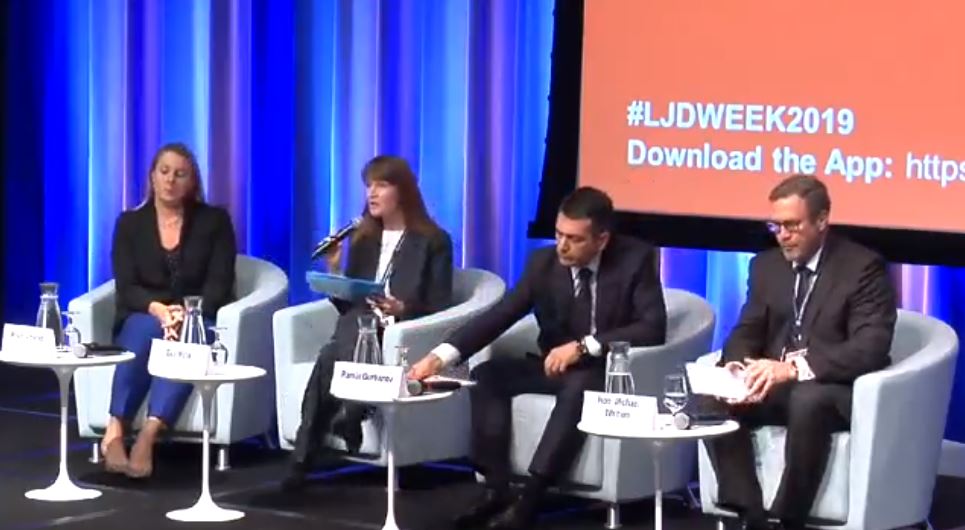 Session 49 | Disruptive Tech in Development: Tool for Integrity or Instrument of Corruption?
In this session, experts such as Mihaly Fazekas, Director and Founder of Government Transparency Institute, Raul Alfaro-Pelico, Lead Climate Change Specialist at the World Bank and Hon. Nicole Lamb-Hale, Managing Director of Business Intelligence and Investigations at KROLL provide contrasting views on the role and promise of disruptive technologies in anti-corruption arena. Watch the replay.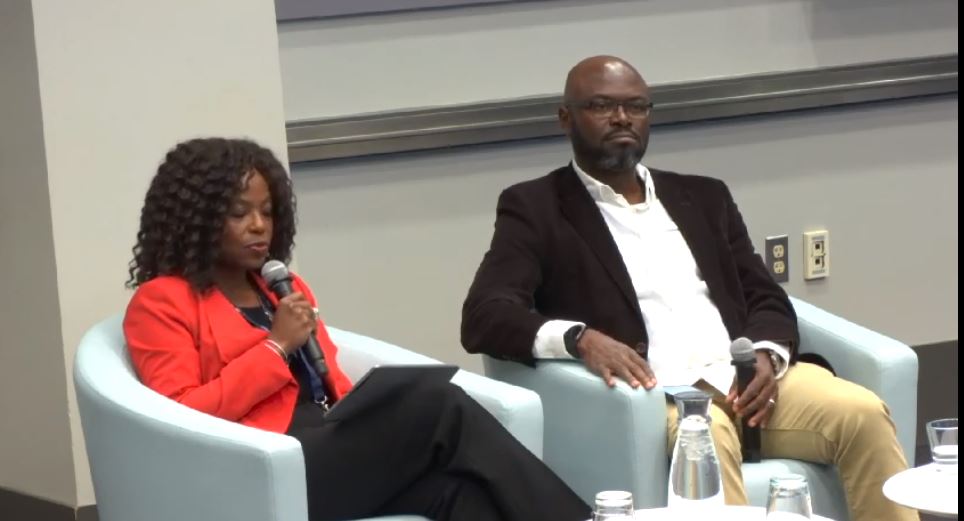 Session 50 | Corporate Sustainability and the Role of General Counsel
In this fireside chat, Vanessa Havard-Williams, Global Head of Environment at Linklaters LLP, Christina Koulias, Senior Manager at United Nations Global Compact, and Christopher Stephens, Vice President and General Counsel for Legal and Compliance Risk at International Finance Corporation explore the evolution of he role of general counsel in leading sustainability agenda, and reinforcing the linkages between strong rule of law and responsible business outcomes. Watch the replay.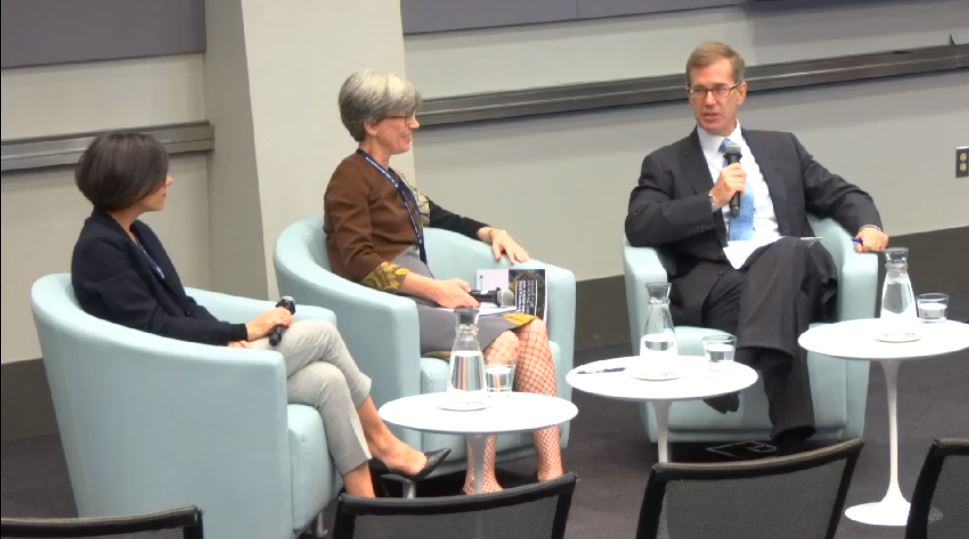 Session 51 | Development Gamble: Sports Betting-Driver for Growth and Ally Against Corruption
In this presentation, Percy Wilman, Special Counsel at LATAM Genius Sports guides the audience through the intricacies of a manipulated sports game in which they have placed an online bet. This session focuses on a mock game in which suspicious activity is noted and leads to sports betting operators to suspend all bets and payment. Watch the replay.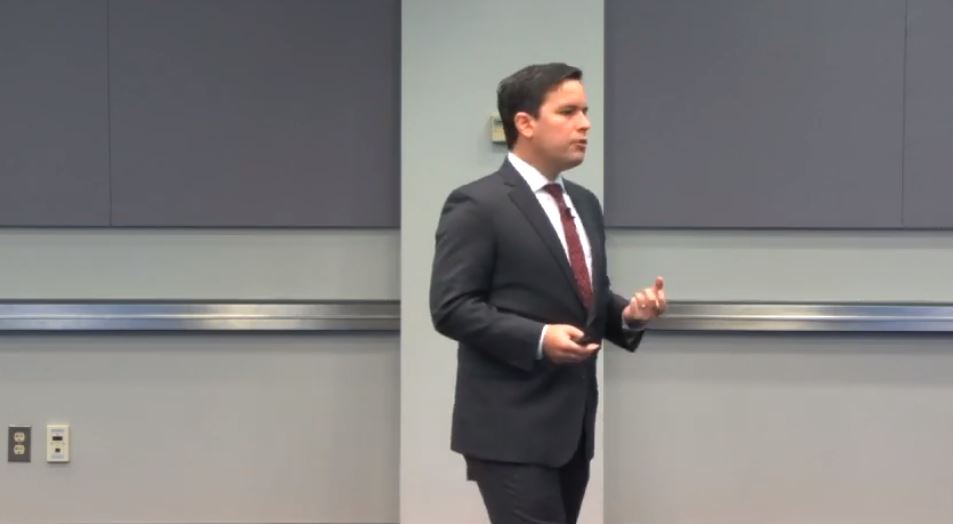 Session 52 | Panel on how RegTech can Help Secure the Promise of FinTech
In this session, Jerry Grossman, Deputy Director of Bankable Frontier Associates, Xavier Faz, Lead of Business Models at Consultative Group to Assist the Poor, Sonja Kelly, Digital Finance Advisor at the US Department of State and Paul Nelson, Digital Finance Advisor for USAID discuss how the rise of tech-driven finance has prompted the rise of tech-driven oversight and supervision. Watch the replay.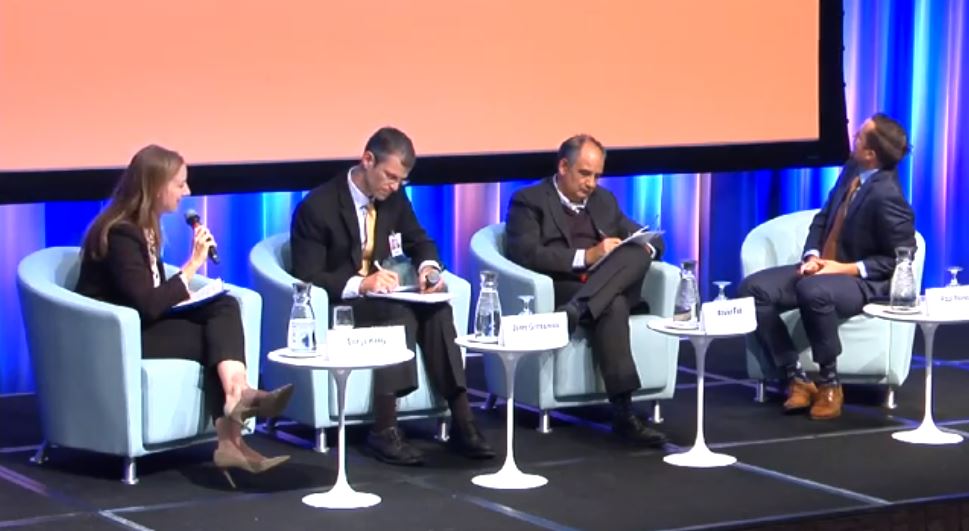 Session 53 | Using Technology and Human Rights to Break Down Barriers to Healthcare Access
In this presentation, Kiraz Balut, Legal Counsel for the Global Fund to Fight Aids highlights a number of tech-based approaches, including open source and community-based systems can help in monitoring and responding to human rights-related health barrier. Watch the replay.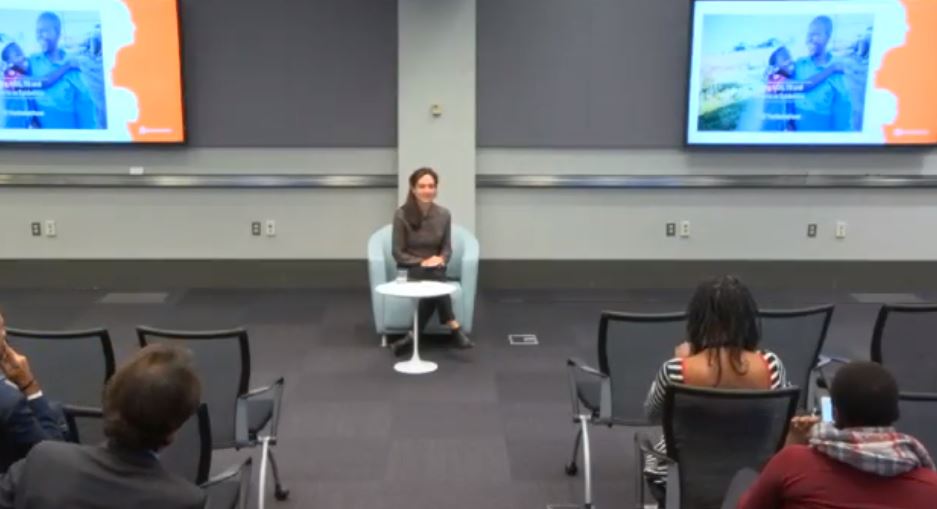 Session 54 | Using Pioneer Technology to Measure Perceptions of Gender-Based Violence Online
In this session, Paulina Rudnicka, Legal Advisor for ABA Rule of Law Initiative, Chaitra Shenoy, Gender-Based Violence Advisor for USAID, and Mercedes Fogarassy, Portfolio Manager at RIWI Corp describe the joint partnership, its key findings, and examine how the study behind the project can be used by state and non-state actors to design effective legal and practical solutions. Watch the replay.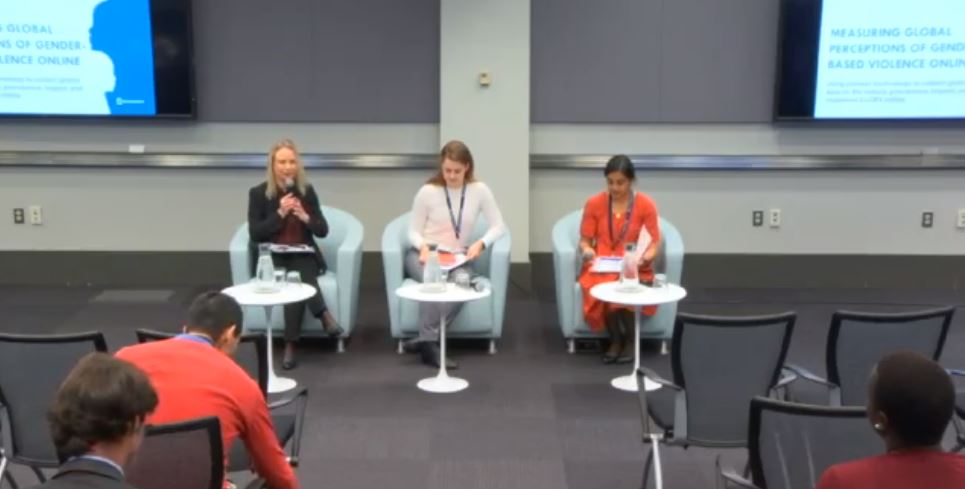 Session 55 | #Hacktahon4Justice Award Ceremony
This award ceremony is sponsored by UNODC and Africa Teen Geeks. Watch the replay.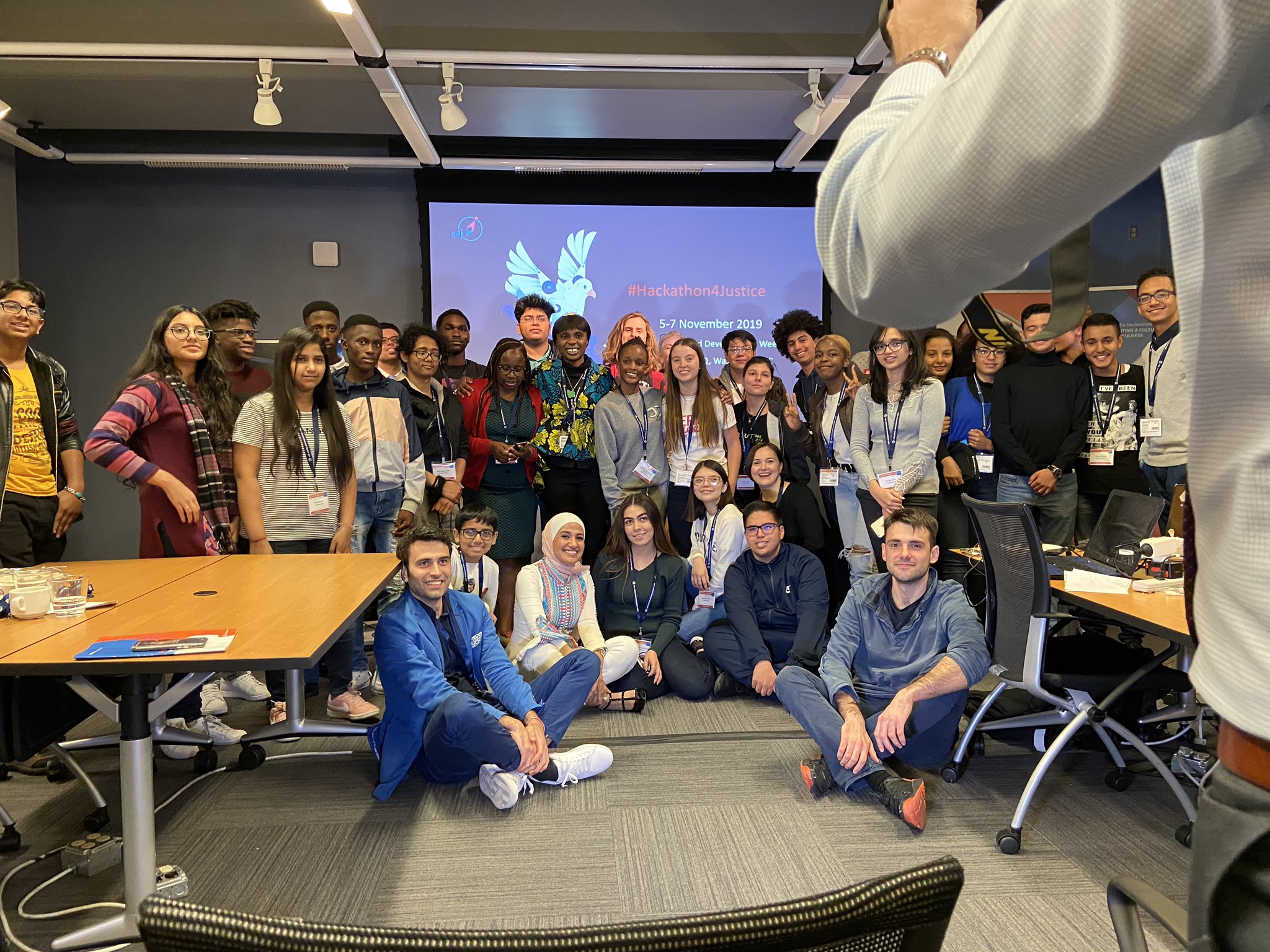 Legal Career | The Evolution of Career Pathways for Legal Professionals within the World Bank Group
Lawyers can excel in a great variety of roles within the World Bank Group. During this session, four lawyers, including three current World Bank Group Vice Presidents and the curent Chair of the World Bank Inspection Panel, share their career stories, advice, and opportunities and trends they see developing in the legal profession. Watch the replay.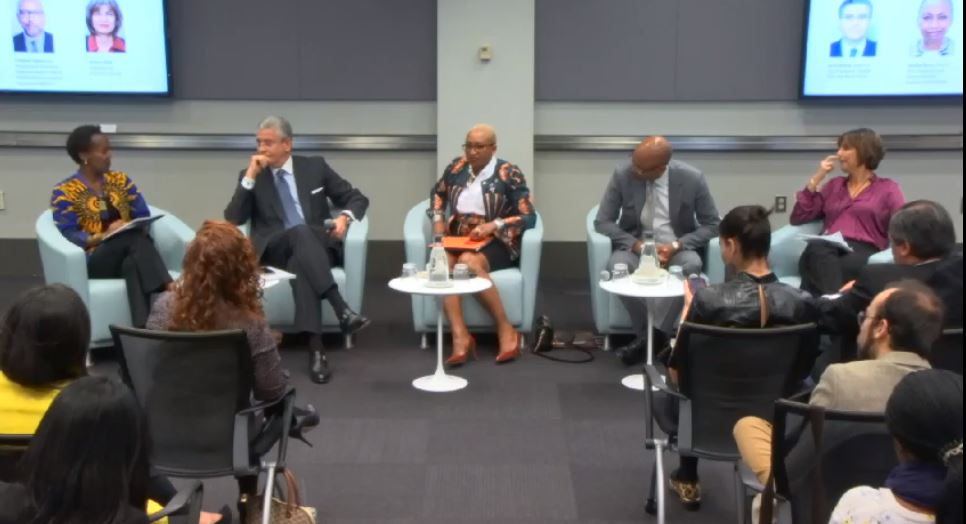 Session 58| Technology and Ethics: Opportunities and Challenges
In this session, Elizabeth Renieris, Fellow for the Berkman Klein Center for Internet and Society at Harvard University, Eleonore Pauwels, Global Fellow and Director of The Anticipatory Intelligence Lab at Woodrow Wilson International Center of Scholars, Michael Hind, Distinguished Research Staff Member for IBM and Kiril Nejkov, Counsel and Innovation Co-Lead at International Finance Corporation discuss the ethical implications and opportunities of technology. Watch the replay.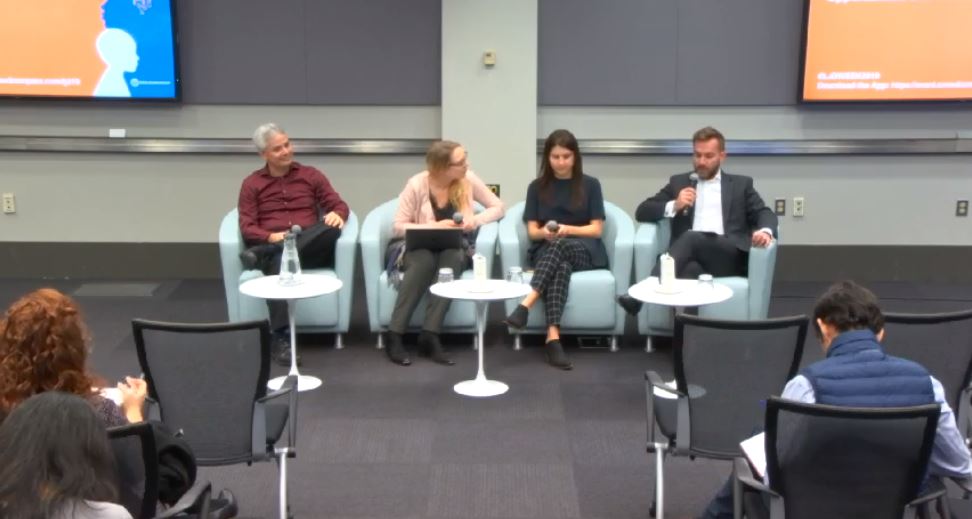 Session 59 | AI for Disability Inclusion: Navigating Bias, Ethics and Opportunity
In this chat, Susan Scott-Parker, Founder of the Global Procurement Taskforce, Lisa Wadors Verne, Senior Programme Manager at Benetech Labs and Charlotte McClain-Nhlapo, Global Disability Advisor at the World Bank discuss AI's disruptive potential for disability inclusion and discuss ethical considerations and deliberate legal actions to ensure AI solutions promote inclusion and not exacerbate inequities and fuel discrimination. Watch the replay.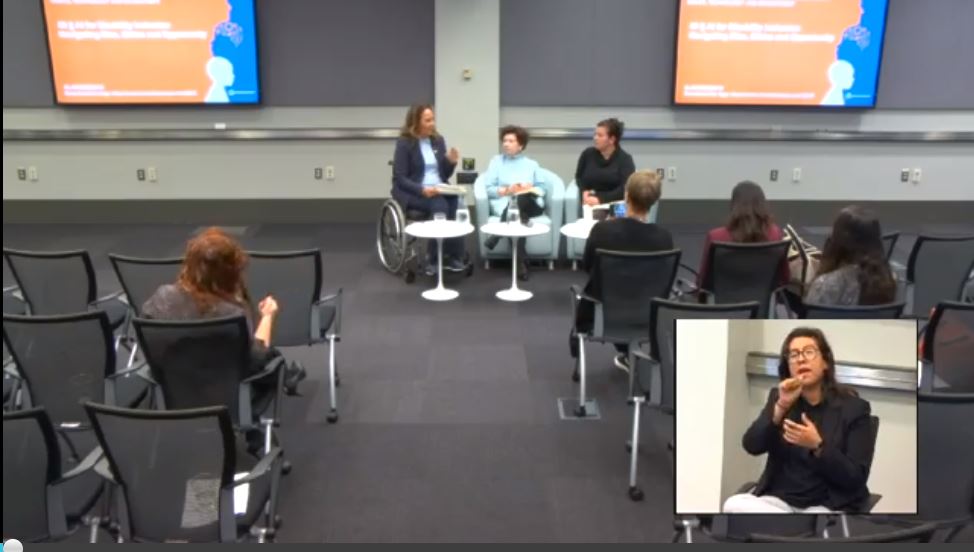 Session 60 | Pizza Night and Personal Data
In this Ted-style presentation, Tami Dokken, World Bank Chief Data Privacy Officer tells the story of how much of our personal information is readily available and what it may mean. Watch the replay.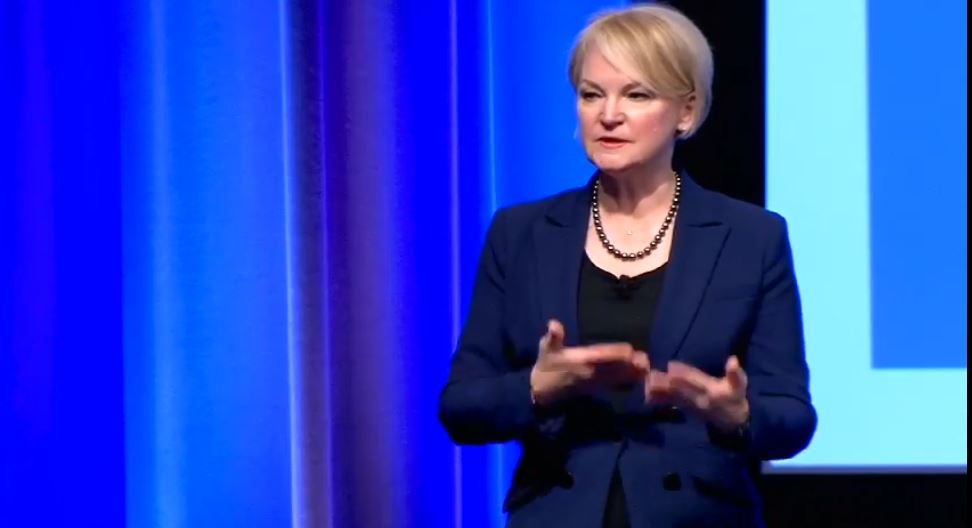 Session 61 | Juris Ex Machina: Technology & the Law of Corporate Responsibility
In this session, Suzanne Spears, Head of Global Business and Human Rights Law Group at Allen & Overy LLP, Christine Chow, Director for Hermes Investment Management and Steven Mickelsen, General Counsel of 3 Degrees discuss how international and domestive legal frameworks increasingly require multinational entreprises to account for their impacts on human rights and the environment. Watch the replay.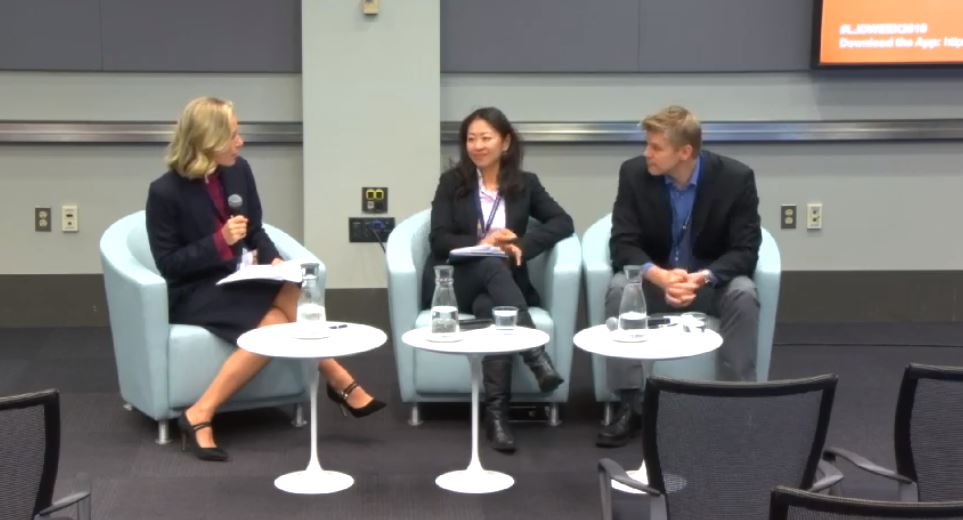 Session 62 | Panel on Access to Justice for Whom? Justice, Poverty and Well-Being
In this session, Sandie Okoro, World Bank Senior Vice President and Group General Counsel, Shanta Devarajan, Professor of the Practice of International Development at Georgetown University, Rebecca Sandefur, Sociologist and Legal Scholar at the University of Illinois, and Paul Prettitore, Senior Land Administration Specialist at the World Bank discuss the correlation between greater access to justice and the impact on poverty reduction and wellbeing. Watch the replay.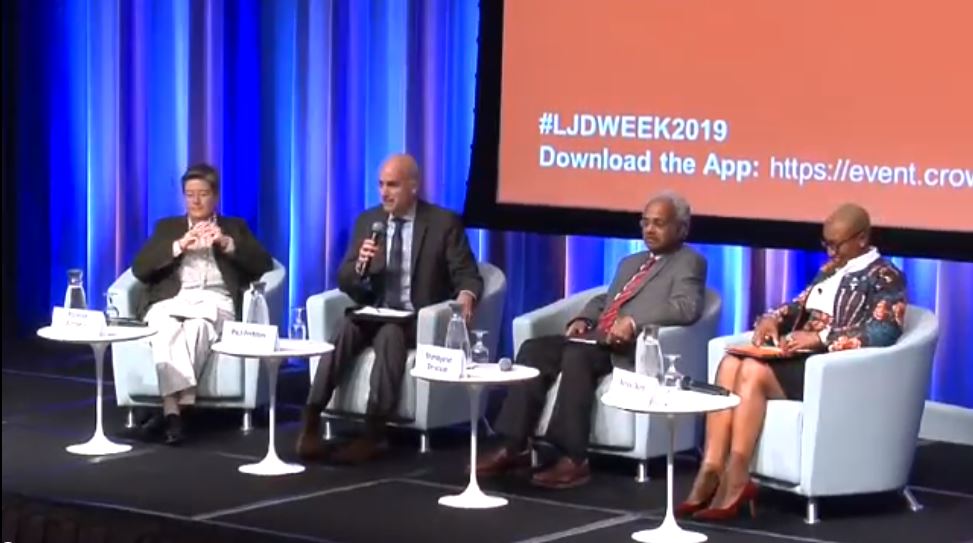 Session 63 | Modernizing the Colombian Judiciary


In this session, Gloria Stella Lopez and Jorge Luis Trujillo, Magistrates at the Colombian Supreme Council of the Judiciary, Jose Mauricio Cuestas, Executive Director for DEAJ, and Nicholas Menzies, Senior Governance Specialist at the World Bank discuss Colombia's steps in modernizing the country's judiciary. Watch the replay.