Context
The World Bank Group's presence in Vienna dates back to 2004, when the European Investor Outreach Program was the first activity managed out of the Vienna Office by the Investment Climate unit. Today the Investment Climate Vienna Office continues to leverage its geographic proximity and closeness to clients to support a portfolio of more than 60 active projects and operations spanning five regions with a team of 15 staff and full-time consultants covering the full bandwidth of investment climate topics.

Strategy
The Vienna Office strategy rests on four main pillars: First, the office provides operational support to lending and advisory projects across the World Bank Group regions. Second, the office contributes to the investment climate knowledge agenda through research and analytics in emerging investment climate themes. Third, the office facilitates knowledge exchange and peer-to-peer learning by hosting global fora and event on investment climate related topics, and fourth, the office leverages partnerships with leading European institutions in investment climate topics to support its operational work and knowledge agenda.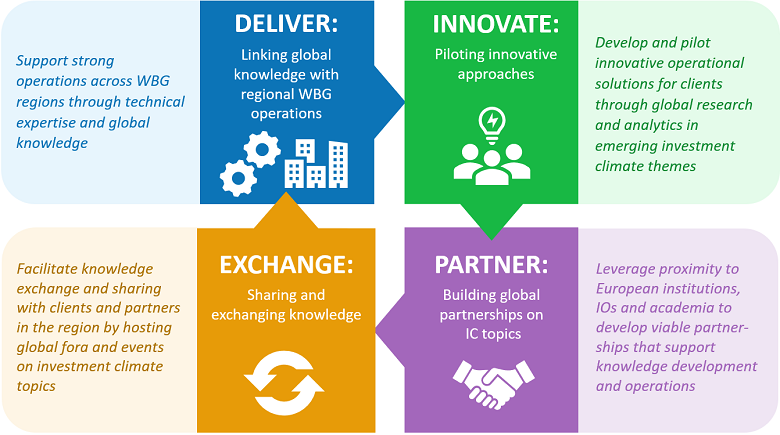 Deliver: Leveraging its strategic location in Europe, the Investment Climate Vienna Office brings the technical expertise of the global Investment Climate unit closer to clients, in particular in the ECA, MENA and SSA regions. The Investment Climate team based in the Vienna Office covers the full spectrum of investment climate topics, including business environment, investment policy and promotion, as well as investment competitiveness research and diagnostics. In close collaboration with DC based colleagues, the Vienna team mobilizes a wide range of World Bank Group instruments—including advisory services and analytics (ASAs) as well as lending products (DPFs, P4Rs and IPFs)— to deliver impactful investment climate solutions to clients.
Innovate: The Investment Climate Vienna Office supports product research and innovation with a specific focus emerging themes, including green competitiveness, digital economy, and gender. The office also leads innovation in areas of regional importance in the ECA and MENA regions, including for example enhancing regional integration and improving connectivity with the EU market.
Exchange: The Investment Climate Vienna Office facilitates knowledge exchange and sharing with partners in the region through global fora and events on IC topics. In doing so, the office effectively leverages its presence in the region and the conference facilities available in the Vienna Hub office.
Partner: The office maintains strategic partnerships with leading Europe based institutions focused on priority investment climates topics, including with OECD, UNIDO, UNCITRAL UNCTAD, WTO, and others.

In practice
Supporting regional integration in the Western Balkans (Advisory): enhancing the attractiveness of the region for investors in order to spur economic growth and create jobs through greater harmonization of regional investment policies and targeted regional investor outreach activities.
Supporting the gender reforms in Africa (Advisory): Women, Business and the Law Reforms to support women economic empowerment based on WBL indicators.
Supporting the digital sector growth in the West Bank and Gaza (Lending): attracting strategic investors and supporting supplier linkages for digital economy growth and job creation.
Sub-national FDI attraction in Poland (Advisory): supporting the Pomeranie region with an impact assessment of its previous FDI strategy and the development of a new FDI strategic framework for the region in a post COVID-19 environment.
Enhancing investor protection/retention in Uzbekistan (Advisory): increasing private sector investment in the fertilizer sector through reforms to investor protections and aftercare mechanisms.
Enhancing GVC linkages in Mozambique (Lending): Increasing domestic linkages to the extractives industry and introducing a grievance mechanism for resilient economic recovery.
Global Investment Competitiveness Forum – annual flagship forum bringing together ministers and other senior policymakers from client countries, private sector executives, development partners and WBG staff for strategic discussions on investment competitiveness.
IC Academy – annual training program to disseminate strategic project insights and latest product innovations in IC.

Contacts
Harald Jedlicka, Head Investment Climate Vienna Office
Email: hjedlicka@worldbank.org