The formal timber sector employs more than 13.2 million people. It also produces more than 5,000 types of wood-based products, and generates a gross value added of over $600 billion each year. But the timber sector's economic contribution is much larger-- the sector is mainly informal and its value remains largely unreported. Including the informal sector in GDP calculations could double the contribution of the timber sector and quadruple the number of related full-time jobs. In addition, the wood fuel industry creates jobs for tens of millions of households in the form of small-scale wood collection, charcoal production, transportation, and retail. The Sub-Saharan Africa charcoal sector alone employs an estimated 7 million people.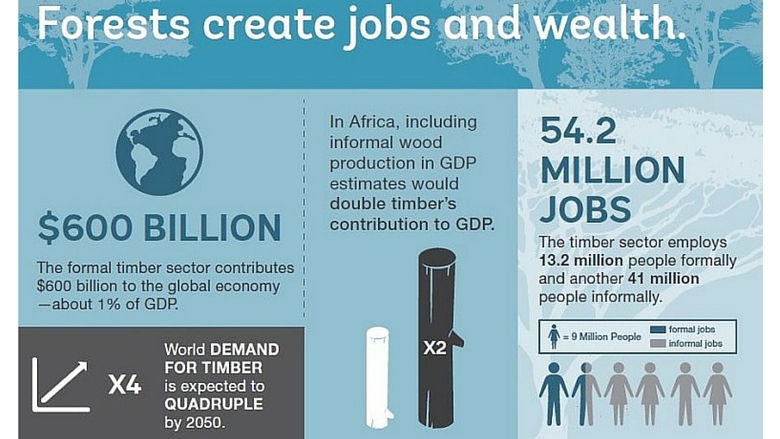 Forests Create Jobs and Wealth
Economic development, population growth and urbanization are increasing the demand for forest products, which is projected to grow dramatically in the coming decades. Demand for global industrial roundwood alone is predicted to quadruple by 2050. Natural forests will never meet these demands, nor should they—as this would severely limit their delivery of essential social and ecosystem services. At the same time, it is estimated that worldwide about two billion hectares of forest landscapes have been degraded or even lost. These could be restored through reforestation and tree planting.
The required funding for sustainable forest management is estimated to be between $70 billion and $160 billion per year globally (World Bank 2014). Mobilizing adequate financing for the forest sector remains a challenge. While private financing is promising, it is not yet distributed evenly across regions. In many developing countries it has yet to materialize.
Strategy
The World Bank Group supports countries to sustainably manage natural forests, expand forest cover and develop sustainable forest industry value chains to create jobs and contribute to sustainable growth.
The Bank supports strengthening forest institutions' ability to manage forests by building national and local capacity, enhancing forest management practices, and investing in pest management and fire control. Building sound forest resource databases and robust monitoring systems are also areas of focus. Tapping into new information and communications technology solutions, the Bank also works to increase transparency and accountability of forest resource management.
The Bank aims to unlock the potential of small- and medium- forest enterprises (SMFEs) to generate wealth and jobs. SMFEs are the primary source of forest sector employment in most developing countries. They account for 80–90 % of formal and informal employment in all forest enterprises, and meet a large share of domestic timber demand. Organizing efficient and sustainable value chains, better linking products to markets, and supporting a good business environment are some steps to sustainably unlocking the economic potential of forests.
Another priority is helping countries overcome barriers that limit plantations so that they can meet the growing demand for forest products and services. Examples of such work include: Clarifying land tenure rights, improving smallholders' technical and financial knowledge, and providing access to market information. The Bank also supports public-private initiatives to establish, manage and harvest plantations and orchards on government-owned land.
The Bank Group contributes to building an attractive business climate for private investors while setting high standards for responsible investments. The Bank works with governments to define a regulatory framework that enables investors to conduct economically, socially and environmentally sound activities in the forest sector. The IFC encourages investments from responsible private operators, and ensures that they are economically viable, profitable and measurably "pro poor." MIGA can unlock potential investments by reducing risks associated with them.
Results
The European Neighborhood and Partnership Instrument Forest Law Enforcement and Governance (ENPI-FLEG) Program, is an initiative funded by the EU and implemented by the Bank, the International Union for Conservation of Nature and World Wide Fund for Nature. It helps participating countries, including Belarus, Moldova and Ukraine, develop sustainable forest sector policies and plans. These plans identify forest sector reforms that attract investment in sustainable forest management and drive economic growth.
In Liberia, the World Bank, through the Program on Forests, co-financed a system that tracks timber from forests to the point of export through barcodes and data forms. That system helped secure more than $27 million in net tax revenue for the state in 2008–2012.
In Mexico, numerous forest communities have developed successful commercial community forestry enterprises around timber and non-timber products. Some of these are among the world's most advanced examples of commercial community forestry.
In Vietnam, a project to develop environmentally and economically sustainable smallholder tree plantations led 43,000 households to cultivate 76,500 hectares of previously non-forested land. 29,000 households received land use rights certification. Loans managed by a Vietnamese state-owned development bank were extended to more than 28,000 farmer households.
In Belarus, investment in better forest management practices is building capacity, increasing the efficient use of felling residues, and improving forest fire prevention, monitoring, detection, and suppression.