"Remote Learning During the Global School Lockdown: Multi-Country Lessons" and "Remote Learning During COVID-19: Lessons from Today, Principles for Tomorrow"
WHY A TWIN REPORT ON THE IMPACT OF COVID IN EDUCATION?
The COVID-19 pandemic has disrupted education in over 150 countries and affected 1.6 billion students. In response, many countries implemented some form of remote learning. The education response during the early phase of COVID-19 focused on implementing remote learning modalities as an emergency response. These were intended to reach all students but were not always successful. As the pandemic has evolved, so too have education responses. Schools are now partially or fully open in many jurisdictions.
A complete understanding of the short-, medium- and long-term implications of this crisis is still forming. The twin reports analyze how this crisis has amplified inequalities and also document a unique opportunity to reimagine the traditional model of school-based learning.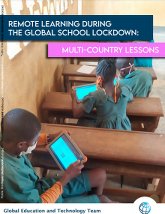 WHAT CAN YOU FIND IN EACH REPORT?
The reports were developed at different times during the pandemic and are complementary:
The first one follows a qualitative research approach to document the opinions of education experts regarding the effectiveness of remote and remedial learning programs implemented across 17 countries. DOWNLOAD THE FULL REPORT
The second one uses mixed-methods to examine how countries adopted different remote learning strategies, analyzing the take up, but also documenting -when available- the effectiveness of remote learning during COVID-19. This publication not only documents lessons being learned but also provides countries with principles to reimagine learning tomorrow. DOWNLOAD THE FULL REPORT
WHAT ARE THE LESSONS LEARNED OF THE TWIN REPORTS?
Availability of technology is a necessary but not sufficient condition for effective remote learning: EdTech has been key to keep learning despite the school lockdown, opening new opportunities for delivering education at a scale. However, the impact of technology on education remains a challenge.
Teachers are more critical than ever: Regardless of the learning modality and available technology, teachers play a critical role. Regular and effective pre-service and on-going teacher professional development is key. Support to develop digital and pedagogical tools to teach effectively both in remote and in-person settings.
Education is an intense human interaction endeavor: For remote learning to be successful it needs to allow for meaningful two-way interaction between students and their teachers; such interactions can be enabled by using the most appropriate technology for the local context.
Parents as key partners of teachers: Parent's involvement has played an equalizing role mitigating some of the limitations of remote learning. As countries transition to a more consistently blended learning model, it is necessary to prioritize strategies that provide guidance to parents and equip them with the tools required to help them support students.
Leverage on a dynamic ecosystem of collaboration: Ministries of Education need to work in close coordination with other entities working in education (multi-lateral, public, private, academic) to effectively orchestrate different players and to secure the quality of the overall learning experience.