This note is part of the Connections series. You can download the PDF version of this note through this link.
By Oleg Petrov, Joel Gurin, and Laura Manley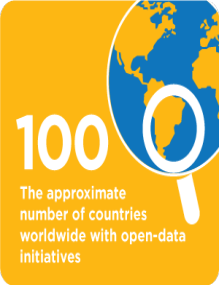 The "open data" principle is becoming an increasingly important part of the data revolution, which is recognized worldwide as a key engine for achieving the post-2015 UN Sustainable Development Goals. Open data—publicly available online information that can be used for any purpose at little or no cost—represent one of the most underutilized key assets of modern government. Open data initiatives are often directed at converting open data into formats that can be reused for private sector development, jobs creation, economic growth, and more effective governance and citizen engagement. A 2013 study estimated that using open data in seven sectors of economic activity could create $3 trillion to $5 trillion annually in economic value worldwide.[1] The direct, annual economic value of public governmental data has been estimated at up to €40 billion for the European Union and £2 billion for the United Kingdom. Numerous examples illustrate how the use of open data can give significant support to achieving the post-2015 UN Sustainable Development Goals.[2]
Fostering Economic Growth and Job Creation
Open data benefit the private sector in two basic ways: helping existing companies optimize their business, and providing the "raw material" for new, innovative, data-driven enterprises. Many existing firms use open data to improve operations in shipping, employee health care, and energy use. New companies are using open data to provide a wide range of new products and services, from mobile apps to weather, agricultural, geospatial, and real estate services.
The use of open data can help get the financing needed to launch a company in the first place. The Mexican company Aspiria uses open data to facilitate microlending, while the firms Konfio in Mexico and Lenddo in Colombia use market and other data sources to provide loans to people with no credit history.
Bringing the workings of government into wider view with open data improves investment decisions, especially for foreign investors concerned about risk. And specialized applications of open data that match job seekers with employers can help increase national employment levels overall.
Open data solutions are helping train young people in technology skills. TuvaLabs helps promote data skills in that manner in India and elsewhere, including through a partnership with the World Bank in Sudan.
Improving Efficiency and Coverage of Public Services
Social service agencies are using open data to help prospective patients find medical clinics or emergency care; to improve access to high-quality education; to improve public transportation and encourage its use; and to make emergency services more effective in natural disasters, among other benefits.
A number of companies use open data to connect patients to high-quality healthcare, including Medii in Mexico, Tipsdokter in Indonesia, Medicinia in Brazil, and eVaidya in India.
Many countries, including Kenya, Tanzania, and Mexico, use open data to show the availability and quality of public schools. A newspaper-based campaign in Uganda and the website CheckMySchool in the Philippines use information to reveal and deter corruption that can keep schools from getting the funds to which they're entitled.
An international open data initiative, Global Open Data for Agriculture and Nutrition, is a centralized resource for farming and food security. Smaller-scale entrepreneurial efforts are helping farmers with relevant data, such as Farmerline in Ghana and Solapa in Argentina. A Chilean initiative uses open data from U.S. satellites to help agricultural businesses manage water use.
In Jamaica, an open-data project of the Caribbean Open Institute is combating the theft of crops and cattle. In Mexico, the advocacy group Fundar developed an online database that led to reform of the government farm subsidy program.
Increasing Transparency, Accountability, and Citizen Participation
Accessible, usable data about government budgets, contracts, and activities can help increase trust in government and citizen engagement, bolster a government's international reputation, and help attract foreign investment. The Sunlight Foundation, drawing on work done by the Open Knowledge Foundation and others, has published a set of principles for opening up government data with a focus on transparency.
Open contracting uses open data to make government contracts available for public review and deter favoritism and hidden deals. The Open Contracting Partnership is developing standards for contracting data and supports efforts to make contracting more transparent worldwide. An analysis by Lateral Economics estimates that making data open can reduce corruption by 10 percent.[3]
Improving Information-Sharing within Government
One of the most ambitious visions for open data is "smart cities," in which government open data is combined with data collected from sensors that measure traffic, air quality, and other factors. The approach already being used to improve urban planning in several countries including China. Urban transportation is also being transformed by open data. Moscow's transit authority used open data to show that the city's needs could be met by redrawing 100 bus routes rather than building a new rail line, saving $1 billion.
Some of the most effective applications of open data have been in managing disaster risk and organizing relief efforts, including through the use of mobile phones, in Kenya, Haiti, and Brazil.
Conclusion
New collaborations and partnerships can help create new business opportunities, better public services, and innovative ways to improve the lives of millions of people. Through dialogue, collaboration, and joint problem-solving, governments and their data users can realize open data's potential as a powerful resource for generating social and economic value.
For more information on this topic:
Open data principles for government transparency
Open data standards for transparent contracting:
[1] James Manyika et al., Open Data: Unlocking Innovation and Performance with Liquid Information, McKinsey & Company, October 2013,
[2] See also World Bank policy paper, Open Data for Sustainable Development, August 2015 (pdf)
[3] Open for Business: How Open Data Can Help Achieve the G20 Growth Target. (pdf)