Germany, the UK, and Austria are the first donors to a Green Recovery Initiative, which aims to help countries build a low-carbon, climate-resilient recovery from COVID-19. Funding will be provided through a new flagship World Bank trust fund, the Climate Support Facility, which was launched on December 10, 2020 with an initial investment of $52 million from the German Federal Ministry of Economic Cooperation and Development, the UK's Foreign, Commonwealth and Development Office, and the Austrian Federal Ministry of Finance.
The Facility, whose launch is timed with the 5th anniversary of the Paris Agreement, will provide support for technical assistance and advisory services. In addition to focusing on the green recovery, it will also support countries to enhance their national climate targets (the Nationally Determined Contributions or NDCs) and in their efforts to integrate climate into long-term development planning. It will also fund analytical tools and knowledge development to inform country climate planning and development strategies.
Expanding on the work of the World Bank's NDC Support Facility, which has assisted over 50 countries since its establishment in 2016, the new trust fund will:
Embed specialized economic advisors in key government ministries to assist with climate-informed national recovery strategies;

Help countries develop macroeconomic models that incorporate climate into national budgets, enhance their NDCs, and support the development of long-term strategies for decarbonization; and
Generate new analytical work: including geospatial data on climate risk, the impact of COVID-19 on carbon emissions, and the effect of climate policies on jobs and livelihoods.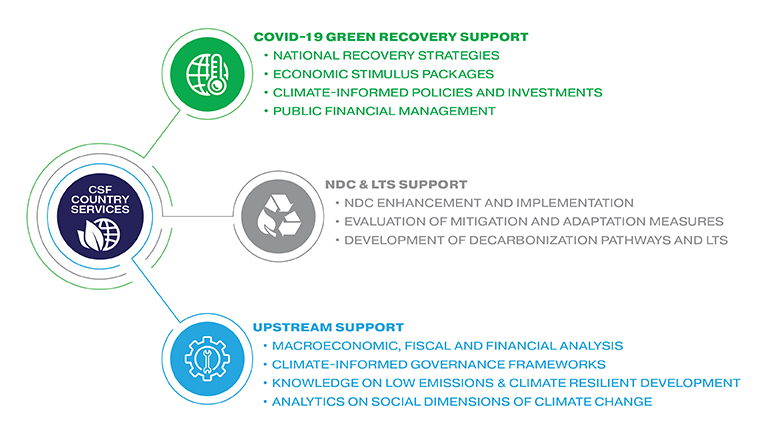 The trust fund will be housed in the World Bank's Climate Change Group, and will draw on and build technical expertise across the institution and support the $160 billion in emergency response operations that the Bank has already committed to COVID-19 recovery.
Supporting Statements:
"Countries have a unique opportunity to shape a recovery from the pandemic that also works for people and the planet." said Mari Pangestu, the World Bank's Managing Director of Development Policy and Partnerships. "Through the Green Recovery Initiative, we, at the World Bank, can ensure that our support to countries is more effective and tailored to better suit their needs at this critical juncture. It will help them implement policies that can deliver immediate benefits, such as urgently needed jobs and economic growth, while also putting in place pathways to decarbonize and build resilience."
"It is important that climate action is at the heart of the recovery efforts. Because climate change is progressing, including during COVID-19 times, and it is threatening the livelihoods of hundreds of millions of people – especially in developing countries," said Dr. Gerd Müller, German Federal Minister for Economic Cooperation and Development. "That is why Germany is supporting the World Bank's efforts to go for climate action in its recovery programme right from the start. The funds will be used to strengthen strategic advice to partner countries for green reforms so as to ensure that the World Bank's major recovery programmes go directly toward climate action, the phasing out of subsidies for fossil fuels and improved conditions for renewable energy."
"As we turn the corner in the global battle against COVID-19, we face choices that will have profound and long-term impacts for people and planet," said Lord Goldsmith, UK Minister for the Environment. "The UK is proud to be part of the World Bank's new Climate Support Facility, which will support countries to recover in a greener, more inclusive and resilient way that addresses economic needs, tackles climate change and prevents the loss of nature and biodiversity."
"COVID-19 poses a major threat to nations' efforts to reduce carbon emissions," said Harald Waiglein, Director General for Economic and Finance at the Austrian Ministry of Finance. "That's why we are teaming up with the World Bank as a knowledge hub and financing partner to help the Western Balkan Region with climate-friendly economic stimulus packages to foster green growth."