Today's food systems generate $12 trillion in hidden social, economic, and environmental costs. It prioritizes volume over nutritional value, fails to pay a living wage while creating sizeable profits for a concentrated set of players, and treats the natural environment as an infinite resource – resulting in massive waste and undermining the stability of the entire food system and global economy.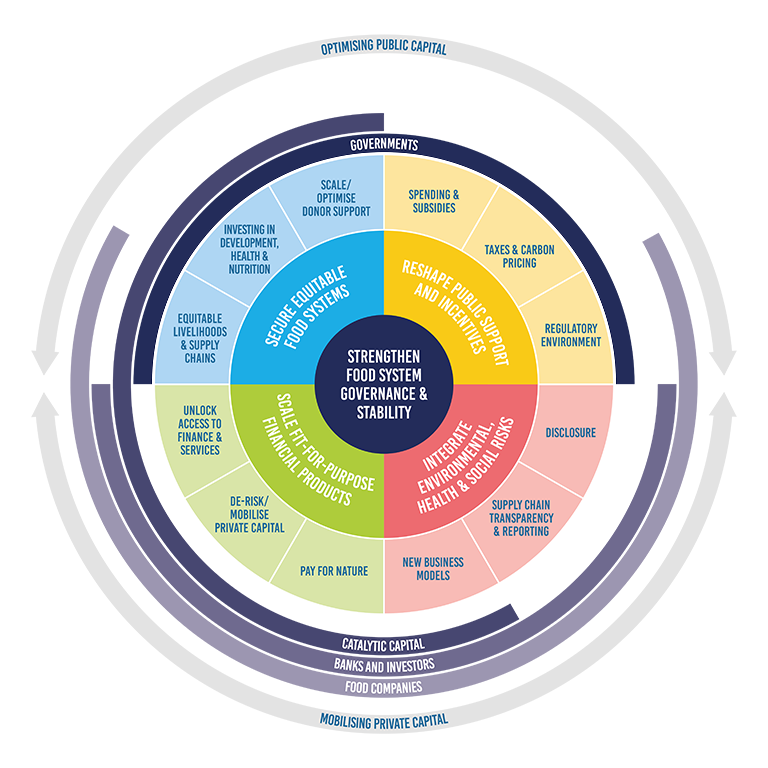 The UN Food Systems Summit has brought people together to develop the solutions we need. The Summit's "Finance Lever", comprised of the World Bank, IFPRI and the Food and Land Use Coalition, has developed the Food Finance Architecture, a policy brief that lays out the building blocks for how banks, investors, development institutions, companies, farmers, and governments can shift capital out of high-carbon, unequal, extractive food assets and into inclusive, climate-smart, circular business models that benefit the people and planet.
The Food Finance Architecture focuses on five imperatives needed to optimize public spending and mobilize private capital for a global food system transformation:
1. Reshape public support and incentives
Current food systems incentivize unsustainable choices. Most of the $600 billion in global public financial support for agriculture and fisheries contributes to the overuse of natural resources and often benefits richer and larger farmers. Reshaping public support can address market failures and shift the market toward sustainable practices. Governments can repurpose fiscal incentives away from supporting production of carbon emissions, consumption of excessive sugar, and other harmful behavior. Instead, regulations should aim toward supporting sustainable practices, building up rural infrastructure, flood risk mitigation, and the generation of knowledge and innovation. Public spending should also create mechanisms for others to invest in nature conservation.
2. Integrate health, environmental and social risks into financial decision-making
The food sector is increasingly exposed to risks that are destabilizing both public and private sector portfolios. We need to change how risk is assessed and integrated into financial decision-making. Investors and large businesses can adopt and report against the Taskforce on Climate Related Financial Disclosures, help develop the Taskforce on Nature-related Financial Disclosure, and target a net zero portfolio. For governments, it is critical to coordinate across departments, align public procurement with good food practices and recognize the risks in continuing to depend on unsustainable supply chains.
3. Scale fit-for-purpose financial products and business models
Mobilizing capital to pilot early-stage businesses that benefit people and planet can have high transaction costs. Businesses looking to transition to more sustainable production practices often need to shift to innovative business models that are unproven, limiting investor interest. To address these challenges, development finance institutions can use their capital as a catalyst, including issuing food system bonds and providing preparation facilities for sustainable business models through incubators. Banks and investors can engage early with blended finance solutions and scale financial solutions that account for the value of sustainable practices.
4. Secure equitable food systems
Income inequality and lack of social protection leave millions of people hungry every day and billions unable to afford a healthy diet. Public and private actors can cultivate equitable food systems within and between countries. Governments must improve social protection systems, with nutrition-sensitive poverty lifelines, to ensure everyone can afford a nutritious diet. Companies in the supply chain should ensure they pay sufficient wages for their employees and review prices paid to suppliers to ensure they also can maintain their livelihoods and invest to improve sustainability.
5. Strengthen food governance and stability
Food markets are inherently volatile. Weather, economic conditions, conflict, and health shocks all affect food production and the availability of food. Food systems today are not set up to deal with mounting risks, such as climate change or biodiversity loss. The international governance system needs to be enhanced to promote stable, productive, and equitable food systems. International coordination is critical to share expertise and respond to emerging crises. An international coordinating body could help to play this role. Improvements can be made to the flow of food, by reforming trade barriers and investments in infrastructure in underserved areas.