Challenge
Belize is a middle-income country and Small State that ranks third in terms of disaster risk and fifth on climate change risk (2016) amongst small island developing states (SIDS). Flood events present the greatest annual climate and disaster risk to Belizean infrastructure and socio-economic activity. Annual weather events regularly cut access to urban centers and disrupt daily life. Furthermore, due to the COVID-19 pandemic, Belize's economy contracted 13.4 percent in 2020, driven by a sharp reduction in net external demand and private consumption, and the unemployment rate increased by 19.1 percentage points from September 2019 to September 2020. The most affected sector was tourism, with 66 percent of the job losses. This was exacerbated by the impact of a prolonged drought in 2019, which together led to significant losses across the farming, livestock, and fishery industries.
Approach
The project was designed to enhance the resilience of road infrastructure against flood risk and impacts of climate change; and improve the government's capacity to respond promptly and effectively in the event of a crisis or emergency. Project priorities were defined through a multi-stakeholder consultation process, which assessed investments that would help to systematically reduce climate and disaster risk in Belize. Road infrastructure was prioritized based on its criticality to economic, social, and physical life and its high exposure and recurrent risk to weather hazards. The project design included a Contingent Emergency Response Component (CERC), which created a financial mechanism for immediately responding to an emergency. The CERC proved to be critical in responding to the COVID-19 pandemic, by enabling the reallocation of US$19.5 million in project funding to address urgent emergency response needs.
Results
Project activities helped smooth consumption and guard against poverty increases of poor and vulnerable families, including pregnant women, children, the elderly, and persons with disabilities; and enhanced food security by supporting farmers experiencing losses due to COVID-19 and prolonged impacts of the 2019 drought.
From 2014 to 2021, the project achieved the following results:
Provided emergency assistance to 46 percent of the population – over 176,500 vulnerable people, at least 40 percent of which were women (a total of 44,785 households) through cash transfers, agricultural inputs, and technical assistance. Support also strengthened institutional capacities to respond to future disasters, including enhancing information technology equipment and systems for the collection of data, assessment of damage, and dissemination of emergency information.
Supported 21,000 farming households, including nearly 2,500 women-headed households, to enhance climate-smart agricultural practices and reduce future climate and disaster risk through the construction of greenhouses, installation drip irrigation systems, and buying of seeds for cash crops.
Produced digital topographic surveys of 17 percent of the country to measure variable changes in elevation heights and determine flood risk. This information enabled the project's infrastructure designs to better accommodate disaster and climate considerations and is now being used by the government in other infrastructure investments designs to strengthen disaster and climate resilience.
Increased standards of road design in Belize to be resilient to extreme floods events that are projected to occur within a 25-year period. These standards informed the designs for the Philip Goldson Highway which were 500 percent stronger than existing standards, and are now being used by government for all new road designs.
Strengthened capacities of numerous institutions and line ministries to incorporate climate resilience in development plans through the development of a National Spatial Data Infrastructure (NSDI). The NSDI is a strategic platform the harmonizes data collection, storage and sharing across sixty government and statutory bodies, allowing stakeholders to more easily use available information to strengthen planning processes.
Beneficiary Quote
"Due to lock down and curfew many people were not buying food and my business closed. The project's support provided critical resources for my kid's school registration, books, and internet for educational purposes. The project also taught me the importance of preparing for disasters, so I am diversifying my livelihood activities by farming vegetables and fruit and rear sheep and chicken for sale to other community members." Carolina Franco. Punta Gorda, Belize.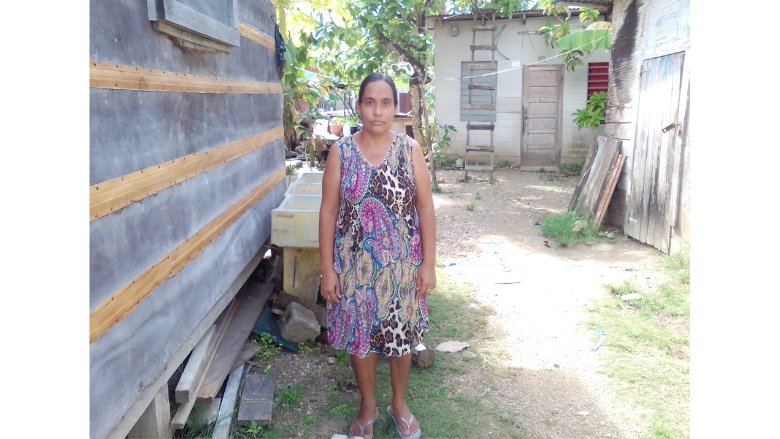 Bank Group Contribution
The International Bank for Reconstruction and Development (IBRD) provided US$30 million project funding for the project of which US$19.5 million in uncommitted loan funds were reallocated to the CERC.
Partners
The Ministry of Finance, Economic Development and Investment; Ministry of Works; Ministry of Natural Resources; Ministry of Transport and National Emergency Management; Ministry of Sustainable Development and Climate Change; Ministry of Human Development; Ministry of Agriculture; and Belize Social Investment Fund collaborated in implementing the project.
Additionally, the project partnered with the National Bank of Belize and Digicel to establish a new electronic payment system that was used to provide cash transfers to over 21,300 beneficiaries.
Looking Ahead
This project supported the development of detailed designs for the Philip Goldson Highway, but construction was canceled following the activation of the CERC. However, the Central American Bank for Economic Integration has committed US$24 million to construct the Philip Goldson Highway based on the project-developed designs, which will help to enhance disaster and climate resilience of critical road infrastructure.
The emergency support to the agriculture sector via the CERC helped inform the design and preparation of the Belize Climate Resilient and Sustainable Agriculture Project (P172592), approved in March 2022.