Challenges
Public procurement reform is extremely complex due to the involvement of numerous stakeholders with diverse and sometimes conflicting interests and is often characterized by fear or resistance to change and difficulty in sustaining the reforms. The process in Bangladesh required not only technical but also substantial political commitment and behavioral interventions.
Approach
A number of critical elements were addressed in an integrated way, including building capacity among public officials and the bidding community. It was essential to develop innovative technologies with sustainability models and create programs to promote knowledge, awareness, and participation among key stakeholders, including government officials at different levels, bidding communities, civil society, journalists, legal professionals, the private sector, financial institutions, and citizens at large.
Given the importance of public procurement in achieving national development goals, the Bangladesh government made a strong commitment to reforming the system in a way that was consistent with global standards, and in partnership with the World Bank.  Rather than making an ad-hoc, one-off intervention, it opted for a strategic engagement spanning 15 years through three successive phases – formally called the Digitizing Implementation Monitoring and Public Procurement (DIMAPP) project. This sustained approach has provided opportunities for deeper and longer engagement with stakeholders allowing for a thoughtful design and careful sequencing of reform phases. More importantly, these efforts have helped ensure political buy-in leading to a comprehensive and sustainable transformation.
Results
Use of e-GP has led to about 7% savings in procurement costs compared to manual paper-based procurement. Estimated savings in FY21 reached US$1.1 billion.
Procurement time (invitation to contract signing) for all tenders decreased from 100 days (FY17) to 57 days (FY21).
During FY21, 80% of Bangladesh's public procurement expenditure was processed through the e-GP system, compared to only 2% when the current phase of the project began in 2017.
E-GP improved market access and the bidding environment compared to manual bidding. The number of registered bidders in e-GP increased from 23,000 (FY17) to 96,446 (FY21).
The e-GP system has improved the integrity aspects of public procurement with features such as online submission and evaluation of bids, approval, and award of contracts, reducing external influences, preserving all procurement documents and transactions online for audit purposes, validating bidders' information, and online submission and tracking of complaints.
Whereas CPTU operates the e-GP system, about 1300+ public organizations/agencies, such as transport, energy, local government, and health sector agencies, are using it for their day-to-day procurement processes. They are deeply involved in the e-GP implementation process.
An online citizen portal (https://citizen.cptu.gov.bd/) has been launched for public procurement and contract implementation monitoring. In addition, citizen engagement in contract implementation monitoring is taking place in 48 sub-districts with positive feedback.
An estimated 50,000 tons of CO2 emissions are eliminated each year from drastically diminished use of paper documents and reduced travel.
Bank Group Contribution
For this phase of the project, the International Development Association (IDA) approved US$55 million of original funding in July 2017 and US$40 million in additional funding in February 2021, for a total of US$95 million.
Partners
The Government of Bangladesh has provided US$10 million for the project.
The Central Procurement Technical Unit (CPTU), Implementation Monitoring and Evaluation Division, Ministry of Planning, which is the country's procurement policy unit, is mainly responsible for the project's implementation.
The Local Government Engineering Department is supporting the implementation of e-GP, providing training and hands-on support to 888 local government institutions.
The International Training Center of the ILO, Turin, Italy, Chartered Institute of Procurement and Supply, UK, BRAC Institute of Governance and Development (BIGD) under the BRAC University, and the Engineering Staff College Bangladesh are responsible for the major capacity development program.
Citizen engagement is implemented in partnership with BIGD and BRAC's Community Empowerment Program.
The Project also partners with 30 selected public sector organizations (SPSOs) with relatively high procurement volumes such as the Roads and Highways Department, Bangladesh Water Development Board, Public Works Department, the Department of Public Health Engineering, and the Bangladesh Rural Electrification Board. Key areas of collaboration with SPSOs include training, feedback provision on system design/features, pilot implementation, outreach, and awareness creation.
A Public-Private Stakeholder Committee was established comprising government policymakers, civil society organizations, development partners, media, business associations, bidding communities etc.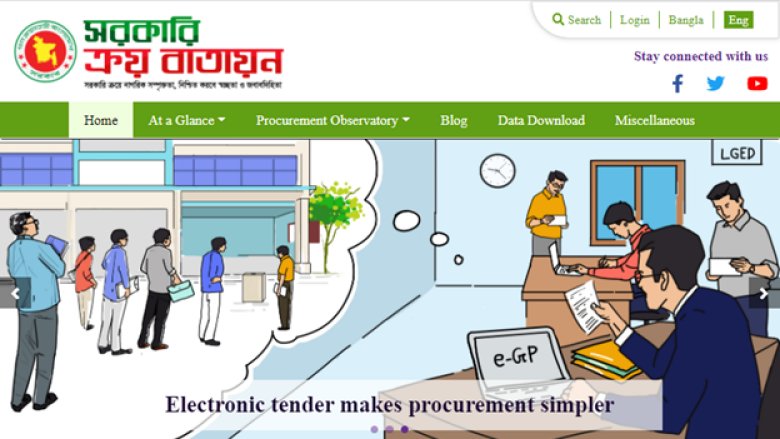 Looking Ahead
IDA's Additional Financing credit of US$40 million agreed in 2021 was intended to support the scaling up of the coverage of e-GP to 100 percent. This involves the countrywide roll-out of the electronic contract management and payment module of the e-GP, including the geo-tagged images uploading provision. It is planned to develop and roll-out new features of the e-GP system, including modules to process international bidding funded by the development partners, as well as enhancements to the security and capacity of the e-GP data center. The Bangladesh Assessment of Public Procurement System (MAPS) Report in June 2020 recommended these measures as a priority to ensure the continuation of the day-to-day operations of the country during the pandemic and other emergency situations. The AF also supports the strengthening of the country's emergency procurement and contract management framework, using lessons learned from the COVID-19 pandemic and previous natural disasters, to identify systemic gaps and recommend improvements for the effective implementation of e-GP. It also supports the development of a policy and implementation roadmap for sustainable procurement, including the provision of preferential treatment for the small and medium-sized tenderers/enterprises, women-led tenderers/enterprises, and startups, and a focused capacity development program to improve contract management performance.
The e-GP system is running on a self-sustaining model. It is generating revenue and will be able to cover its own operations and maintenance costs at the end of the project.
Conversion of the CPTU into the proposed Bangladesh Public Procurement Authority (BPPA) with enhanced authority and autonomy is in process. The proposed BPPA Act, drafted with the support of the DIMAPP project, is currently going through a Bangladesh government review process. The BPPA Act is expected to be enacted in 2022. CPTU capacity has been limited because of its legal structure, a lack of autonomy in decision making, and limited staffing. Its inadequate analytical and research capability has hampered its ability to regulate and monitor public procurement for more than 1300 organizations and meet the continuously increasing demand for e-GP services. The formation of the BPPA, which will have qualified, experienced, and adequately trained officials, is expected to gradually lessen dependency on external support for Bangladesh's public procurement system.
Beneficiaries
Reforming Bangladesh's public procurement system has obvious benefits for about 13,000 procuring entities, 100,000 bidders, and a host of auditor and other oversight organizations. Overall, the people at large benefit from the improved delivery of public services.
Md. Mahbubul Haque, Assistant Engineer, Local Government Engineering Division, Government of Bangladesh, said the old system was subject to abuse. "Manual tenders had many inherent challenges such as pressure from 'muscle men' and tender submissions after the deadline. We sometimes had to call the police in for help. After the establishment of the electronic government procurement portal, the situation changed. This reduced the scope for manipulation. The e-tendering process has brought in accountability, transparency, and speed. Work is completed on time and government money is not wasted."
Ashraful Alam, a contractor in the northern district of Sherpur, said: "I have been working as a contractor for the Local Government Engineering Division for 30 years. I used to participate in manual tenders. I had to face many barriers created by muscle men, political parties, and corruption. Sometimes we could deal with them, sometimes not, so I left the profession. When the e-GP was introduced, I realized there was no scope for malpractice and harassment, so I returned to my original profession. I have now done about 5 million US Dollars-worth of road construction for the government, and I feel proud."