Challenge
The World Bank has committed to operationalizing US$160 billion in International Development Association and International Bank of Reconstruction and Development (IDA and IBRD) financing in response to COVID-19. The Saving Lives, Scaling-up Impact and Getting Back on Track World Bank Group COVID-19 Crisis Response Approach Paper provides a framework for this response, outlining four areas of priority engagement:
• Pillar 1 - Saving Lives
• Pillar 2 - Protecting Poor and Vulnerable People
• Pillar 3 - Ensuring Sustainable Business Growth and Job Creation
• Pillar 4 - Strengthening Policies, Institutions and Investments for Rebuilding Better
How has the World Bank responded to this mandate in this first phase of operational engagement? What has been the balance across the four pillars? How have World Bank teams worked with countries to rapidly craft tailored, scalable responses?
Approach
The first 100 days of the World Bank's COVID-19 response refer to the period from April to June 2020 . During that timeframe:
• The World Bank approved US$16.7 billion (US$9.2 billion IBRD and US$7.5 billion IDA) for 164 projects (110 IDA and 54 IBRD) supporting human capital, accounting for half of all operations and half of all financing approved in this period.
• This response includes all projects prepared by the Human Development (HD) network which encompasses the social sectors (education, health, and social protection and jobs), as well as policy reform oriented Development Policy Operations (DPOs) from sectors outside of HD with prior actions for reforms that have a direct influence on human capital outcomes.
• The volume of financing (US$12.1 billion) and the number of operations (127) in the HD social sectors alone were triple and quadruple the previous years' averages, respectively.
• The COVID response helped leverage reform-oriented, rapidly-disbursing DPOs focused on protecting people. Among all the DPOs approved in April to June 2020, over 40 percent supports Human Capital-focused policy reforms, accounting for US$6.1 billion.
• This focus on protecting and investing in people as a core focus of the COVID-19 response underscores the World Bank's growing engagement in risk management and central role of human capital in development and economic growth.
A Reflection on the Role of Development Policy Operations (DPOs)
Overall, the COVID-19 response has made strong use of DPOs as this type of lending instrument allows for a rapid response with flexible financing and is well suited to protecting and investing in human capital.
DPOs are well positioned as instruments to support complementary reforms across a range of sectors. For example, the Tunisia First Resilience and Recovery emergency DPO strengthens the social protection system while also supporting access to credit for microenterprises and streamlining trade procedures for critical materials including medicine, health equipment, and food. The Haiti COVID-19 Response and Resilience DPO covers the emergency health response, health emergency preparedness, support to the social protection system, and the development of a national risk financing strategy.
DPOs, notably programmatic DPOs, can also cover all three stages of relief, restructuring, and recovery. Emergency cash transfer programs can provide relief, but also offer opportunities to expand coverage to new groups, including informal sector workers. Looking ahead to resilient recovery, countries can use the crisis as an impetus for introducing service delivery systems reforms covering the enhanced use of digital payments, the expanded coverage of social registries, and reforms to legal frameworks to advance interoperability across programs and ensure better service delivery.
Many of the prior actions can also address gender reforms, ranging from supporting the victims of gender-based violence to adopting gender equity in access to employment.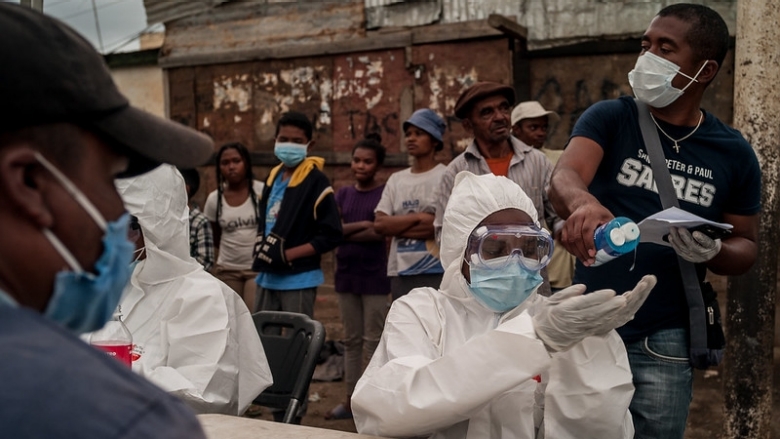 COVID-19 testing in Madagascar
Results
Since the beginning of the COVID-19 pandemic response in the spring of 2020, across all regions, projects approved support the four pillars of the response strategy and cover efforts for relief, restructuring, and recovery. As the following selection of projects illustrates, human capital plays a central role in each:
Pillar 1. Saving Lives
The rollout of the innovative Global Health Multiphase Programmatic Assessment (MPA) was a first line of defense against COVID-19 providing a template to be rapidly deployed across countries: as of June 30, 2020 the Bank had approved US$4.3 billion for emergency health support to 77 countries to contain the pandemic and protect health.
The response to save lives includes support for:
Enhancing disease surveillance and providing medical supplies for emergency containment and mitigation
• India's US$1 billion health emergency package will upgrade the disease surveillance system, strengthen preparedness for disease outbreaks and revamp infectious disease hospitals.
• Afghanistan, the Democratic Republic of Congo, The Gambia, Haiti, and Yemen are among the fragile countries enhancing testing and contact tracing, as well as acquiring laboratory and protective equipment for health care staff.
Ensuring health services continuity and raising public awareness
• Colombia is prioritizing essential health care services for COVID-19 patients.
• Cote d'Ivoire and Egypt are launching messaging platforms and tools to improve public awareness of COVID-19 prevention.
Cross-sectoral collaboration on health
• The Gambia is expanding water services, handwashing stations, hygiene kits, and WASH campaigns.
Pillar 2: Protecting Poor and Vulnerable People
Scaling up social safety nets
• Ecuador, Rwanda, Madagascar, Cambodia, Ethiopia, and other countries are expanding emergency cash transfers for vulnerable populations.
• Morocco, Bangladesh, and the Dominican Republic are mobilizing cash transfer schemes and employee assistance funds to support informal and formal workers.
Access to agricultural products, nutrition and food security
• Myanmar is protecting agricultural livelihoods and helping the agriculture and food sector recover from the COVID-19 crisis.
• Uganda is providing farmers with e-vouchers to access high quality agricultural inputs, seeds, and fertilizers to boost nutrition and food security.
Ensuring learning continuity and getting children back to school
• Turkey, Jordan and many other countries are mobilizing technology-enabled distance learning as the centerpiece of the education sector response to COVID-19.
• Ethiopia, Madagascar, and other countries are supporting remote learning, the safe reopening of schools, and the return of students to school, often prioritizing girls and students from the most deprived communities.
Pillar 3: Ensuring Sustainable Business Growth and Job Creation
Protecting jobs to safeguard income and preserve human capital
• The Philippines is expanding credit guarantees to medium and small enterprises to support business continuity and jobs.
• Uzbekistan is providing cash support to low-income families and one-off unemployment benefits.
Pillar 4: Strengthening Policies, Institutions, and Investments for Rebuilding Better
Removing binding constraints, addressing gender issues, and strengthening core systems
• Uganda, Uruguay, and Zambia are expanding outreach and referral services to address the expected rise in gender-based violence during quarantine.
• Tunisia and Colombia are reforming social registries to enhance access to services.
Bank Group Contribution
The World Bank approved US$16.7 billion (US$9.2 billion IBRD and US$7.5 billion IDA) for 164 projects (110 IDA and 54 IBRD) supporting human capital, accounting for half of all operations and half of all financing approved in this period.
Moving Forward
Looking forward, the crisis can be an opportunity to rethink policy to build back with stronger systems for people and economies. World Bank operations can play an important role. The scaled-up use of DPOs presents an opportunity to couple financial support with policy reforms to strengthen the quality and delivery of investments essential to protecting and building human capital.
Certain policy reforms aimed at protecting human capital that were not as present in the first stage of response could be mobilized more directly. This includes reforms in access to education (particularly regarding access and learning), reforms with a strong equity focus beyond the expansion of safety nets, reforms to expand social insurance coverage to informal sector workers, and health systems strengthening reforms focused on human resource management.
There is also an opportunity to further strengthen service delivery, particularly through a focus on tools and technologies that have the potential to increasing equity, efficiency, and accountability across a range of services. This includes including identification systems, government to persons (G2P) payments, social registries, and digital communication.
Operations beyond the social sectors can also continue to support core investments for human capital development such as safe water, broadband, and the economic and regulatory infrastructure needed to access good jobs and facilitate interoperability across programs.
In moving forward with these reforms and investments, countries have the opportunity to address the equity and coverage gaps which have been starkly revealed by the COVID-19 crisis.
Beneficiaries
· Najibullah, a community health specialist in Afghanistan, is working with mullahs and community leaders, helping provide basic but vital knowledge on how villagers can protect themselves from COVID-19.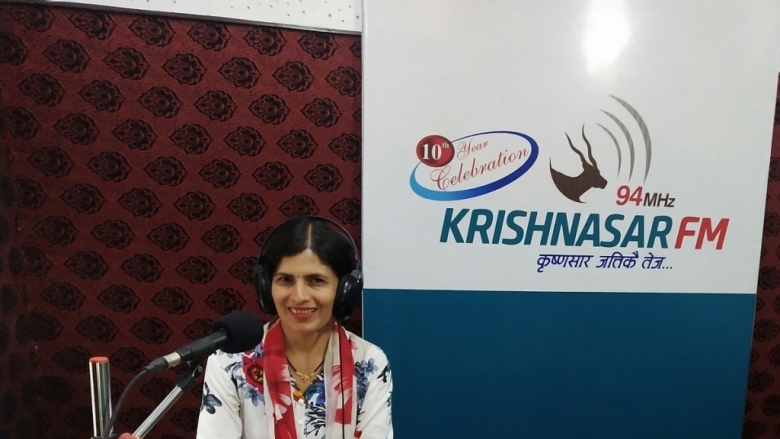 Shanti Kandel smiles as she delivers lessons from a local FM station
· Shanti, a secondary school teacher in Nepal, prepares and delivers lessons through the local radio station so that poor and vulnerable children in her community can have access to learning.