Challenge
While Liberia's economy has not fully recovered to pre-war levels (prior to 1989), its population of about 4.8 million continues to grow at a high rate. As a result, the country is faced with the twin challenge of a particularly large youth population (over 70 percent are below the age of 35), and a pervasive lack of job opportunities. This leads to high level of vulnerability among youth. Only 3.5 percent of youth ages 15-24 have stable jobs in the formal sector. The majority are employed in the informal sector, either as unpaid family workers or self-employed. Moreover, rural areas face an additional challenge of persistent food insecurity. In this context, providing young people with access to productive employment is critical to ensure economic recovery and stability in the country.
Approach
The Youth Opportunities Project aims to increase access to income generation opportunities for young people in Liberia. The project uses a community-based productive inclusion approach to provide economic and empowerment opportunities for youth living in both rural and urban areas. The project has a strong emphasis on women economic empowerment. Additionally, one of the project components specifically aims to promote productive inclusion of rural youth. It supports them with life and business skills training, improved agriculture techniques, labor subsidies and farm input grants (to procure seeds and tools). This approach has helped many extremely poor youths living in rural communities become self-sufficient while at the same time contribute to the development of their communities. They now work together to develop farms, grow and sell their produce, save proceeds for their own businesses, and support their communities in the process. In urban areas, the project facilitates transition to productive employment for youth who would like to open their own business and successfully transition into the labor market.
Youth farmers tending their 35-acre cassava farm. Photo: Mack Capehart Mulbah/World Bank
Results
Key results from the Youth Opportunities Project interventions to date include:
12,000 youth in rural and urban areas received life and business skills training such as socio-emotional regulation, health and hygiene, money management, among others. These trainings have helped youth farming groups to properly manage their farms and identify appropriate markets for their produce in rural areas. They also helped urban youth with developing their business plan proposals and managing the small business established with support under the project.
10,000 youth living in rural communities received farming inputs and labor subsidies to engage in community-based farming. The youth have also been organized into over 350 youth farming groups, which has enabled them to cultivate larger land area, leading to higher yields further contributing to the sustainability of the groups.
Youth supported with farming inputs and labor subsidies by the project cultivated 12,000 acres of land with rice and cassava, contributing to food security in Liberia. They also produced vegetables and other non-staple crops for additional earnings.
An additional 120 young beneficiaries received agro-processing machines to offer services to farmers in their communities.
World Bank Group Contribution
The total funding for the Youth Opportunities Project is $13.5 million dollars, of which $10 million is International Development Association (IDA) funding approved by the World Bank in 2015, while $3.5 million dollars was provided as additional financing from Sweden through the Liberia Improving Access to Income Generation Opportunities for Youth Multi-donor Trust Fund, set up by the World Bank in 2019.
Partners
The Youth Opportunities Project is being implemented by the Ministry of Youth and Sport and Liberia Agency for Community Empowerment. The project is co-financed by the Government of Sweden through the Swedish International Development Cooperation Agency . There is strong collaboration between the World Bank and the Embassy of Sweden in Liberia around this project. Periodic progress review meetings are also held between Sida and World Bank teams to identify and agree on areas for strengthening support to the project.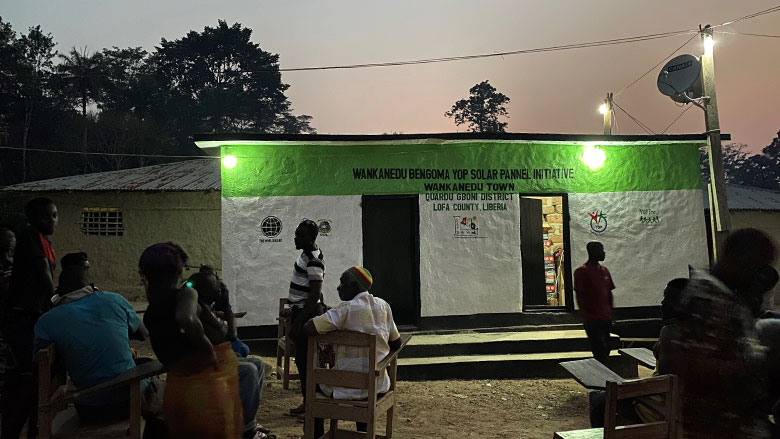 Community members waiting outside the village power station while their phones are charged. Photo: Mack Capehart Mulbah/World Bank
Moving Forward
A follow-up operation to the Youth Opportunities Project is currently under consideration. The operation will scale up successful interventions such as grant and business skills training support to small businesses, as well as support to rural youth to engage in communal farming. New activities will also be added to the operation based on emerging needs. The follow-up operation will increase support to restoring informal sector employment lost due to COVID-19.
Beneficiaries
Fatumata Bility, a young mother of two children, and 27 other beneficiaries of the Wankannedu youth farming group in Quardu Gboni District, Lofa County, used proceeds from their farm produce and parts of their labor subsidy to undertake a solar electrification project for their village of 194 inhabitants. Fatuma says she feels proud to be part of a group that worked hard to bring such development to her community. "We know that there are more than 28 youths in this community, but everyone could not benefit from the project at the same time. So those of us who benefitted at this time thought we should do something for our entire community," she said. The solar power project provides electricity to 64 homes in the village, streetlights, and power for the village meeting hall that is being used as night school for women and entertainment center for the entire village. Beneficiaries were also able to procure satellite TV service and a TV set that the whole village benefits from.