Challenge
The education sector in Sierra Leone has experienced significant increases in enrollment rates, but there are important inequities in access. Further, learning outcomes remain low, among the lowest in the region, and there are high repetition and drop-out rates. A 2014 Early Grade Reading Assessment found that 87 percent of Grade 2 students could not read a single word. In public examinations, only 50 percent of Basic Education Certificate Examination candidates received a pass in English or mathematics. For those fortunate enough to stay in school, the low quality of education services is driven by poorly trained teachers, an inadequate teaching and learning environment, insufficient teaching and learning materials, and an inadequate student assessment system. Together, these issues are further exacerbated by weak governance and management of the sector.
Approach
The Revitalizing Education Development in Sierra Leone (REDiSL) project aimed to improve the learning environment in targeted schools and establish systems for monitoring of education interventions and outcomes while building the foundation for better management and efficiency within the sector. The project had a two-pronged approach: (i) supporting the most disadvantaged schools; and (ii) strengthening the education systems. Despite operating in an environment with a difficult political economy and in a context of limited and unequal access, poor retention and poor quality, the project contributed to addressing key challenges and laying the foundation for the sector.
The REDiSL aimed to support the Education Sector Plan – particularly its aims of decentralizing education service delivery through Performance-Based Financing (PBF). The PBF sought to increase educational equity by targeting those local councils with the lowest educational outcomes and highest poverty levels. It also aimed to improve the learning environment whilst strengthening the capacity of school management committees in managing the school grants and capacities of the local councils, district education staff, and heads of schools in the administration of the grants. Thus, the financing addressed several aspects of the education system. Examples of PBF indicators included: percentage of students assessed regularly by teachers; percentage of teachers found teaching (during school visits); and percentage of students achieving grade level competency. REDiSL also supported innovation through the use of technology, including the digitization of the country's annual school census, digitized monitoring of the performance-based assessments for school grants and the use of remote learning during the Ebola crises. This application of technology is important given the lack of systematic data in the sector and for timely and accurate data for decision makers. Through these activities, REDiSL facilitated the flow of information from the school level to the local and central levels and allowed communities to receive information on their progress in a timely manner.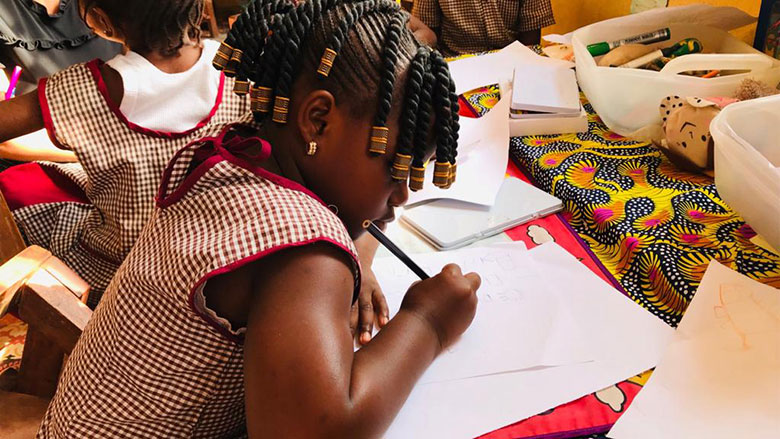 Photo Credit: Himdat Bayusuf, World Bank
Results
The REDiSL project achieved results in several areas.
Improved School Performance through Performance-based Financing
Between 2014 and 2020, 1,800 schools (approximately 20 percent of the schools in the country) in the six most disadvantaged districts received performance-based school grants. These grants, also referred to as PBF, provided resources at the school level to cover the cost of delivering services and reducing the need for 'informal' charges in primary school.
Available data showed that schools receiving PBF, on average, performed better than those not receiving PBF with respect to almost all indicators. For example, the school attendance rate among PBF schools was almost five percentage points higher than that observed in non-PBF schools across all six grades of primary education. Data also showed that the performance of PBF schools improved over time as well. For example, average school attendance increased from 81.6 percent in the third term of 2018 to 85 percent in the first term of 2019 to 90 percent in the first term of 2020. Teachers found teaching in the classroom also increased from 76 to 80 percent in the same period. Students achieving grade level proficiency increased from 79 to 88 percent, and learning conditions improved from 62.2 to 75.2 percent.
Report cards were shared with each PBF school, enabling schools to obtain information on their achievements and areas for improvement.
Established Education Emergency Response during the Ebola Virus Disease Epidem
Supported emergency radio programs for six months during school closures, reaching 1 million students between October 2015 and March 2016, and supported the safe return of children to school
Supporting the establishment of emergency response systems during the crisis has been instrumental in the context of the COVID-19 pandemic. For instance, within a week of school closures as a result of COVID-19, the Ministry of Basic and Secondary Education (MBSSE) and the Teaching Service Commission leveraged the audio scripts and systems established under the REDiSL project to establish new scripts and to launch the emergency radio program in April 2019.
Supported Better Teaching and Learning
Distributed reading materials for grades 1-3 students throughout the country (both government and non-government schools).
Distributed more than 41,000 teacher guides to all primary schools and 1,000 copies of readers' and teachers' guides reproduced in Braille and distributed to schools for the blind.
Trained approximately 5,400 in-service teachers of grades 1-4, headteachers, inspectors and supervisors from the 14 districts on effective early grade reading instruction. The training also integrated specific sessions on the classroom observation tool, providing feedback and action planning based on the tool (for headteachers, inspectors and supervisors). Teachers trained under REDiSL had an average score of 1.22 vs. 1.03 in control schools (on a scale of 1-3) based on 25 indicators of teaching practice.
Strengthened Institutional Governance and Management
Supported the operationalization of the Teaching Service Commission between 2014 -2019, laying important foundations for the effective management of teachers.
Supported Sierra Leone to be one of the first countries in Sub-Saharan Africa to have a fully digitized annual school census in 2018 and 2019. This allowed for the timely collection of rich school-level data including student, teacher and infrastructure data for all 11,000 schools in the country, including pictures, GPS co-ordinates, and data on absenteeism. Further, these data allowed for the development of a teacher database and better decision making.
Promoted Gender Equity
Ensured that at least 50 percent of the direct project beneficiaries were girls and provided an equity bonus - rewarding improvements in girls' learning outcomes under the PBF program.
Bank Group Contribution
In addition to being the grant agent of the Global Partnership for Education, the World Bank provided an additional US$10 million in financing through the International Development Association (IDA) to scale up support to primary schools and to further strengthen the newly established Teaching Service Commission. On the knowledge and learning agenda, analytical and advisory services support included: (i) The Quality and Management Teacher Study; (ii) the testing of low-cost reading pilots using a community of practice teacher training models with funding from the Results in Education for Children Trust Fund; and (iii) Early Learning Platform trust fund, which provided technical assistance to support capacity building on early childhood development (ECD) by upgrading course content and supporting materials for delivery of ECD courses, as well as the piloting of an ECD coaching system.
Partners
REDiSL was financed by several development partners, including:
Global Partnership for Education (GPE): $17.90 million
UK Foreign Commonwealth and Development Office through the Multi Donor Trust Fund: $2.4 million
Ebola Recovery and Reconstruction Trust Fund (ERRTF): $0.95 million
In Sierra Leone's education sector, there is now a strong partnership among key development partners. The Government leads the development agenda, the MBSSE holds regular local education group meetings, and development partners help the MBSSE coordinate investments and analytical work.
Moving Forward
Building on the REDiSL project, the World Bank recently approved the Free Education Project financed through a $50 million IDA grant and approximately $15.6 million through a Multi-donor Trust Fund with commitments from the European Union, Irish Aid and the UK Foreign Commonwealth and Development Office. The project will ensure that the outcomes achieved under REDiSL are maintained and incorporates lessons learned to the greatest extent possible, to further strengthen human capital outcomes.
Beneficiaries
Susan is a student in primary school benefitting from PBF in the Kenema district. Her teacher noted that "since the start of the PBF scheme, the community, teachers and students are happy. We as community teachers are able to get some support and provide our students with basic learning materials. It has been very good. We hope it continues"
Michael is a student in the newly constructed pre-school in Mabruka, Tonkolili district. His teacher noted, "It has been great having the pre-school. The children are learning through play and learn. This school has changed the community."