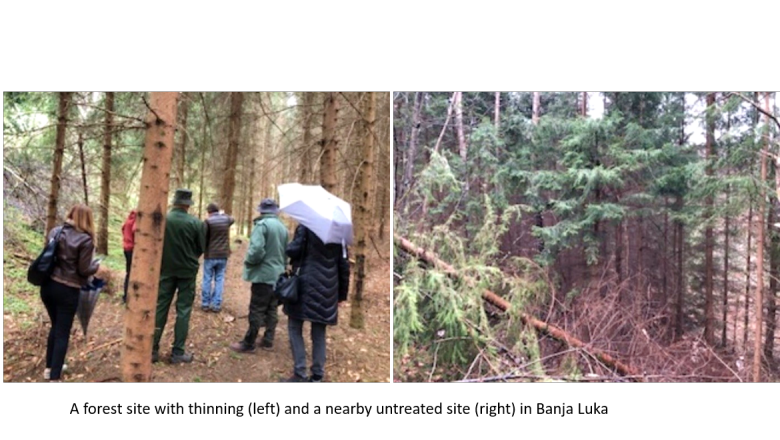 Bosnia and Herzegovina, a potential European Union candidate country, is one of the most forest-rich countries in Europe yet its forest resources were underutilized. The forest sector faced challenges such as limited accessibility, need for forest certification and lack of suitable production-oriented forest management. The country has a unique and complex institutional structure, consisting of the Federation of Bosnia and Herzegovina (FBiH), the Republika Srpska (RS), and the autonomous Brcko District. All three have their own constitutions and governments. FBiH is highly decentralized and is further divided into 10 cantons, each with its own government and forest administration. The legal framework governing forest resources management is also different between the entities.
Approach
BiH aims at modernizing the forest sector in a way that contributes to economic development, job creation, and exports in a sustainable way while maintaining environmental values and local livelihoods. To do this, capacity was built through two approaches—one top-down and one bottom-up. Under the top-down approach, the project invested in institutional capacity building through forest certification, strategic planning, and information management. Under the bottom-up approach, field activities to demonstrate good and innovative methodologies for natural resource management (forest management, fire management, road rehabilitation, nurseries, and so on) contributed to capacity building and institutional strengthening at the central (ministries) and local (forest enterprises and communities) levels. For example, by going through the forest certification process, forest managers improved their understanding of multipurpose forest management (including compliance to national laws and to international treaties and agreements, community rights, forest workers rights, high conservation value forests, and maintaining integrity of forests).
Results
The key results achieved by the project between 2014 and 2019 include the following:
Sustainable land management practices were adopted in 3,525 hectares of land;
1.87 million hectares of forest was certified;
Key climate change mitigation and adaptation indicators (carbon stock, area lost to fire, area under insect/pest attack) were adopted in FMIS;
21 government institutions were provided with capacity building opportunities to improve management of forest resources;
Two road master plans were completed – one for FBiH and the other for RS;
2,484 hectares of land was under enhanced production on state lands;
1,030 hectares of area was restored or reforested or afforested including 934 hectares being reforested or afforested;
38 demonstration subprojects were completed on sustainable forest and landscape management and 43 on fire control.
Bank Group Contribution
The project was funded through a Global Environment Facility trust fund amounting to US$5.58 million. The TF resources were divided equally between the two entities (US$2.79 million each).
Partners
The project benefited from strong partnership Bosnia and Herzegovina and the World Bank at the state level as well its entities, cantons and municipalities. The Global Environment Facility with its funding and expertise also helped the successful implementation of the project. Complementary to the project, the World Bank brought in additional resources and conducted an analytical study. The study on supply chain analyses of forest sector opportunities was supported by Program on Forests (PROFOR). The project's Implementation Support Missions and the study missions were conducted concurrently to ensure coherence in dialogue and reduce transaction burden.
Moving Forward
Continued engagement in forest and landscape management and forest-based value chains is envisaged in the World Bank's Country Partnership Framework for Bosnia and Herzegovina. Building on the success of this project, the Bank is developing a Forest Economy Development Project (FEDEP), which will aim at strengthening the performance of forest-based enterprises and improving productivity of forestry in selected areas of both entities. One of the components of the new project will replicate and scale up sustainable forest management practices developed in this project.
Beneficiaries
The project provided examples of modern approaches to forest and landscape management to both entities. "Sustainable Forest and Landscape Management Project helped us in several ways. First, we have better understanding of preparing new projects to secure new funding from donors; second, we have better know-how to prepare strategic documents such as afforestation master plan; third, we understand advanced concept and technology on nursery management; and fourth, we learned what works and what does not in terms of good forest management practices", says Mr. Boris Marković, Head of Unit, RS Ministry of Agriculture Forestry and Water Management.