Challenge
In 2006, Bihar, one of India's poorest and most populous State, had poor development infrastructure and service delivery and a complex political and social fabric. Limited inclusion of women in governance, local government institutions and their severely limited access to economic opportunities, services and finance made inclusive rural development an especially urgent and challenging agenda for the State.
Delivery of financial services was highly constrained with bank branch density at less than half of national average. Against an estimated rural micro-credit demand of US$2.4 billion, the annual credit delivery in 2006 was US$8.4 million. As a result, a vast section of the poor was dependent on high cost borrowings from informal sources. This limited asset and capital formation and development of self-employment opportunities among the poor, reinforcing deep rooted and exploitative relationships with additional hardships for women in a State with high out-migration of male heads of households.
Low productivity subsistence agriculture was the dominant source of income for nearly 70 percent of Bihar's population. The poor quality of producer organizations, lack of capital formation, poorly developed value chains, inadequate research and extension facilities and most crucially, low levels of social capital among the poor hindered their access to factors to support high agriculture productivity and income diversification.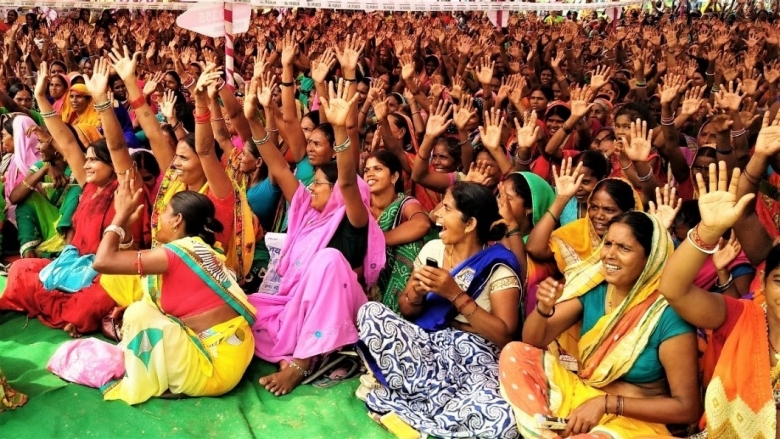 With more than 9.8 million women members in SHGs, JEEViKA touches the lives of every second household in rural Bihar
Approach
The project was designed to focus on women's socio-economic empowerment by developing strong local institutions to enhance livelihoods opportunities in the farm and non-farm sectors, and boost participation in local-level institutions and markets, for more accountable delivery of services and better returns to small producers.
The project initially focused on building strong institutional platforms for the poor through affinity-based Self-Help Groups (SHGs), commodity specific producer groups and their federations. Systematic efforts were made to enable the SHGs to become bankable clients, by building group level capacity for savings and financial intermediation. Initial capitalizing grants were provided to the community institutions on both a demand driven basis and for specific purposes such as health risk, nutrition, food security and specific livelihood sector value chains. The project worked closely with the banking sector to change their risk perception of the poor borrowers to successfully facilitate access to credit from commercial banks.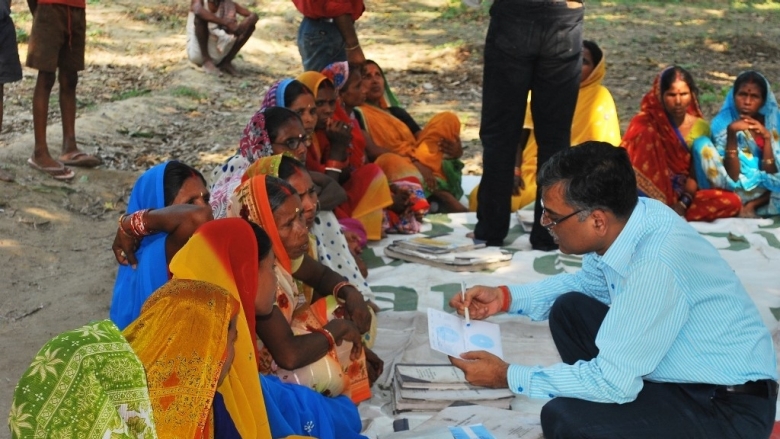 JEEViKA turned around an unresponsive banking sector by developing strong and bankable community institutions
The project facilitated large scale adoption of productivity enhancement practices by developing local capacity for delivery of extension services. Commodity based producer organizations were facilitated to undertake collective aggregation and marketing of small-farmers' produce and integrating technology into various aspects of production, quality control and marketing for higher returns.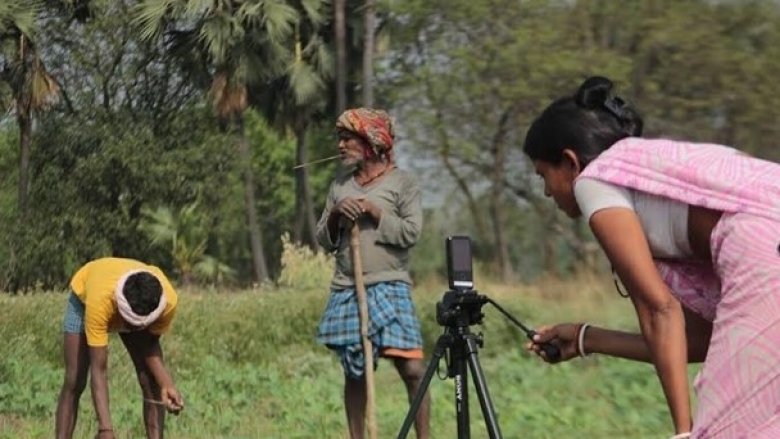 Large scale capacity building of small-farmers was made possible through local resource persons integrating new age technology to train farmers
Results
Over a decade, the World Bank supported JEEViKA program has provided a large-scale proof of concept, where women collectives have emerged as platforms for delivering transformational outcomes. Thus far, the project has contributed to the following outcomes;
Between 2007-2019, more than 9.8 million rural women have been mobilized into 847,000 Self-Help Groups (SHGs) and their federations, making Bihar the leading state in women SHG mobilization across India
During this period, JEEViKA SHGs have collectively leveraged more than US$1.1 billion of institutional credit from banks while also mobilizing US$121 million in individual savings from its members.
Since 2009, more than 1 million farmers have been trained on improved package of practices for productivity enhancement in staple crops such as Rice and Wheat, through a community-based extension system.
Between 2014-2019, the project has mobilized 270,000 women small-farmers into commodity-based Farmer Producer Organizations (FPOs). These FPOs have achieved a business turnover of US$5.5 million, marketing over 30,000 metric tonnes of grains, fruits and vegetables (e.g. Maize; Potato; Lentil; Mango; Litchi; Seasonal vegetables). Farmer level returns per unit of produce have increased by 15-20 percent due to higher margins and improved production practices.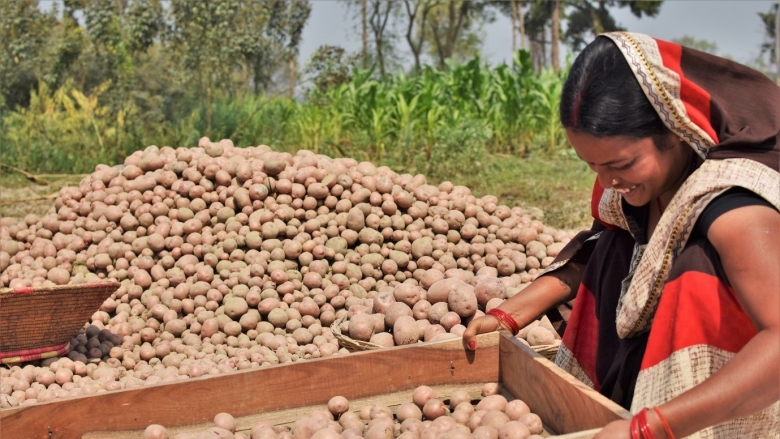 A member of the Farmer Producer Company in West Champaran, Bihar undertaking sorting of chips grade potatoes. The FPOs are enabling higher returns for small-farmers by shifting to processing grade varieties and directly selling to institutional buyers
1.2 million rural women have been facilitated to enrol and access public insurance schemes.
Since 2016, 52,000 rural households are being supported through women resource persons called Pashu Sakhi on improved animal management and marketing practices.
More than 5,000 rural households have been supported in undertaking bee-keeping enterprises with project support in form of training and market linkage with leading industry players.
Between 2007-2019, more than 100,000 women members were trained as community resource persons and technical experts, providing capacity building support in Bihar and multiple other states.
7,500 women artisans have been mobilized into arts and crafts clusters, provided capacity building support for design upgradation and marketing including through online marketplaces.
In 7,800 villages, community organizations have formed local health sub-committees that conduct household visits to influence behaviours around improved nutrition and sanitation practices.
Since 2016, the project has successfully piloted innovative community enterprise approaches like Rural Retail Marts aimed at improving income levels of rural women working as small-traders and Women owned catering enterprises that have been recognized under State Govt. policy to improve services at public institutions like Hospital Canteens and Administrative offices.
Bank Group Contribution
In addition to the US$453 million loan from the International Development Association (IDA) for the two state level projects, the World Bank team brought in lessons from successful implementation of similar approaches in the state of Andhra Pradesh and Telangana as well as global best practices. The Bank helped JEEViKA develop a professional human resource architecture for implementing the complex program and supported the project through technical assistance resources. The Bank team supported Bihar in identifying best practice organizations as technical service providers and partners for developing scalable models in the areas of productivity enhancement, value chains development and enterprise promotion.
Partners
The Govt. of Bihar has provided US$175 million in counterpart funding for the program and recognizes JEEViKA as the lead implementing agency for several other state and national level programs. JEEViKA has crowded in strategic investments from several other leading organizations including the Bill and Melinda Gates Foundation (BMGF) and Department for International Development (DFID) to bring in high quality technical assistance in agriculture value chains, nutrition and sanitation behavior change communications and digital financial services.
Moving Forward
The JEEViKA comprised of two phased WB projects. The Bihar Transformative Development Project (BTDP) is known as JEEViKA-II and is aimed at building upon the lessons of JEEViKA-I, deepening value-chain activities and facilitating access to nutrition and sanitation programs. JEEViKA-II is breaking new grounds through innovative approaches in the areas of digital financial services, large scale behaviour change communication and micro-enterprise promotion.
JEEViKA is adopting a community driven behavior change communication approach through which women SHG members are being provided intensive orientation on improved nutrition and sanitation practices
The project is supplementing the capacity building efforts by integrating nutrition elements in agriculture interventions such as promotion of nutrition gardens and the collective procurement of lentils.
Enterprise driven extension services are being scaled up through development of Agri-entrepreneurs who act as one-stop shops for high quality inputs as well as technology enabled extension services
Digital Financial Services and doorstep banking is being scaled up through women run Customer Service Points wherein both individual and group level transactions are being facilitated, delivering round the clock access to banking while generating new jobs in rural Bihar.
Beneficiaries
Gudiya Devi, Chakia, West Champaran, Bihar.
"This is the first time that I am doing bee-keeping. Our producer group received training and capital from JEEViKA. I am not afraid anymore of bees or failure."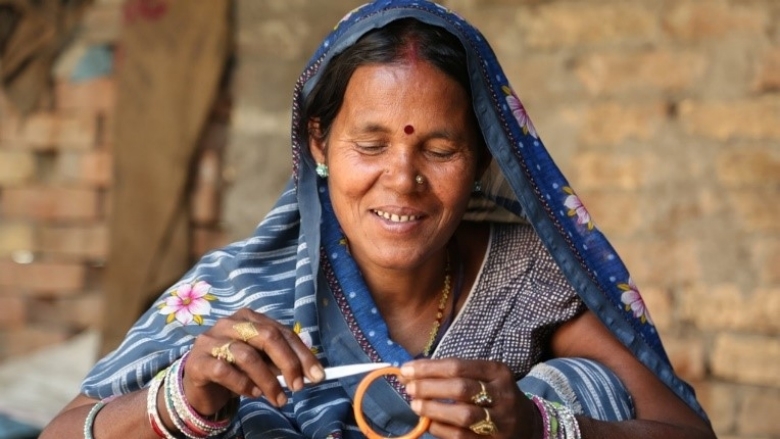 Kuraisa Devi, Muzaffarpur, Bihar
"I started with a small loan of US$2,300 from my JEEViKA group and received training support through my producer collective. Today, in peak season, I hire six workers to finish the orders in time."