CHALLENGE
Zambia's human capital accumulation has been slow despite progress in improving health and education indicators. While the country has achieved close to universal access for primary education, secondary school level coverage has fallen since 2010 and is currently about 40 percent. Zambia is also experiencing a stark inequality in access to health and education services between poor and non-poor populations, and between rural and urban areas: 49 percent of births among the lowest wealth quintile are attended by a skilled birth attendant as compared with 95 percent of births among the highest quintile. Zambia's Human Capital Index (HCI) is 0.4, which implies that children born today will only be 40 percent as productive as they would be if they had full educational and health attainment. Zambia lags both in the region as well as its income group on the HCI.
With the poverty rate in rural Zambia at 78%, women and adolescent girls are particularly vulnerable due to lower human capital accumulation. This is exacerbated by high fertility and early pregnancy, and disproportionate engagement in low productivity jobs. Educational attainment among girls is very low, particularly in rural areas, and enrollment and retention among girls in Secondary School (Grades 8-12) remains a challenge nationally. In the 2018/2019 academic year a total of 861,352 secondary school students were enrolled, of which 412,269 are female. But, economic constraints, early marriage, and early pregnancy are major reasons why adolescent girls drop out of school, affecting retention. According to Zambia Demographic and Health Survey 2014, 31 percent of girls (compared to 2 percent of boys) between ages 20-24 in the survey were married by the age of 18 years.
APPROACH
As the demand for human development support is increasing, social protection, health and education programs are growing in importance. The Government of Zambia has partnered with the World Bank to benefit from technical and financial support to improve its human capital. The Bank's support to Zambia's human capital agenda will help increase access to livelihood support for women and access to secondary education for adolescent girls in extremely poor households and improve health services in the country. The Bank is supporting the Zambian government to implement the following five key human capital projects: the Health Services Improvement Project, the Girls Education and Women's Empowerment & Livelihoods Project (GEWEL), the Zambia Education Enhancement Project and two regional projects, the Education Centres of Excellence and the Southern Africa Tuberculosis and Health Systems project. This support is well aligned with the government's development priorities and ,with its recognition that human development and economic productivity are interrelated.
RESULTS
A few highlights of our development results in Zambia include:
Girls Education and Women's Empowerment Livelihoods Project (GEWEL):
The GEWEL project aims to increase access to livelihood support for extremely poor women and access to secondary education for disadvantaged girls in extremely poor households. The project is covering school fees for 25,239 girls from the poorest households in 10 provinces of Zambia. The figure exceeds the original end-of-project target of 14,000 girls. Between 2016 and 2018, the female drop-out rate in GEWEL districts fell from 5.8 to 3.9 percent, compared to 3.8 to 2.9 percent in non-project areas. Additionally, over 34,000 women have been supported by the program's livelihoods package so far and targeting is ongoing for a further 41,000 women to start up and maintain household enterprises and increase income.
Eastern and Southern Africa Higher Education Centers of Excellence (ACE)
The Centers of Excellence are providing opportunities for women to pursue careers in research at the highest levels through scholarships for masters and doctoral programs in science, technology, engineering and mathematics (STEM) particularly in sustainable mining at Copperbelt University and human and animal diseases at the University of Zambia. From 2016 to 2019 82 female masters students have benefited from the program either as graduates or currently undertaking studies. An additional 18 female students are currently enrolled in PhD programs at both ACEs. The participation in comparison to male students is increasing annually, and currently stands at above 40%.
The Health Services Improvement Project:
The Health Services Improvement Project has contributed to an increase in childbirth deliveries attended to by skilled health providers in project areas from a baseline of 27% in 2013 to 48.5% in March 2018 in project areas. Full immunization coverage for children below one year has also increased from a baseline of 80% in 2013 to 89.5% in March 2018 in project areas.
The Southern Africa Tuberculosis and Health Systems Support Project:
The Southern Africa Tuberculosis and Health Systems Support Project has contributed significantly to enhancing Tuberculosis case detection and treatment success. By Mid-Term of the Project, Tuberculosis case notifications in target geographic areas increased from 25,752 in 2016 to 40,134 by March 2019. The Tuberculosis treatment success rate in target geographic areas increased from 85% at baseline (2016) to 90% by the close of 2018, already reaching the national target of 90%.The improvement in the treatment success rate in project areas is attributed to improved case management through the introduction of a Results Based Financing (RBF) approach, nutrition support, recruitment of multi-drug resistance (MDR) Tuberculosis nurses and training of Tuberculosis coordinators leading to increased treatment adherence, and improved loss to follow up. Further, the proportion of mines inspected at least twice in a year for compliance with national mine health regulations increased from zero in 2017 to 68% in 2018 and the trend is expected to rise given the level of investments made in occupational health and safety. The Centre of Excellence in Tuberculosis and occupational lung diseases continues to develop with the expansion of its diagnostic capacity, equipped with state-of-the-art machines and related training of staff in specialized areas.
BANK GROUP CONTRIBUTION
As of June 2019, Zambia's lending portfolio comprised 18 projects with a total net commitment of $1,168 billion. The portfolio comprises 13 national IDA projects totaling $911 million, including guarantees for Scaling Solar of $3.7 million, four regional IDA projects totaling $162 million and Trust Funds accounting for $95 million. The portfolio is supporting projects under the Country Partnership Framework (2019- 2023) that was endorsed in February 2019. For instance, the Bank is funding the Zambia Education Enhancement Project amounting to $60 million, the Girls Education, Women Empowerment and Livelihoods (GEWEL) at $65 million, the Health Services Improvement Project at $67 million, and two regional projects: the Africa Higher Education Centers of Excellence (ACE) totaling $12 million and Southern Africa Tuberculosis and Health (SATBHSS) totaling $45 million.
PARTNERS
The World Bank in Zambia has maintained close relations with cooperating partners such as the Swedish government, who are core-financing an electricity access project, and the European Union who is core-Financing the Kariba Dam Rehabilitation Project. Other partners include the African Development Bank, United Nations agencies, and the governments of German, the United Kingdom, the Netherlands, and the United States.The World Bank Group's strategy adheres to the principles agreed with other partners supporting Zambia's development efforts, as articulated in the Joint Assistance Strategy for Zambia (JASZ), and comprises highly selective targeted interventions that maximize the impact of the government's development efforts.
MOVING FORWARD
One of the objectives of the 2019-2023 Country Partnership Strategy aims at promoting opportunities and jobs for the rural poor. Therefore, the bank has put an emphasis on human capital projects such as the GEWEL, Zambia Education Enhancement; Education Centres of Excellences as well as health projects. Through these projects the Bank hopes to contribute to building Zambia's human capital by investing in people.
In the 7th National Development Plan, the government of Zambia pledged to provide women and girls with equal access to education, health care, decent work and representation in the political and economic decision-making processes. As outlined in the Vision 2030 and the 7NDP, the World Bank's Country Partnership Framework (CPF) with Zambia will accompany the government in its efforts to rekindle economic growth along a more inclusive and sustainable path by (i) promoting more even territorial development to reduce regional disparities, (ii) increasing the quality of and access to public services and social protection for a skillful and healthy workforce, and (iii) promoting the building of resilient institutions. The World Bank stands ready to work with the government to implement its aspirations in the 7NDP considering that the strategy is critical for building a strong human capital needed for national development and eradicating poverty.
BENEFICIARIES
The Gwembe district located in the Southern Province of Zambia is home to young and vibrant 14-year-old Eunice, who aspires to become a nurse. Her favorite subjects in school are English and science. Despite being young, Eunice dreams one day to become a nurse and support her father who suffered a long ailment leading to the loss of his job, which was their only source of income.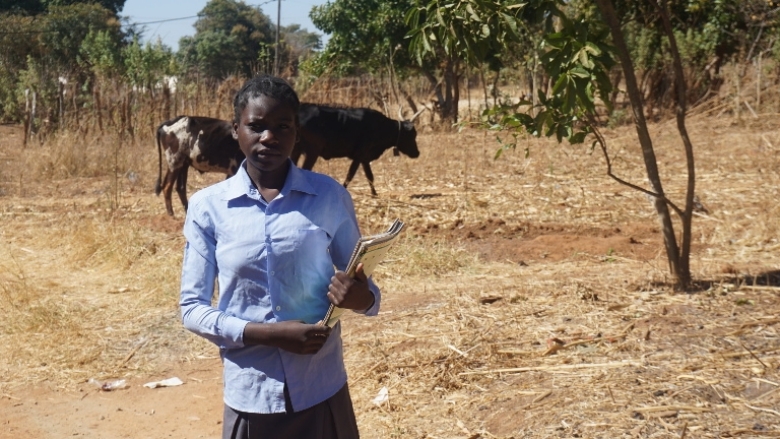 Fourteen year old Eunice Sichone is among the 25,239 girls from very poor households who are benefiting from the GEWEL project. Photo credit: Carlyn Hambuba.
"My father lost his job and my mother ran away from us, "The KGS project is a very good initiative as it helps struggling parents like my father to be able take their children to school. Without this project, I would be out of school with no hope of achieving my long-cherished dream of becoming a nurse".
Another beneficiary from the Gwembe district is 17-year-old Priscilla Hamwenda, a grade nine pupil at Gwembe Day Secondary School. Priscilla has goals of becoming an accountant one day and says she believes this will happen because mathematics and english are her favorite subjects.
After her father's death in 2015, Priscilla Hamwenda was forced to stop school for one whole year because her widowed mother, could not afford her daughter's fees, she in now back in school because the GEWEL project is paying for her tuition fees. Photo credit: Carlyn Hambuba
After her father's death in 2015, Priscilla was forced to stop school for one whole year because her widowed mother, could not afford her daughter's fees.
Priscilla is now back at school after getting a scholarship with the GEWEL project which is paying for her school fees.