Labor markets in the Western Balkan countries—comprising Albania, Bosnia and Herzegovina, Kosovo, Montenegro, North Macedonia and Serbia—are characterized by low employment rates and high unemployment by European standards.
As elsewhere in Europe, almost the entire region is facing an ageing and shrinking population due to low birth rates and high emigration.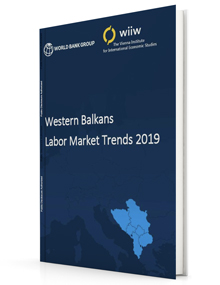 This report uses data from national labor force surveys to examine key labor market indicators for the six Western Balkan countries – Albania, Bosnia and Herzegovina, Kosovo, Montenegro, North Macedonia, and Serbia – between the second quarter of 2017 and the second quarter of 2018.

As comparators, the report uses four countries that joined the EU at different times over the last 25 years, namely Austria (1995), Hungary (2004), Bulgaria (2007), and Croatia (2013). The analysis uses labor force survey data provided by the Statistical Offices of the individual Western Balkan countries and by Eurostat for the EU comparator countries.

Report highlights:
Despite stronger economic growth in 2018 than in 2017, the Western Balkan countries' labor markets improved at a slower pace in 2018 compared with a year earlier.
During this period, Western Balkan countries created 68,000 new jobs and employment rose a modest 1.1 percent, ranging from a decline of 4.5 percent in Kosovo to an increase of 3.3 percent in Montenegro. More than half of the employment increase in 2018 was due to an increase in female employment.
The quality of employment seems on the rise, with most new jobs created in the Western Balkans being formal, waged jobs, while informal employment, especially self-employment, is on the decline. Regionally, the number of self-employed declined by around 125,000 people (down 8 percent).
Unemployment reached new historic lows in most Western Balkan countries. The number of unemployed fell by 65,000 between the second quarter of 2017 and the second quarter of 2018, compared to 169,000 the previous year.
Youth unemployment was high and persistent in the Western Balkan countries. Although the rate fell to 35 percent in 2018, it was twice as high as the EU average. More than one fifth of the youth population was not in employment, education or training (NEET), which was less than a year earlier, but still high by international standards.
Wages and labor costs were significantly lower in the Western Balkans, compared to the EU and there was no clear convergence in recent years.
When compared to productivity, the apparent labor cost advantage of the Western Balkan countries disappears and the two most direct EU competitors, Bulgaria and Romania, with similar or even lower labor costs than some Western Balkan countries, seem significantly more competitive.
The taxation of labor income in the Western Balkans is skewed towards relatively high social security contributions (combined with a lower and relatively flat personal income tax), which results in a relatively high labor tax level for the lowest wage earners.
Low wage earners are at a particular disadvantage in the formal labor market in terms of their low net take home pay and the relative high cost of hiring them versus medium or high wage earners.
The full report and the accompanying database are available on the website of the Jobs Gateway in South Eastern Europe - SEE Jobs Gateway.
The SEE Jobs Gateway is a community of practice for labor market policies in the Western Balkan which brings together policy makers, academics, and experts from international organizations who regularly exchange ideas and learn from the experience of other countries with regard to labor market policies. Most members are from or have an interest in the Western Balkan region, comprising Albania, Bosnia and Hercegovina, Kosovo, Montenegro, North Macedonia, and Serbia.