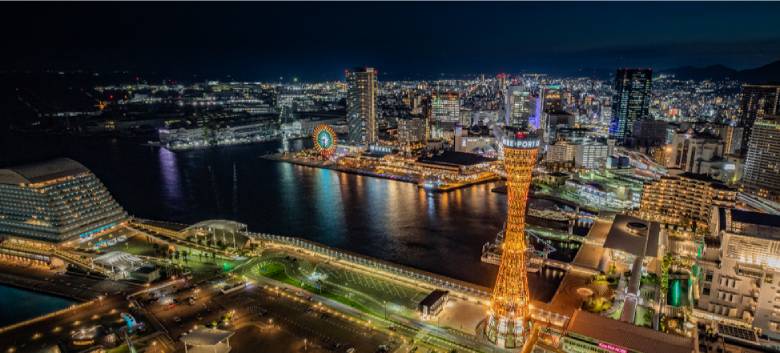 ©KOBE TOURISM BUREAU
Overview
Following the opening of its international seaport in 1868, Kobe developed rapidly and the city has since played an important role in Japan as an economic and cultural gateway to the world. The growth in the city's economy was initially driven by the shipbuilding and steel industries, and later by manufacturing in fields such as rolling stock and large-scale power generation. In January 1995, Kobe was struck by the Great Hanshin-Awaji Earthquake and many of the city's industrial plants suffered significant damage.
During the period of rebuilding following the disaster, Kobe launched a 'Biomedical Innovation Cluster' project, aimed at developing a center that would excel in the research and development of advanced medical technologies. The project focused on attracting companies in the medical sector in order to revitalize the city's economy and create a new growth industry. Currently, Kobe boasts over 360 research facilities, venture businesses, hospitals and clinics, and it now one of the largest biomedical hubs in Japan.
The city is also pursuing a "Hydrogen Smart City Kobe Initiative", which includes a pilot public-private collaboration aimed at establishing a liquefied hydrogen supply chain. Under the guidance of the Japanese government's GIGA School project, Kobe is also driving the creation of more advanced IT environments in the city's schools.
With this track record, Kobe became a partner city of TDLC's City Partnership Program in 2016. It now shares its experience of reconstruction with practitioners and city government officials in developing countries through Technical Deep Dives and other TDLC events. With increasing attention being paid to disaster preparedness and risk management in cities around the world, Kobe's insights are expected to provide important perspectives for urban planners in many other countries.
Key topics of engagement 
Disaster risk management
Competitive and smart cities
ICT education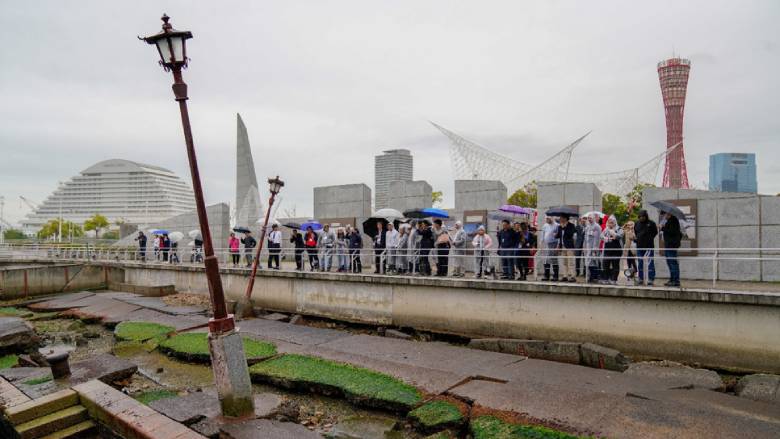 Voice of the city 
"Kobe has contributed to urban development in developing countries by providing disaster prevention and mitigation know-how through workshops and seminars, based on our experience of the Great Hanshin-Awaji Earthquake as well as our expertise and knowledge of urban development. As a result of these efforts, we have increased the international visibility of the city and the companies operating here. We also participated in the Smart City Conference that was organized by our fellow City Partnership Program city Yokohama, during which we gained new insights into solutions to urban challenges using disruptive technologies such as artificial intelligence and big data. We therefore believe that our collaboration with TDLC has been mutually beneficial."
Kenji Uematsu, Executive Director, International Department, Office of the Mayor, Kobe City Government
Key recent collaborations
May 2022
A city official introduced key lessons and takeaways from Kobe City's experience in developing the biomedical innovation cluster as part of build back better process after the Hanshin-Awaji Earthquake of 1995 at the Technical Deep Dive on Inclusive Cities and Jobs.
February 2022
A city official from Kobe presented how the city built back better following the devastating 1995 Earthquake and the main challenges in achieving multi-hazard resilience at the Virtual Technical Deep Dive: Disaster Risk Management and Resilient Infrastructure.
April 2021
Officials from Kobe showcased the example of Satoyama and healthy city initiatives from Kobe itself, highlighting the innovative solutions being deployed to ensure better integration of urban life and nature at the "Healthy Cities for All" Technical Deep Dive.
November 2020
A city official introduced Kobe's perspectives and explained how the city is preparing for the 'new normal' after COVID-19 during a side event organized by TDLC at Smart City Live 2020.
January 2020
A Kobe official presented the city's initiatives to promote creative thinking and apply creativity to societal challenges during a Technical Deep Dive on Creative Cities.
October 2019
A city official made a presentation on Kobe's smart city initiatives during a World Bank session at the "8th Asia Smart Cities Conference" co-organized by the World Bank and Yokohama City.
April 2019
Participants of a Technical Deep Dive on Integrated Urban Flood Risk Management visited Nakatottei Pump Station at the Port of Kobe Earthquake Memorial Park and coastal levees around the city to learn about urban flood risk management, seismic resilience, and the interrelationships between them.
March 2019
Kobe City and the Kansai SDG Platform co-organized a symposium on "Inclusive Disaster Risk Reduction" at which TDLC staff presented some of the World Bank's SDG initiatives and explained the support for SDGs provided by Japan and the World Bank.
March 2018
A Kobe official presented at a Technical Deep Dive on Seismic Risk and Resilience.
October 2017
A Kobe official presented at a Technical Deep Dive on Competitive Cities.
*As of June 2022
Key Publications