In response to the COVID-19 crisis, the Intersecretariat Working Group on Household Surveys (INWGHS) and the Statistics Division of the Economic Commission for Latin America and the Caribbean (ECLAC) jointly organized a webinar on December 7 to discuss the impact that the survey mode implemented in the context of the pandemic has had on official statistics.
As a consequence of the COVID-19 pandemic, many countries had to stop face-to-face data collection and quickly adapted to the new situation by using phone surveys and alternative source for data collection.
The webinar assessed the impact of data collection mode on official statistics and the current methodologies NSOs are using to distinguish the mode effect from the pandemic effect. It also discussed how experiences gained by countries during the pandemic provide an opportunity for household surveys to move towards a new normal and illustrated the challenges associated with such transition.
The virtual event brought together statisticians from National Statistical Offices (NSOs) and other parts of the National Statistical Systems (NSSs) to strengthen their capacity on analysis of household surveys, with a focus on the assessment of collection-mode effect due to the COVID-19 pandemic.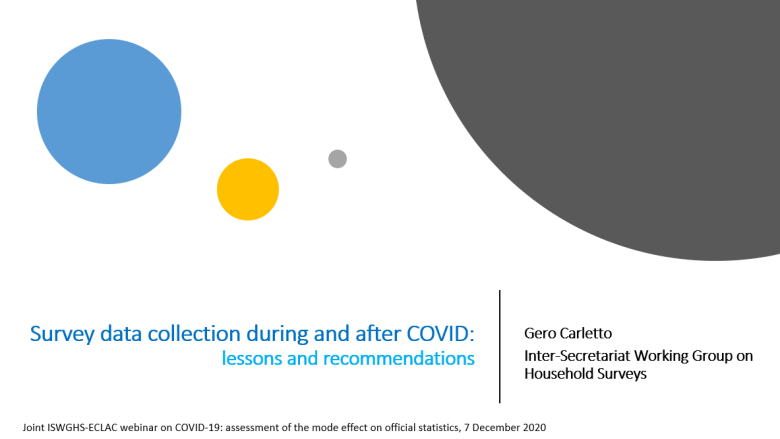 Gero Carletto, LSMS Manager and co-chair of the Inter-Secretariat Working Group on Household Surveys, presented a series of Lessons and Recommendations on Survey Data Collection during and after COVID-19, covering ex-ante and ex-post adjustments to maximize coverage and minimize non-response bias.