Promoting female empowerment and preventing violence through a multi-sectoral intervention targeting couples in Ibadan, Nigeria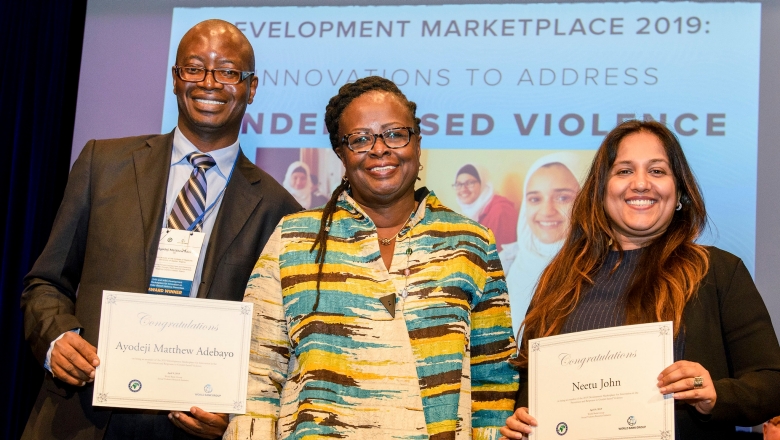 World Bank Director of Strategy & Operations Africa Diariétou Gaye presents 2019 Development Marketplace award to Ayodeji Matthew Adebayo and Neetu John, Nigeria Photo: World Bank / Grant Ellis
Project Summary:
The University of Ibadan and Columbia University Mailman School of Public Health are testing a program in Ibadan that aims to increase women's participation in household decision-making by fostering more egalitarian relationships in young couples aged 18-35.
The Development Marketplace award will help to comprehensively explore if the program has an impact on emotional, physical and sexual intimate partner violence, and allow for a more nuanced understanding of how the program might help couples create a more equitable relationship and reduce violence.
Project Team:
Ayodeji Adebayo (MPH, MBBS, FWACP) is a Senior Lecturer at the College of Medicine, University of Ibadan, Nigeria, one of the foremost medical schools in West Africa. He is an honorary consultant to the University College Hospital, Ibadan in the Department of Community Medicine.
Dr. Adebayo has a decade of experience in implement­ing qualitative and qualitative research and evaluation studies in the field of sexual and reproductive health, including the context of GBV. He has authored/co-authored more than 40 peer-reviewed publications for research and policy audience. He had served as Principal/Co-Investigator and Lead Evaluation Researcher on several reproductive health studies.
Dr. Adebayo currently serves as a Co-investigator in the ongoing WWW.Partners multi-pronged female empowerment intervention in Nigeria, funded under the Gates Foundations Grand Challenge mechanism. He is the PI of the WBG/SVRI grant to explore the impact of female empowerment program on violence and coercive behaviors.
Neetu John, PhD is a faculty member at Columbia University Mailman School of Public Health. She previously worked as a Senior Population, Health & Gender Specialist with the International Center for Research on Women, where she designed and executed research studies.
She has designed and implemented complex research studies such as randomized control trials (RCT) and impact evaluations, nationally representative population-based surveys and qualitative studies in South Asia, sub-Saharan Africa and United States.
She is currently implementing a multi-sectoral RCT in Nigeria to sup­port women's empowerment and reduce violence. She is also examining the linkages between child marriage, vio­lence and psychological well-being; as well as investigating the relationship between economic and reproductive empowerment and how they relate to violence. She is widely published and has authored numerous peer-reviewed papers on these topics.