Developing culturally appropriate responses to gender-based violence from help-seeking to safety planning and intervention:
Adapting myPlan for Kyrgyzstan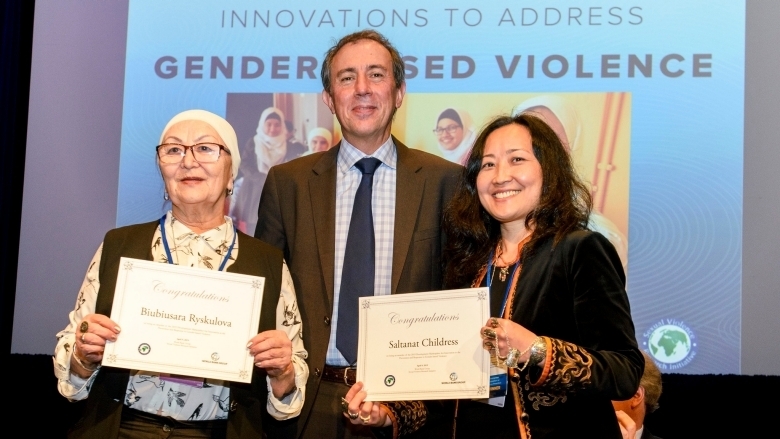 World Bank Vice President for Europe and Central Asia Cyrill Muller presents 2019 Development Marketplace award to Biubiusara Ryskulova Photo: World Bank / Grant Ellis
Project Summary:
The Development Marketplace Award enables the researchers to adapt a personalized safety planning mobile phone application to the Kyrgyz context. This evidence-based, women-centered application was developed by Johns Hopkins University to assist women in abusive relationships to assess danger, weigh their priorities, and access a personalized safety plan with links to resources.
Project Team:
Jill Theresa Messing, MSW, PhD is an Associate Professor in the School of Social Work and the Director of the Office of Gender-Based Violence at Arizona State University. She has published over 60 articles and book chapters and is the co-editor of the 3rd edition of Assessing Dangerousness: Domestic violence offenders and child abusers.
Dr. Messing specializes in the development and testing of intimate partner violence risk assessments and is particu­larly interested in the use of risk assessment in collaborative and innovative interventions as a strategy for reducing intimate partner homicide.
Dr. Messing and her colleagues developed myPlan (www.myplanapp.org), and she is a co-investigator on three NIH-funded randomized controlled trials examining the effectiveness of this web-based safety planning tool for women in abusive relationships.
Biubiusara Ryskulova is the Director of Public Association "Crisis Center Sezim". Crisis Center Sezim has been successfully operating in Kyrgyzstan for 20 years in the field of gender-based violence, eliminating discrimination and violence against women and girls, and supporting family through providing shelter, transitional housing and rehabilitation programs.
She is a practicing psychologist, family mediator and public defender in the courts for victims of gender-based violence and human trafficking. She was awarded a State Medal "Dank (Fame)" by President Atambaev in 2017, received a "Woman of Courage" Award from the United States Department of State in 2007, and was a nominee for a Nobel Peace Prize from Kyrgyzstan in 2005.
Crisis Center "Sezim" provides implementation and technical support for this project, including provision of a project site for the planned activities and professional capacity building of local employees.