Financing the Low-Carbon Transition
Climate change poses an acute and increasing threat to global development. Climate impacts could disrupt food and water supply, destroy infrastructure, flood homes, schools and hospitals, erode livelihoods, and decrease economic opportunities. Many of its impacts will fall most heavily on vulnerable populations, including people living in poverty; people dependent on rain-fed agricultural, pastoral, forest, and coastal resources for their livelihoods; and people in small-island developing states. By 2030, without climate action, more than 100 million people will be pushed into poverty by climate change impacts.
The Paris Agreement represents countries' commitment to strengthening the global response to climate change and raising ambition. Countries set out their individual climate pledges by submitting nationally determined contributions (NDCs) to the UNFCCC that outline the actions they would undertake for low carbon economic development. A key challenge, however, is the financing required to bring about this global transformation while also recognizing that countries must meet and exceed their NDCs in order to meet the temperature goals of the Agreement.
Many countries and private sector entities are factoring in the potential role of climate markets and other carbon pricing instruments for their decarbonization strategies. A well-designed carbon price could be the most cost-effective way to abate greenhouse gas emissions and trigger a transformational shift in investment patterns and behaviors, unlocking innovation in technologies, infrastructure, financing, and practice. Over half of the NDCs submitted by countries reference the use of climate markets to meet their targets. According to recent research, if designed well, international cooperation of market and price-based instruments could reduce the cost of implementing countries' NDC by more than half, or remove as much as 5 gigatonnes of carbon dioxide (GtCO2) a year in 2030, at no additional cost.
Leveraging International Carbon Markets under Article 6 to Unleash Private Capital
Article 6 of the Paris Agreement recognizes that countries may voluntarily cooperate with each other to deliver on their NDCs and raise ambition. Effectively, this Article introduces the use of carbon markets globally. Article 6.2 signals flexibility for and permits direct bilateral or plurilateral cooperation for the generation and transfer of mitigation outcomes (MOs) from one country to another under a variety of mechanisms. Article 6.4 will likely be governed by the Parties through the UNFCCC process.
The 'Paris Rulebook' – the implementing guidelines that will operationalize the landmark Agreement – is still under negotiation. In this context, focused piloting efforts are essential for providing practical experience on the use of climate markets post-2020.
Supporting Countries by Building the Next Generation of Climate Markets
There is a clear need to lay down the foundation for climate markets in the next few years, given that the Paris Agreement left much of the definition and architecture for markets to future negotiations. These rules must be written clearly and be fair so that they don't undermine the incentive structures for taking climate actions and undercut progress.
Against this backdrop, the World Bank is working to support client countries through analytical and technical work to participate in post-2020 climate markets. The Bank has four complementary work streams:
Piloting the creation of an initial supply of Mitigation Outcomes (MOs) for post-2020 climate markets from the World Bank's lending programs. These MOs are units that have been generated either to be counted towards NDCs or for international transfers under Article 6 of the Paris Agreement;
Demonstrating the use of new technologies and infrastructure to track MOs and avoid double counting;
Development of financial and risk management products that allow climate market transactions while managing regulatory and market uncertainty; and
Facilitating discussions between policymakers, the private sector and expert groups regarding the regulatory framework and enabling environment for operationalizing post-2020 climate markets.
These pilots form the basis for dialogue with governments on key institutional and capacity building requirements that need to be met for decision-making on Article 6. Together, this range of services will support our client countries' participation in the next generation of climate markets, including capacity building and the development of institutional and governance processes.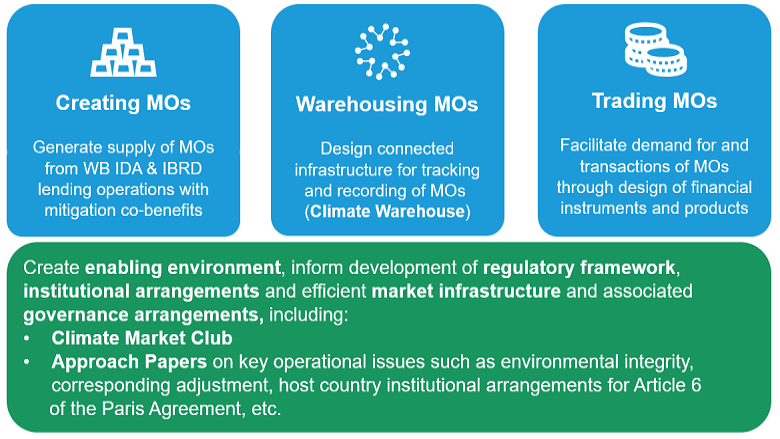 Supporting the Establishment of the Climate Market Club
While the detailed rules, guidelines, and procedures for Article 6 remain to be agreed through the international negotiation process, ongoing initiatives can contribute practical lessons to the process, while being underpinned by a commitment to meet the eventual requirements that emerge from the Paris Rulebook. Piloting different approaches can help shape a common understanding of key technical elements, as well as offer guidance on operationalizing technical papers and sharing lessons on what works and what does not.
The World Bank Group, together with the MDB Working Group on Article 6, has established a Climate Market Club to jointly develop modalities to support countries pilot Article 6 and share lessons based on practical experience. Participation in the Club is voluntary and non-exclusive and, in total, the Club expects to include participation from about 15 countries. These primary members may also invite participation public or private sector companies, sub-national governments, or civil society organizations engaged in the generation or trade of MOs to participate in the Club and share perspectives based on practical experience.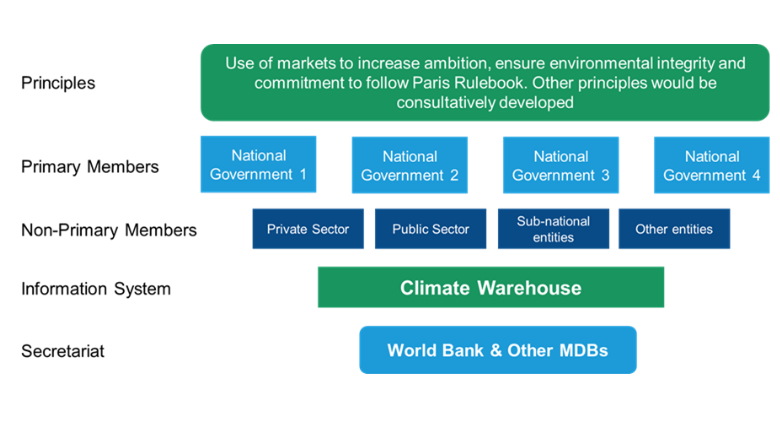 The MDB Working Group on Article 6 serves as the secretariat for the Club, responsible for convening and facilitating meetings as well as developing analytical or technical outputs upon request. These outputs are expected to result in consultatively developed knowledge pieces related to the operationalization of Article 6.