Honorable authorities and distinguished participants,
Thank you for the opportunity to speak on the role that financial inclusion plays in growth and poverty reduction as well as in the Central Banks' objective to maintain financial stability.
Financial inclusion is important.
When we have financial inclusion, people and businesses access financial products and services that are affordable and meet their needs.
Financial inclusion facilitates day-to-day living. It helps families and businesses plan for long-term goals and weather unexpected emergencies. When people hold accounts, they are more likely to use credit and insurance, to start and expand businesses, to invest in education and health, to manage risk, and to weather shocks, all of which can improve the overall quality of their lives.
For businesses, financial inclusion helps to finance investments, to lower transaction costs, to manage shocks, and to make safe and secure payments. For small and young firms that often face greater constraints, we see that access to finance is associated with innovation, growth and job creation.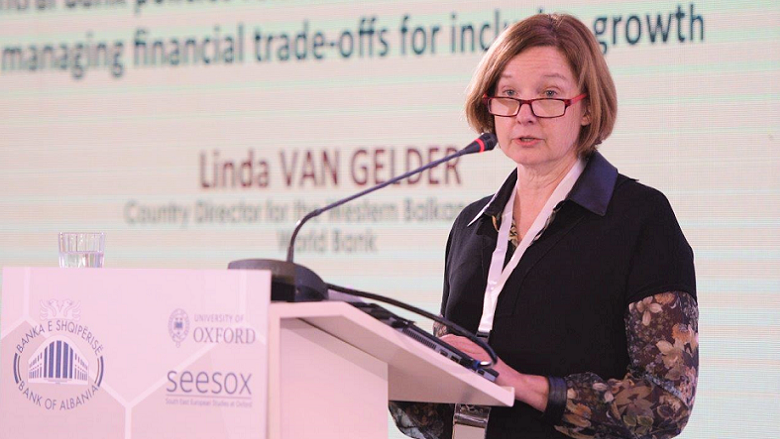 And as an aside, financial inclusion has become a global priority. It is an enabler for 7 of the 17 Sustainable Development Goals, and it is recognized as a priority by the G20. The World Bank Group also considers financial inclusion a key enabler to reduce extreme poverty and boost shared prosperity, and has put forward an ambitious global goal to reach Universal Financial Access by 2020.

There has been progress toward financial inclusion globally, but significant challenges remain:
2 billion adults worldwide do not have a basic account, mostly because financial services are not yet affordable or designed to fit low income users. Other barriers to opening accounts include long distances to financial service providers, lack of necessary documents, and lack of trust in financial service providers.
In addition to people, micro small and medium sized enterprises often lack adequate financing to thrive and grow. This is often due to lack of collateral and credit history, and business informality.
Some groups are more financially excluded than others: Women, rural poor, and other remote or hard-to-reach populations, as well as informal micro and small firms are most affected.
How financially included are the Western Balkans?
In the Western Balkans financial inclusion remains low compared to European standards. According to the World Bank Findex Survey conducted in 2014 only about 6 out of 10 adults have a bank account at a formal institution. In Albania, it is less than 4 out of 10 (38 percent). Figures are even lower for the poor and for women.
Despite highly liquid banking systems, MSMEs – the backbone of the Western Balkan economies - continue to have limited access to credit, and when they do, it is often high cost and with stringent conditions. Around 15 percent of MSMEs in the region consider Access to Finance the biggest obstacle in doing business (Enterprise Survey 2013) compared to around 7 percent of large enterprises. Moreover, survey results show that more than two thirds of investments in the region were financed from internal funds. At the same time, the proportion of new investments financed via banks remains low at an average of 15 percent.
In order to improve financial inclusion, there needs to be a wider range of financing instruments that meet needs of households and enterprises. Improvements in credit and financial reporting would help reduce information asymmetries. Strengthening financial sector infrastructure as well as the legal and regulatory framework for secured transaction and insolvency can support an expansion of lending to underserved segments of the population. Moreover, financial institutions should be encouraged to develop delivery models tailored to the characteristics of MSMEs.
And I should also mention that advances in technology can help financial services to reach low-income individuals and small firms at lower cost and risk. Digitization of cash-payments is introducing more people to transaction accounts, and mobile-based financial services bring convenient access even to remote areas. Technology advances also bring in nontraditional providers of financial services such as peer-to-peer lending firms like Lending Tree or nonfinancial institutions such as e-commerce sites like eBay or Amazon that set up financing arms.
Financial Inclusion is linked to financial stability.
I've talked to you about Financial Inclusion. But how is this linked to Central Bank's objective of financial stability? An inclusive financial system that reaches all citizens provides a more stable and diversified retail deposit base and therefore a positive impact on financial stability. But on the other hand, too much loose credit can lead to financial bubbles and crises. And digital technologies and the growth of innovative non-bank financial institutions pose new regulatory challenges.
When designing and implementing financial sector policies, policymakers and regulators need to strike a balance that foster synergies and avoid trade-offs between the objectives of financial stability and financial inclusion.
Countries that have achieved the most progress toward financial inclusion while safeguarding financial stability have put in place an enabling regulatory and policy environment, that encourages competition (allowing banks and non-banks) and innovation that expand access to financial services. However, creating this innovative and competitive space has to be accompanied by appropriate consumer protection measures and regulations to ensure responsible provision of financial services in order to maintain financial stability.
A recent World Bank publication (Risks and Returns: Managing Financial Trade-Offs for Inclusive Growth in Europe and Central Asia) explores the right balance across the dimensions of financial development (stability, efficiency, inclusion, and broad depth). Considering the tradeoff between household use of credit and financial stability, and the synergy between higher firm savings and stability, the study recommends countries in the region to reduce barriers to firm savings while monitoring closely the growth of household credit.
WB engagement with the Bank of Albania
From our perspective at the World Bank, I am proud to say that we look back at years of collaboration with the Bank of Albania focused on balanced financial sector development, including financial stability, efficiency, and inclusion.
The Bank of Albania has shown strong leadership in advancing reforms in several areas of financial inclusion. For example, we have partnered on strengthening the regulatory, supervisory and resolution regime for Savings and Credit Associations, that provide financial services to the underserved, mostly rural, segments of the population. This led to a sounder and consolidated sector. The World Bank also supports the Government in its land and property registration reforms, an important contribution to enhanced financial inclusion and stability, but also vital for attracting investment.
We also support the Bank of Albania's efforts on strengthening the legal and regulatory frameworks for payment systems and remittances. Remittances are often the first entry point into the financial sector for both the sender and beneficiary. And remittances are important to Albania, at 8,84 percent of GDP, but remittances in Albania are also costly. For every 100 Euro sent in remittances, the cost is 8.47 Euro. The Remittances and Payments Program, generously supported by SECO, aims to increase efficiency of retail payments.
Lower cost means more money to beneficiaries. And by linking remittances to transaction account, this can be a stepping stone to access other financial products. The program will also help increase the competitive space for innovative payment service providers, enhance transparency, and promote consumer protection. The World Bank is very pleased to support these efforts.
In recent years, Bank of Albania and the World Bank have also worked closely together on other important financial sector issues aimed at strengthening financial stability and efficiency. For example, the adoption and ongoing implementation of a bank resolution framework has been key to strengthening the financial safety net in Albania. I also want to acknowledge the efforts aimed at the development of a voluntary corporate debt restructuring framework for the resolution of NPLs, and the development of a government bond market, all of which the World Bank has been pleased to support.
I would like to thank the Bank of Albania for the excellent collaboration. We look forward to continue working together with you and other financial sector stakeholders in the country on ongoing financial sector reform efforts on issues of inclusion, stability and efficiency.
Thank you.