PORT-AU-PRINCE, January 23, 2018 – A new report issued today by the World Bank reveals that Haiti is the third most urbanized country in Latin America and the Caribbean, just after Trinidad and Tobago, and Mexico. According to the report, "Haitian Cities: Action for today with an eye on tomorrow", today more than one in two Haitians live in cities compared to the 1950s when 90 percent of the population lived in the countryside, and more than 133,000 Haitians are moving to cities each year.

Despite the challenges of rapid urbanization, the country has also taken important steps in reducing extreme poverty and expanding coverage of basic education and health services. Today, 90 percent of children attend school, and infant mortality decreased by 9 percent between 2005 and 2012. The country's major cities are now all connected to the main road network, tourism has increased, and access to micro credits improved.

With a renewed sense of optimism, the report reviews the challenges that cities in Haiti still face today in terms of access to basic services, land use planning and exposure to natural disasters.

"Building resilience and sustainable cities is a priority to promote opportunities for all. The need is now to focus on meeting the growing demands for services, job opportunities, as well as affordable transport and housing in cities," said World Bank Country Director for Haiti, Anabela Abreu.

Rapid growth in Haitian cities has not gone hand in hand with the economic growth usually associated with urbanization. Costly natural disasters have also exacerbated the challenges of the urbanization process.

World Bank Director for Social, Urban and Resilience Global Practice, Sameh Wahba, points out that: "Closing the gap in infrastructure, services, and improving land use planning, will be key to reduce risks faced by Haitian urban dwellers. The report aims at promoting a debate on the future of Haitian cities and identifies priority areas for action that can generate better services and opportunities for Haitians."

The report proposes three options to strengthen resilience in cities and improve opportunities for urban dwellers:
· Prioritize resilient urban planning to tackle infrastructure gaps and better prepare for future urban growth. This means investing in basic services, improving data to help minimize the risk exposure of Haitian cities, strengthening propriety rights and improving cooperation between municipalities.
· Improve efficiency and affordability of transport, and coordination with land use planning. Connectivity and accessibility are essential to ensure people can reach their work place and firms can access markets. Yet today, poor connectivity within cities limits access to jobs and economic opportunities; in fact, 60 percent of households do not even use motorized transport and public transport in urban areas remains unaffordable to many. Therefore, improving efficiency and affordability of public transport, and strengthening coordination of land use and transport systems will be important priorities to improve access to economic opportunities.
· Strengthen municipal financing to close the infrastructure and service gap and accommodate the growing urban population. Today, the ability to plan, service, and connect cities and towns is heavily constrained by limited resources at municipal level. As cities expand in size and population, the challenge is to finance sustainable and inclusive urban development growth. This requires: strengthening the system for municipal finance to build capacity, accountability and expand financial opportunities; and leveraging local revenues.
Full report: https://documents.worldbank.org/curated/en/709121516634280180
Overview: https://documents.worldbank.org/curated/en/582391516624144699
Website: www.worldbank.org/haiti Facebook: https://www.facebook.com/worldbank
Twitter: @WBCaribbean
YouTube: https://www.youtube.com/worldbank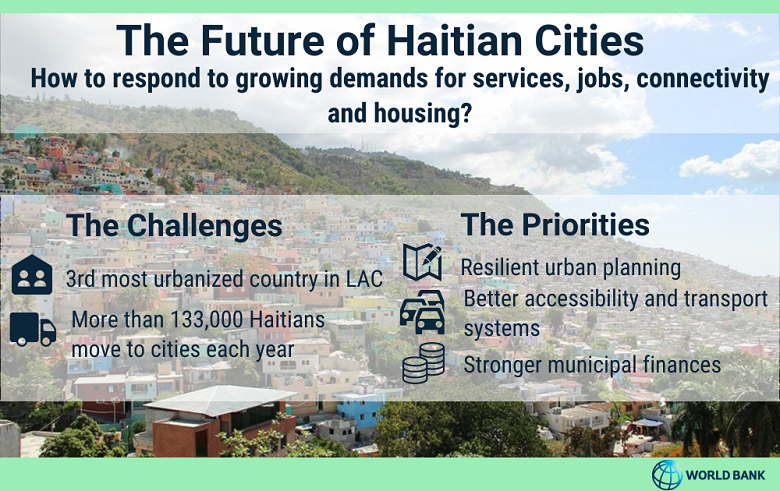 Last Updated: Jan 23, 2018