Interview with Valerie Morrica, Senior Social Development Specialist, and Nga Thi Viet Nguyen, Senior Economist originally published in the print edition of Lider magazine on March 4, 2021.
World Bank research on the effects of COVID-19 on gender equality in Croatia has found that women are more likely to have lost jobs or income, and they are less likely to be covered by social protection or COVID-19 emergency measures. Women also shoulder the lion's share of unpaid family work, which creates a real barrier to their ability to find new work opportunities.
As we get ready to mark International Women's Day on March 8, the World Bank conducted research on how the COVID-19 pandemic has affected gender equality in Croatia and highlighted recommendations for addressing key challenges. On this occasion we spoke with the authors of the research, Valerie Morrica, Senior Social Development Specialist, and Nga Thi Viet Nguyen, a Senior Economist focusing on poverty and equity issues.
Hardest hit sectors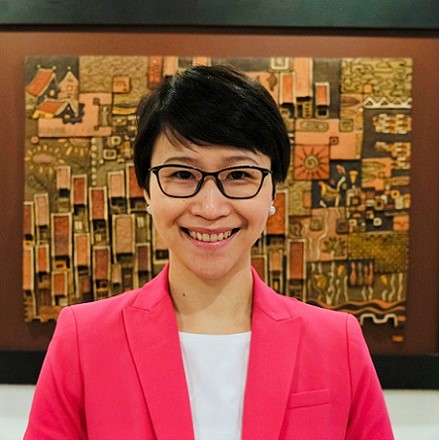 Nga Thi Viet Nguyen

Nga Thi Viet Nguyen argues that one of the key challenges for Croatia is the aging population and its heavy burden on the overall economy. According to the UN's population projections, Croatia's working-age population (age 15+) is expected to shrink by nearly 9 percent by 2040. This means, in a very near future, Croatia will have fewer taxpayers contributing to a much-needed economic growth. Croatia simply needs a stronger labor force to finance the rising costs of the social security system. According to Nguyen, a possible solution is for more women to enter the labor market.

Nguyen: Female labor force participation in Croatia is one of the lowest in the European Union, reaching only 66 percent in 2019 compared to the EU average of 73 percent in 2019. As international evidence shows, female labor force participation is an important driver and outcome of economic growth and development. When more women participate in the workforce, they help finance rising costs of pension and health care systems. A skilled female workforce means positive fiscal effects by increasing revenue from taxes and lowering social assistance spending.'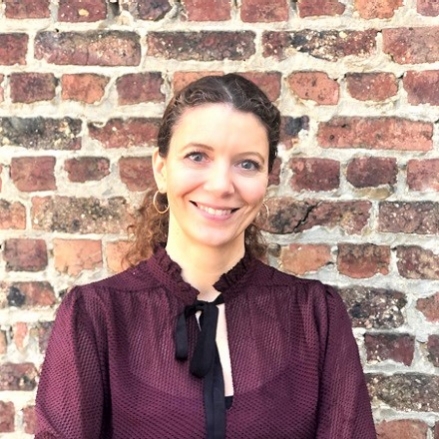 Valerie Morrica

The general view is that women have been more affected by the pandemic which has been confirmed by this research. Morrica says that the reasons for that mostly have to do with the type of work women do, the type of contracts or work arrangements they have and the responsibilities they face at home.

Morrica: First of all, Croatian women disproportionately engaged in jobs that have been hit the hardest by the pandemic. 52 percent of women, against 18 percent of men, are engaged in the service sectors such as health, education, and in sectors that were mandated to close down, for example hair-dressers, or hospitality and tourism.

To monitor the impacts of the pandemic, the authors collected household data in June and December 2020 and carried out a rapid survey with 500 women in Croatia on the impacts of COVID in June 2020. The collected data shows that in April 2020, 60 percent of women who were no longer working reported the reason was business bankruptcy or temporary closure due to COVID-19. This rate is significantly lower among men, at 44 percent. By October 2020, about 20 percent of the employed women still had not returned to work compared to 16 percent of men. But, by December 2020, both 23% of men and women were still not back to work, showing that the gender gaps have disappeared.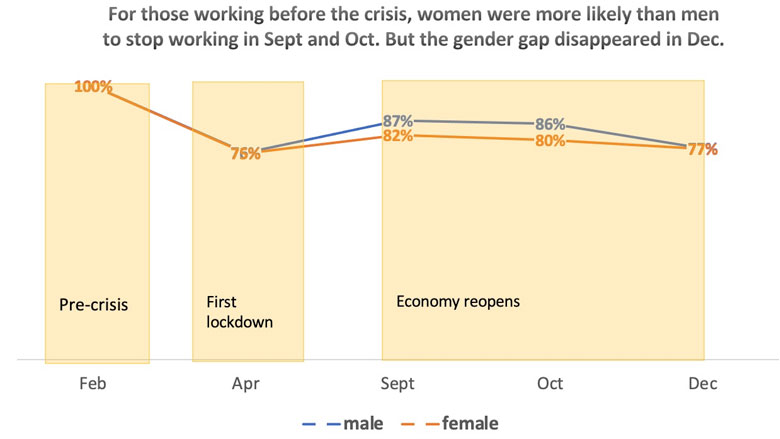 Morrica:
Another important factor is that many women have jobs that cannot be carried out remotely. This is particularly the case for women living in rural areas and women with lower levels of education. Our survey on the impacts of Covid-19 on Croatian women found that 62 percent of women with a university diploma could take advantage of teleworking options, while only 7 percent of women with a high school diploma were able to take advantage of this option.
Invisible to the social protection system
Morrica reflected also on whether and how have emergency measures introduced by the Government been able to protect women from the impacts of the crisis, highlighting that they have been swift and well organized but mostly targeted at working adults in the formal sector.
Morrica: What we found is that a large number of women went into the crisis lacking basic formal social protection, such as unemployment insurance, pension contributions, and health insurance. A key reason for this is that women who stay at home, work the land, or help in the family business are often invisible to the social protection system. As invisible auxiliary workers these women lack access to health insurance, sick leave, unemployment insurance, or a pension. Women in Croatia receive, on average, 23 percent lower levels of pension or old-age safety net payments than men (Eurostat 2017). Depending on the duration of unemployment, at least 40 percent of men receive unemployment benefits, while at most 30 percent of women receive such benefits. These women are also less likely to be covered by the COVID-19 stimulus packages targeted at working adults.
The pandemic has put tremendous pressure on women's time as they faced an increased burden in the wake of school closures. Working mothers who reported that household chores took up the lion's share of their time during lockdown. Home-schooling the children during school closures came on top of this. The World Bank COVID-19 survey revealed that 76 percent of women were mostly or solely responsible for household chores and homeschooling. Less-educated women were disproportionately hit by the unequal division of chores within families.
Nguyen: Our data show that while 31 percent of women who had completed university education were solely responsible for household chores, 54 percent of women with a high school degree said that they had absolutely no support from their partner or other household members. This is an important finding because it shows us less-educated women face a set of challenges that mutually reinforce each other: they are more likely to have lost jobs or income, they are less likely to be covered by social protection or the COVID emergency measures, and they shoulder the lion share of unpaid family work, which creates a real barrier to their ability to find new work opportunities.
New data from December 2020 show that the pandemic has clearly negatively impacted women's mental health., with 67 percent of Croatian women worried about the overall situation of the pandemic compared to 55 percent of men. Moreover, 85 percent of women were stressed about the economic wellbeing of their family members compared to 80 percent of men.
Nguyen: In the interviews we carried out, women shared that they feel like they are fighting this pandemic on multiple fronts - supporting the children's education, keeping the household chores under control and contributing to the family's economic wellbeing – and that they feel like they are failing at all of them.
On top of it all Morrica added data from the Parliamentary Committee for Gender Equality which had reported a 31 percent increase in domestic violence in Croatia during 2020.
Not just right but also smart
To paint a brighter picture, she gave some examples how women could take advantage and benefit from the economic recovery from the pandemic.
Morrica: Gender equality should be a substantial part of Croatia's recovery, not only because it is the right thing to do, but also because it's smart economics and can accelerate Croatia's recovery. The National Recovery and Resilience Plan in combination with the European Social and Investment Funds provide an unprecedented opportunity to invest in closing the gender gaps in a comprehensive manner. These investments should go beyond a commitment to "mainstreaming" gender. It would require targeted interventions, with measurable result indicators.
Concretely, she highlighted priority areas that would need to be tackled: immediate support to the most vulnerable population groups that have been affected by the pandemic through targeted active market policies for women and youth and introduce cash-for-work programs in priority sectors that have the potential to facilitate the transition into formal employment for women. This could include public employment programs in connection with childcare or elderly care services, such as the Zaželi program.
Programs will only produce lasting results if they not only provide work, but also training and certification. This way, the women have a real chance to use the acquired skills and work experience to transition into non-subsidized jobs in the formal labor market. Women need to be provided with support to enter the labor market. Namely, in Croatia, the COVID-19 crisis did not create new discrepancies between men and women, but it has exacerbated the existing gaps.
More flexible forms of employment for women and men with care responsibilities will need to become a real option. Which means not only that there should be legislation in place to introduce these options, but also a societal consensus, including in the private sector, that Croatians can take advantage of these options to better combine work and care obligations. This will have to go hand in hand with changes to parental leave system to make it more gender neutral, including by creating incentives for men to take parental leave. Right now, only about 9 percent of men take parental leave. Also, removing barriers to women's ability to start and run a business will improve women's ability to generate income for themselves and their families.
Role of the private sector
Most solutions, obviously, need focused attention by the authorities on gender equality issues, especially in relation to labor legislation. However, the private sector can also play an important role in closing this gender gap, especially by supporting childcare for employees, such as providing on-site childcare, subsidies for childcare or flexible work arrangements to allow parents to provide childcare themselves.
As a starting point, according to the World Bank, it will be useful for businesses to analyze their workforce and then identify the type of childcare support they can offer to their employees that best suits their needs. Research led by the IFC shows that when companies support childcare, they are more inclined to hire women, and retention rates for women are equally high, which boosts productivity and profits.