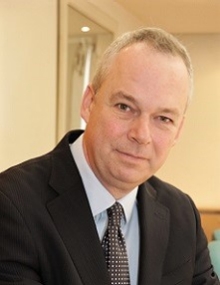 It is the name of a painting I spotted in a gallery in Kovacica, one of those small-town surprise gems that one can find in Serbia. I bought it, as it pictured so well some of the challenges the country faces. Four years in Serbia have taught me a lot about the country - its challenges, but also its opportunities.

Unfortunately, my time here is coming to an end, in less than 3 weeks from today. Therefore, in this blog post I'd like to take a slightly unusual approach and go by some keywords that may provide some answers to the painter's question in the heading above…

White Angel is a truly inspiring fresco, showing the greatness that Serbia can produce in art and creativity. I was lucky to see it in Mileseva Monastery. Dragan, my professor at Pero Art Center, encouraged me to try my hand at painting my own, it was a great process, and he helped me in doing something I never thought I could. So, I discovered a great fresco and learned a skill I never thought I'd have. In the process, I learned much from my fellow-students about the real concerns and issues that 'live' in Belgrade, so a win-win-win all together. I have always admired Icons as a very special form of art, but Serbia taught me a deeper understanding.

Kolarac, to me, is the synonym for the Belgrade Philharmonic. As another foreigner once said, it is 'the ticket to have' in Belgrade. Every season is full of surprises and great music, always sold out, as I found out when we arrived in August 2013 and could barely pick up a few individual concert tickets for the year. Having thoroughly enjoyed every evening spent in Kolarac, I asked Jelena, the always helpful and energetic BGF PR officer, why there is still no CD recording of some of the concerts. I think it would be a gift most people would cherish. 25 weeks a year of innovation, not easy to find in Europe these days, and something to cherish. One of those features of Serbia that much more could be done with.

Belgrade trolley buses, despite everything that the locals complain about, offer something rare to us foreigners: the chance to send our children independently on public transport, knowing how much Serbians love children, and how unusually safe this big city still is. Keep it that way! When I grew up in my own country I could do the same, but today this has become so much more difficult.

Medosevac is a place in southern Serbia that has come to symbolize for me both hope and administrative inertia. In 2016, we organized, with the Canadian ambassador and his wife, a charity wine auction to help the Novak Djokovic Foundation establish a preschool in a small town that never had one. All went well …. until a permit had to be obtained from the municipality. When we met hopeful parents in early March, it seemed the school would open in May, but the municipal authorities have prevented it from doing so, turning hope into frustration. Serbia's young children need quality early childhood programs, not obstructive municipal officials. It is sad that shortsightedness can still overcome the best intentions.

Pimnice in Negotin became for me a symptom of a lost past, with its great wine cellars built in the 19th century now standing mostly empty and falling apart. The reason, as one of the elderly owners told us during a visit, is that 'our young people are all gone'. We heard the same in Sombor, at the other end of Serbia, where early September is called 'the time of tears' - when young people leave for Belgrade and beyond, never to return.

Glass ceilings was one of many topics discussed with Vlado, my personal trainer, and his colleagues, always full of humor and anecdotes, who brought home to me the real challenge that smart, well-meaning, educated and hard-working young people face getting into the labor market. As I wrote in one of my previous blogs, connections matter - more than hard work and good intentions. This is something that really needs to change if young people are to stay in Serbia.

Dimitrovgrad bypass became to me a symbol of Serbia's plight in building critical infrastructure, where underperforming contractors hold the government to ransom. At the same time, during my visits to this beautiful part of the country, my discussions with Sergei, an innovative local entrepreneur and inspirational community leader, highlighted the great potential of Stara Planina in village tourism and niche market production of donkey cheese and soap, as did the revived Gostusha village.

Tamnava West and Obrenovac became symbols of despair in 2014, and it was truly sad to see the devastation brought by the floods and Serbia's vulnerability to disasters. We all worked hard to help the government deal with the consequences of the floods, including getting Tamnava back in operation 3 months earlier than foreseen. Yet, without better flood protection and risk management, Serbia remains at risk and this agenda desperately needs more attention.

'You are like Crvena Zvezda, always talking about winning next year's championship (when you have lost the one this year)', is a statement one of our counterparts made, in frustration about the lack of progress on reforming one of Serbia's underperforming utilities. One of the things that will be important for Serbia to prosper is to focus on today's reality and to play today's 'game' instead of tomorrow's championship (or, worse, to play one from 10 years back). Only then can the country capture the opportunities I am convinced that it has.

Goodbye Serbia, thank you for all you taught me, all the best and fare thee well!

---

Originally published on the B92 Blog on Jul 3, 2017.