MODULE 2: FINANCIAL REPORTING AND OVERSIGHT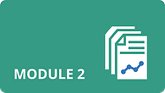 The value chain, from funds becoming available for the public sector up to the delivery of services and investments, needs to be complemented by an oversight function that ensures these public resources are used for the best benefit of citizens. This module deals with all aspects of the oversight function, divided into three components: reporting, transparency, and audit and accountability.
The global level work for this module is at its inception stage. The envisaged work is generally focused on generating knowledge to strengthen the quality and use of government accounting and financial reporting.
This includes conducting knowledge-sharing events and generating a repository of implementation guidance to support the application of public sector accounting and financial reporting regulatory frameworks.
The program also plans to undertake an update of the cash and accrual basis toolkits to capture newly issued, or changes to, IPSAS standards. The World Bank has mobilized task teams to implement these work plans.
Programs under this module are currently underway in Vietnam and Laos.