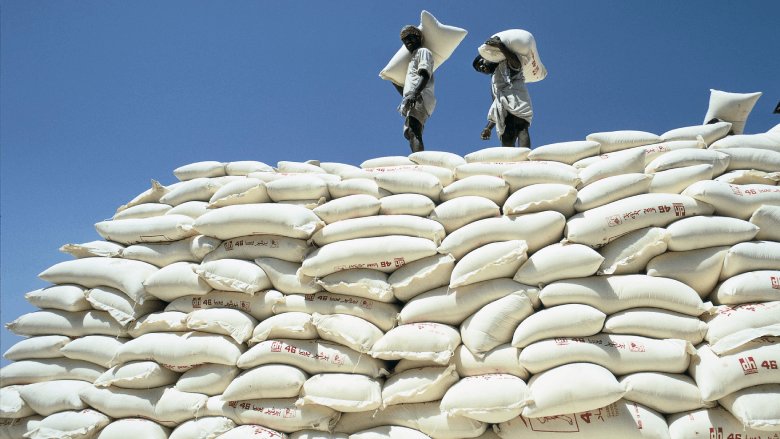 With just seven years to go, the world is even further off track in its efforts to eliminate hunger by 2030. A scaled-up and well-coordinated response is urgently needed.

In the face of conflict, numerous economic shocks, and extreme weather events fanned by the changing climate, the world's efforts to tackle food insecurity continue to fall short of what is required. The number of people going hungry has been gradually rising since 2015, before accelerating sharply in 2020 in response to the pandemic and conflict. This trend shows no signs of abating in the near term—meaning the task of achieving Sustainable Development Goal (SDG) 2, of "Zero Hunger" by 2030, is growing more formidable.
The rising frequency and intensity of floods, droughts, and other extreme weather events weighs on global supplies of wheat and other crucial commodities, and this has been exacerbated by Russia's invasion of Ukraine. Moreover, surging sovereign debt levels, combined with currency depreciation in many markets, tightening financial conditions, and high food inflation and fertilizer prices, are making it difficult for acutely food-insecure nations to respond effectively.
With just seven years left to achieve SDG 2, the world needs to urgently scale up responses aimed at eliminating hunger. A coordinated approach to the widespread food and nutrition crisis will be critical; we cannot allow the development gains made in recent decades to be reversed. On our current trajectory, it is estimated that nearly 670 million people—8 percent of the world population—will still be undernourished at the end of the decade, with the most severe cases in "hunger hotspot" countries. This is the same number of people who were undernourished in 2015, the year the SDGs were created.

Right support, right place, right time
The World Bank Group is working to provide the right support, in the right place, and at the right time to meet the world's food security needs both now and in the longer term. We are leading the global food crisis response through a targeted and scaled up multi-sectoral approach.
As of end-March 2023, the World Bank Group's food and nutrition security commitments delivered since April 2022 is almost $16 billion, nearly evenly split between short-term responses ($8.8 billion) and long-term resilience efforts ($7.2 billion). Our financing has expanded to reach 86 countries, with about 60 percent in Africa and covering nearly every hunger hotspot. We expect to strengthen food and nutrition security for more than 296 million beneficiaries in the coming years. Almost half of these beneficiaries live in countries affected by fragility, conflict, and violence, and half are women.
Flexible and scalable social protection are an important response to food and nutrition insecurity. Approximately $2.3 billion has been delivered for food and nutrition security across 42 operations since April 2022. Nearly 42 million people are expected to benefit from this social protection support, almost half of whom live in Africa. There is a notable role for these interventions to boost women's agency and economic empowerment by targeting approaches to female-headed households.
As we work to meet short-term needs, we are also investing in improving the resilience of the food system, which is both a victim and catalyst of climate change. Climate change is affecting the stability of food systems by slowing global agricultural productivity growth and increasing extreme weather events. To help address this crisis, the World Bank has approved financing of $385 million for a groundwater resilience program in the Horn of Africa and $432.5 million for drought risk mitigation in Djibouti, Ethiopia, Kenya, and Somalia. We are also helping countries respond efficiently to future emergencies through the preparation of Food Security Crisis Preparedness Plans, which are being rolled out in 26 countries.
Knowledge is critical in the World Bank's response efforts. Teams across our institution are generating analytical work that help ensure effective short-term response, as well as strengthening our efforts towards building long-term resilience. We provide advisory services and analytics on agricultural trade policies and their role in maintaining food security, with the aim of helping countries transform their food systems and get back on track to achieving SDG 2.
Finally, our response is implemented in close coordination with external partners. We serve as the Secretariat for the Global Alliance on Food Security and we will meet with partners at a global level at the UN Food Systems Summit in July this year. This event brings development partners and countries together to take stock of progress made towards the SDGs and renew their commitment to building food system resilience.
Responding to the global food and nutrition security crisis comes with immense challenges, including operating in environments with macroeconomic fragility, weak governance and conflict, economic instability, unfavorable business environments and policy distortions, and continued global supply chain constraints. At the same time, the food crisis has created opportunities to address structural problems and build resilience.
The World Bank Group is uniquely positioned to mobilize support, leveraging its knowledge, financing, and partnerships at the global, regional, and country levels to get back on track to achieving zero hunger by 2030.