Josiane couldn't hide her joy when she filled her two jerrycans at a water kiosk in Roche-à-Bateau, a small town in the southern region of Haiti. For the gray-haired farmer, the benefits of improved infrastructure and access to water and other basic services cannot be understated in her town of 20,000 people.
"After the cholera outbreak in the country, we were very frightened to catch the bacteria because of the lack of water and sanitation infrastructure in rural areas. Over the years, the government has built water infrastructure in my neighborhood. We now have access to clean water close to our houses," said Josiane, a mother of two.
Roche-à-Bateau and other towns in the region are prone to frequent natural disasters. In 2016, Hurricane Matthew destroyed houses, infrastructure, and farmers' livelihoods, only for another calamity to hit five years later. "We were in the middle of our recovery process when the tremendous earthquake hit the region," said Exant Duyon, a water technician in the community. "This plunged the population into desperation."
The August 2021 earthquake was severe, but fortunately it didn't inflict too much damage on the new water infrastructure, including reservoirs, spring catchments, and standposts for distribution. "The minor damage that was registered was in the pipeline and other materials in the network," Duyon said.
This resilience is largely thanks to the Sustainable Rural and Small Towns Water and Sanitation Project (EPARD), which is financed by the World Bank's International Development Association (IDA). The project funded the construction of a gravity-fed water system in Roche-à-Bateau. The infrastructure includes a source capture system, a collecting pool, a sedimentation pool, five fountain terminals, nearly 600 residential branches, and a dozen kiosks where people to fill up containers with water to take home.
Overall, the EPARD project allowed Haitian authorities to increase access to drinking water for more than 560,000 people in rural areas and small towns through the construction of new supply systems, as well as the rehabilitation and extension of existing ones. It also provided access to improved sanitation facilities for more than 31,000 people.
Addressing the remaining challenges
Despite success of the EPARD project, Haiti has had mixed progress in improving its access to and the quality of its basic services for its 11.6 million people, resulting in limited progress in improving health outcomes. Access to drinking water supplies and sanitation services in rural areas is not only low but decreasing. In 2020, only 43% of Haiti's rural population had access to basic drinking water supplies, down from 48% in 2015 and 50% in 1990. This is far less than the 90% average in Latin America and the Caribbean in 2022, a worrisome trend.
"In remote areas, the problem of dispersed habitats remains a serious constraint to providing access to water," the water technician said. "In addition, the reservoir is downstream from small communities in mountainous regions, and this prevents water from getting to them."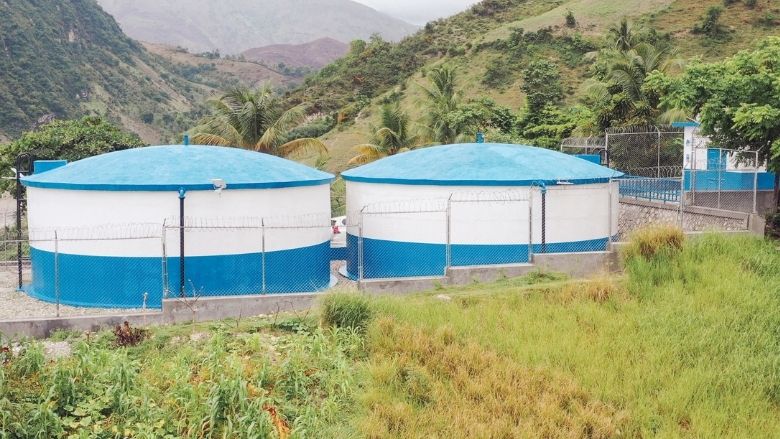 Another challenge for Haiti's rural communities is the upkeep of water supply systems. Of the 13,626 improved water sources facilities recorded in 2022 in the database of the Integrated Drinking Water and Sanitation Information System, only 51% were working. Out of the 1,041 piped water supply systems serving dense rural areas and small towns, only 41% were functional that year. This is the result of years of underfinancing of the sector and low community ownership, as well as a collapse of the infrastructure from poor operation and maintenance, deficient post-construction support, and a lack of resilience of the infrastructure to natural hazards and the effects of climate change.
There are also sanitation problems in rural Haiti. In 2020, 31% of the rural population still practiced open defecation. Public toilet facilities and water points tend not to be accessible to people with disabilities either. This deficit stems from both demand- and supply-side constraints, and it puts the population, in particular children, at the risk of diseases and malnutrition.
The World Bank plans to help change this, an effort that will be in line with its commitment to improve the water and sanitation sector, including by shoring up its infrastructure against climatic events and other hazards. A new water and sanitation project for $80 million is soon to be launched in Haiti. The project will seek to support the key policy and institutional reforms spelled out in a 2009 reform of the sector that have yet to be put into practice.
Developing an inclusive approach in Haiti's water sector
In Haiti, poverty is worse in rural areas. Women suffer the most from poverty because of the long distances they must travel to bring water home and because the family's health is considered their responsibility. This exposes women to waterborne diseases more than men. Women also have less access to services and are at a higher risk of gender-based violence and disaster impacts.
Josiane has seen her conditions improve in Roche-à-Bateau. "The installation of this water standpost in the community is a lifeline for the inhabitants. It not only helps us to save time in collecting water, but it is also a guarantee that we have quality water and prevents us from facing the physical threats we are exposed to, especially when we go to the water source at night," she said while filling her jerrycans.
To help change this gender bias, the Sustainable Rural and Small Towns Water and Sanitation Project advocated for women to be integrated into the management of newly built or rehabilitated water supply systems. It also supported a gender diagnostic of the water, sanitation, and hygiene sector to assess the capacity of Haiti's National Directorate of Potable Water and Sanitation to address systemic gender issues, including its knowledge and understanding of gender bias in the sector.
The World Bank's forthcoming $80 million project will help improve gender equality in Haiti by developing a comprehensive social inclusion strategy and action plan based on the results of the gender diagnostic. This will help the government design policies and projects that better address the needs of all members of the community, including women, youth, and people with disabilities, by promoting equity and inclusion in the management of water, sanitation, and hygiene systems.