LOME, Togo, June 29, 2021—With both hands firmly gripping the steering wheel, Massata Cissé exudes the confidence of strong-willed women, and her love for the road is reflected in her broad smile. A truck driver for more than 30 years, Cissé, whose handle is "Maman Africa," is truly an exceptional woman.
"Just over 30 years ago I was the only woman in the subregion doing this job and I think that is still the case today, at least in my country. It has been a bumpy ride, but it's an interesting job and I am proud of it," she says.
More than one week to travel 900 kilometers
A native of Burkina Faso in West Africa, Maman Africa has worked for several companies in the subregion, transporting tons of goods to Benin, Burkina Faso, Guinea, and Côte d'Ivoire, to name a few. She is a regular traveler along the major road corridors and has seen them improve over time. She recalls the challenges she faced early in her career: "The roads were very bad and conditions were extremely difficult. There were all kinds of bureaucratic red tape—customs, police, gendarmerie—forcing me to stop several times. It could take me more than one week to travel from Lomé to Ouagadougou, roughly 950 kilometers that I now travel in under two days."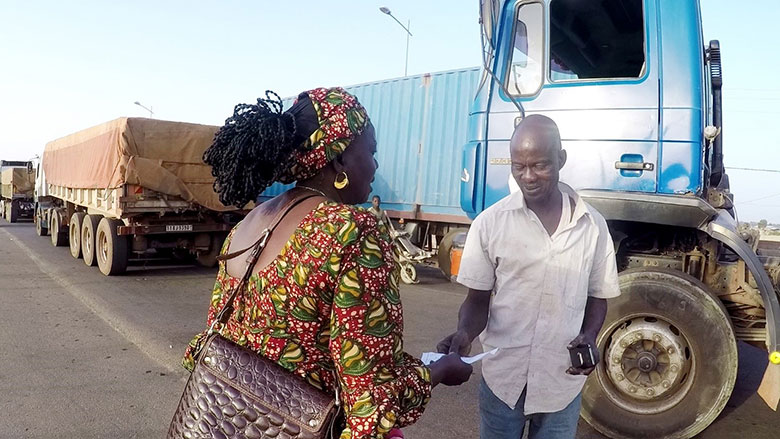 Maman Africa has been plying the roads of West Africa for over 30 years. At a document checkpoint – Photo: Erick Kaglan
Maman Africa prides herself on being punctual. She has never been late delivering containers from the port in Lomé, Togo to her employer, a cement plant based in Ouagadougou, Burkina Faso.
"Our countries have gone to great lengths in recent years to improve the roads and reduce the number of administrative procedures," she explains.
Maman Africa believes that there is no regional integration without better roads, less red tape at border crossings, and improved road safety to facilitate the free movement of people and goods.
"Our working conditions have improved significantly, but much remains to be done," she says. "For example, we need to convert all major road corridors into highways, build bypasses to allow trucks to circumnavigate towns and cities to avoid accidents, and further streamline procedures at land borders."
While significant efforts have been made in recent years to facilitate transport along West Africa's corridors, building transport infrastructure remains a huge challenge.
"As a woman, it's not always easy spending long hours on the road. Our corridors do not have enough rest areas with proper bathrooms and facilities, and I often have to wash up behind my truck," Maman Africa says.
Insecurity creates additional logistical challenges, as violence along corridors has intensified in recent years. Between 2019 and 2021, more than one-third of attacks reported in the subregion occurred near corridors.
"Everyone is aware of the insecurity along the corridor, and truckers, whose workplace is the road, are rightly concerned," states Ibrahim Abdou, Executive Director of the National Truckers' Union of Togo. "We need a clear security plan because security and document controls often overlap. We want a safe corridor with less red tape and smoother processes that will make our ports and businesses more competitive."