For women of the Maldives, work has always been an integral part of their daily lives. Not so long ago, before the economic shift towards tourism some 40 years back, Maldivians were predominantly seafarers and fisherfolk whose lives were intricately intertwined with the ocean and the country's diverse natural resources. While the men spent days or even months away from their families, the women stayed back and took a lead on tending to domestic matters. Community work came naturally to Maldivian women, both out of necessity and as part of the longstanding gender equality in the culture, as did economic work for the sustenance of their everyday lives.
The transformative socio-economic changes experienced by the small island nation over the past few decades have significantly altered Maldivian lifestyle and the division of gender roles within families and communities. The Maldives, despite being the smallest South Asian nation both in terms of size and population, has achieved remarkable strides in key gender indicators. It is one of the few countries that has attained gender parity in primary and secondary education net enrolment and completion rates. A number of gender egalitarian laws and affirmative action have been introduced recently to increase women's participation in the economy and in public life.
When the COVID-19 crisis hit the Maldivian economy, it hit hard! Tourist arrivals fell to an unprecedented low, forcing hotels and resorts to initiate layoffs, cut pay or send most of their employees on no-pay leave—a significant impact since tourism accounts for two-thirds of the country's GDP. Restrictive measures imposed in the Greater Male' Region—home to at least one-third of the country's population—limited the ability of businesses such as cafes, restaurants and retail outlets to maintain their revenues, affecting jobs and incomes of many Maldivians.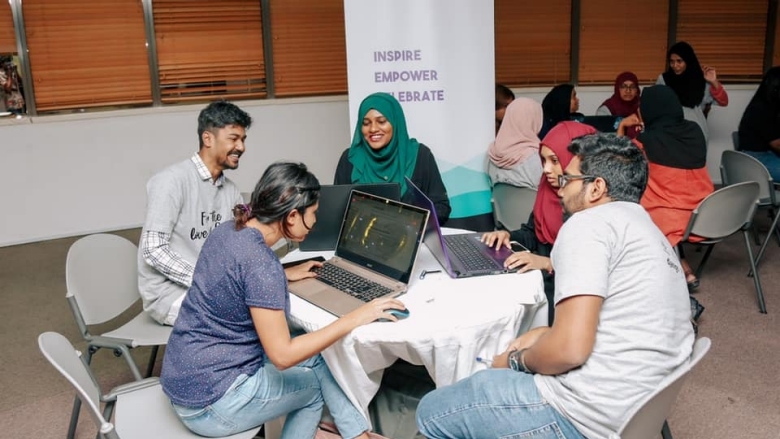 Female developers are seen working on developing a computer program during a hackathon held in capital Male'. Photo: WOMENINTECHMV