Pakistan's Indus Basin Irrigation System (IBIS) is the largest contiguous surface water irrigation system in the world. Consisting of mighty barrages and thousands of kilometers of canals, the IBIS not only irrigates millions of hectares of agricultural land, but it also hosts a vast reservoir of groundwater that is central to the country's water and food security.
Groundwater supplies 90 percent of domestic water in rural areas of Pakistan, 70 percent of domestic water nationally, and over 50 percent of agricultural water. It plays a pivotal role in mitigating the impacts of increasingly variable canal water supply and rainfall. Yet, despite Pakistan's dependence on groundwater, its deteriorating condition remains poorly understood and the country has long failed to develop an evidence-based, sustainable groundwater management program.
A new World Bank report, Groundwater in Pakistan's Indus Basin: Present and Future Prospects, aims to address this. The report tracks how groundwater has transitioned over the course of the 20th century, from being barely considered at the beginning of the century, to becoming a nuisance mid-century, and now forming the backbone of Pakistan's domestic water supply and agriculture.
The conceptual separation of surface and groundwater is largely artificial, as in reality there is a close interplay of water above and below the ground. Throughout the IBIS, fresh groundwater exists primarily due to widespread leakage from its canal network. As the IBIS expanded, seepage into the underlying aquifer led to a water table rise that contributed to waterlogging and salinization in the 1950s and 1960s which blighted agricultural production.
Shown in the figure below, the water table in a doab in Pakistan's Punjab province gradually rose in the first half of the 20th century – a period of significant irrigation infrastructure development – until it began saturating the topsoil and causing waterlogging. In response, the Government of Pakistan encouraged groundwater pumping to help lower the water table. This successfully reduced waterlogging in most of Punjab and, over time, groundwater became a lifeline for farmers. Today, it ensures a reliable source of water spatially and seasonally, especially where rainfall and canal water do not satisfy local demand.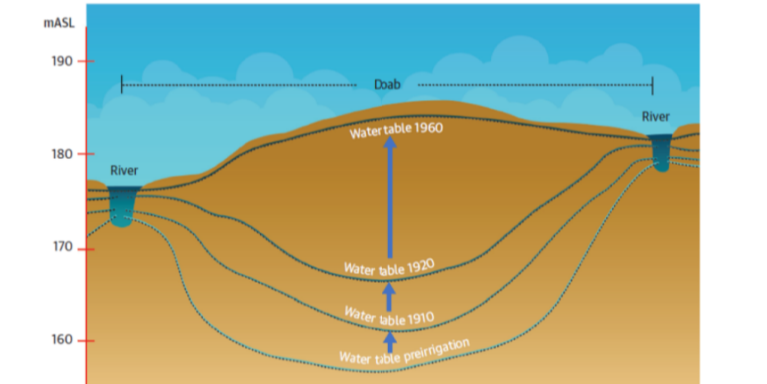 Without seepage from the IBIS, fresh groundwater levels would fall, and rural communities that have naturally saline groundwater would lack year-round drinking water, as they currently do from the seepage that sits as a freshwater layer on top. Farmers, especially at the tail-end of canals, would suffer due to their reliance on groundwater to mitigate inequity in surface water distribution.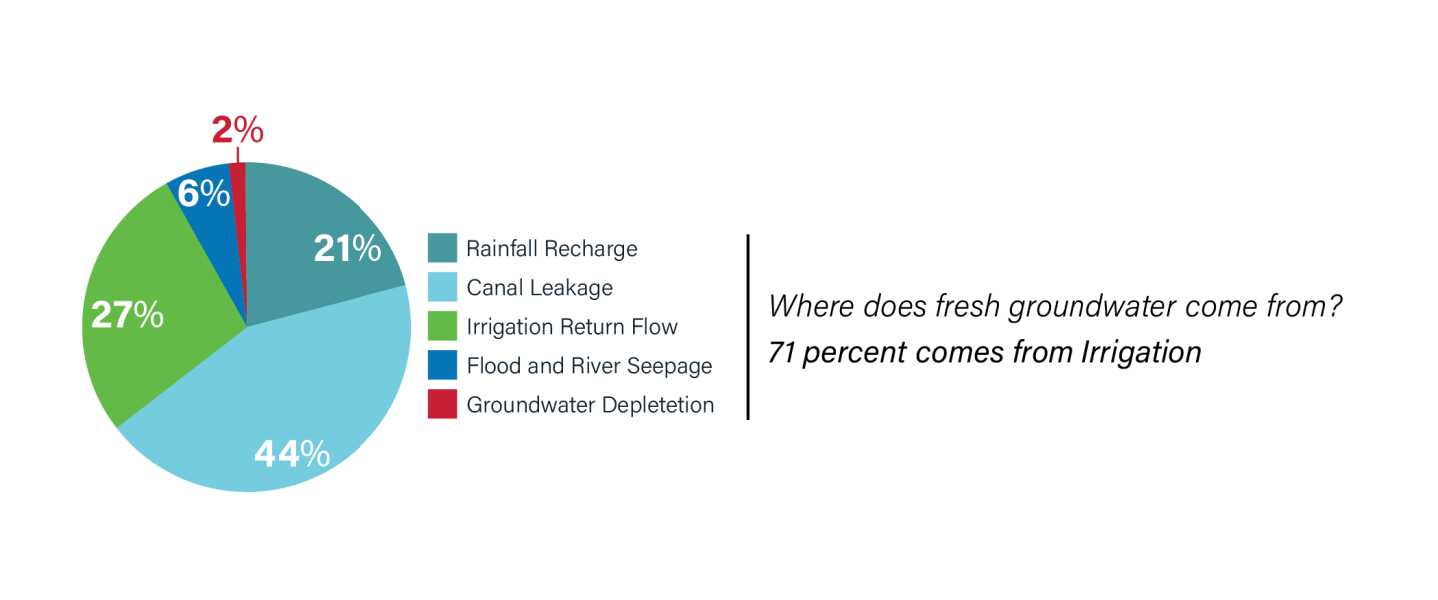 Today, waterlogging still afflicts 35 percent of the IBIS canal command area, mostly in the province of Sindh. Over-exploitation of groundwater is also emerging as a serious problem that affects about 18 percent of the irrigated area, as well as many urban areas, threatening the accessibility and the quality of groundwater.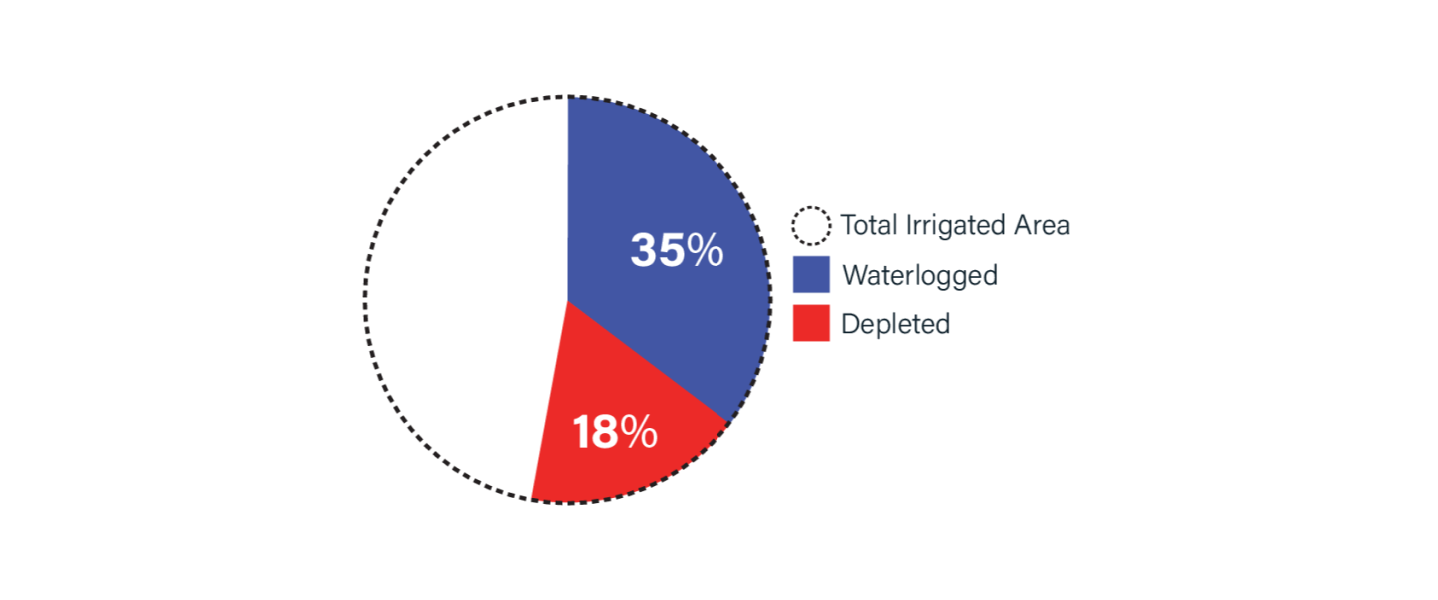 The crucial role of groundwater as a life-sustaining resource is increasingly threatened not only by over- abstraction and waterlogging, but also by contamination. Only 20 percent of the population has access to safe drinking water, the remainder relying on water contaminated by increasing salinity, improper disposal of untreated wastewater, agricultural runoff with pesticide and fertilizer residue, and geogenic (natural) contaminants. Irrigation adds around 16 million tons of salt to the Indus basin every year, threatening soil health and agricultural production in up to 43 percent of the irrigated area. Fecal contamination of water resources is endemic due to poor water, sanitation, and hygiene (WASH) services, a key factor in high rates of stunting in Pakistan, which affects 40 percent of children under five. Safe WASH services, essential in the fight to reduce stunting, cannot be sustainably achieved without protecting the quality of the underlying resource – groundwater.
In the past, these challenges were aggravated by an inadequate policy framework, lack of regulation and insufficient investments. Unregulated pumping has led to groundwater depletion and the drying up of wells in parts of Punjab. Excess irrigation in areas where groundwater levels are high is contributing to widespread waterlogging in Sindh. An increasing volume of unmanaged domestic and industrial wastewater is seeping into the ground, adding to the cocktail of contaminants affecting drinking water supplies. Inadequate data collection has inhibited the ability to adopt evidence-based policies to improve groundwater management.
Improving groundwater management, however, is integral to Pakistan's economic development. According to the World Bank report Pakistan: Getting More from Water, without necessary reform and better demand management in the water sector, water scarcity will constrain Pakistan from reaching upper middle-income status by 2047.
In recent years, Pakistan has taken steps towards addressing modern groundwater challenges, starting with the National Water Policy 2018 which identified priorities for groundwater management. This was followed by the Punjab Water Policy in 2018 and the Punjab Water Act 2019. The policy emphasizes the need to curb groundwater over-abstraction and contamination, and the Act establishes a regime of licenses for abstraction and wastewater disposal, managed by newly created regulatory bodies.
Punjab is also developing a provincial Groundwater Management Plan. In Khyber Pakhtunkhwa province, a similar act was passed in 2020 while in Sindh, a draft Water Policy is underway to provide much needed direction for tackling waterlogging and salinity, and for conjunctive management of surface water and groundwater. The federal government is drafting a five-year National Groundwater Management Plan to provide a framework for coordinating groundwater stakeholders across Pakistan.
These are important first steps. Going forward, the challenge will be to implement and deepen these initial reforms to ensure the long-term sustainability of Pakistan's vital groundwater resources.
Groundwater in Pakistan's Indus Basin: Present and Future Prospects proposes a roadmap to improve groundwater management, focusing on four intervention areas: appointing a coordinating agency that is accountable for groundwater management across all sectors in each province; establishing a modern groundwater database; managing water resources conjunctively; and improving groundwater quality.
As the last 100 years have shown, the Indus Basin's groundwater challenges are complex and varied and demand an adaptive management response. Recent reforms in parts of the basin provide a basis for a more ambitious groundwater agenda, including the calculation of water budgets, wider engagement of stakeholders, comprehensive monitoring of water balances to manage waterlogging and depletion, the identification of opportunities for managed aquifer recharge, and a more rigorous approach towards safeguarding water quality.
Written by Lucy Lytton, Senior Water Resources Management Specialist, and Basharat Ahmed Saeed, Water Resources Specialist.