June 19, 2020
Many hazard-prone countries around the world struggle to protect their cultural heritage from the impact of adverse events. Floods, storms, earthquakes, and landslides, among other hazards, have taken their toll on heritage sites around the world in recent years. Developing countries face additional challenges due to the lack of resources to invest in managing and safeguarding their cultural heritage. Heritage sites face unique challenges and vulnerabilities to natural and climate related hazards, such as lack of maintenance and lack of technical expertise to address issues that arise.
Due to the severe natural hazards that frequently hit the country and its rich cultural heritage, Japan has become a leader in ensuring the resilience of its cultural heritage. The lessons learned from the Great Hanshin-Awaji Earthquake in 1995 and the Great East Japan Earthquake (GEJE) and Tsunami in 2011 have proven telling. Supported by the Japan-World Bank Program for Mainstreaming Disaster Risk Management in Developing Countries, the Resilient Cultural Heritage and Tourism (RCHT) Program has been documenting and sharing this Japanese expertise with more than a dozen developing countries around the world.
The RCHT Program brings the Japanese experience to support international practitioners in the fields of disaster risk management (DRM), cultural heritage, and public policy, who are seeking to enhance the disaster resilience of cultural heritage, sustainable tourism, and communities in their countries. This technical assistance program has contributed to the Uzbekistan Medium-Size Cities Integrated Urban Development Project (MSCIUDP), supported the development of the pipeline Philippines Sustainable Tourism Project, and provided technical support to ongoing and new projects in Bhutan, Myanmar, Lao PDR, Vietnam, Tanzania, and Central America.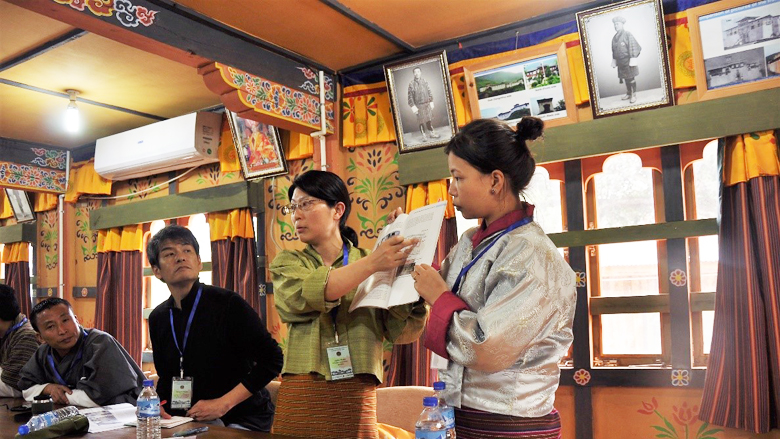 The recently launched knowledge note Resilient Cultural Heritage: Learning from the Japanese Experience reflects on the good practices and lessons learned from Japan, around three main sections:
Institutional Framework: presents the Japanese cultural and DRM institutions and key actors, the related legislation and policies, and associated budgets to protect heritage from disasters. It highlights as one of the key elements the Japan's system for identifying and designating its Cultural Properties (CPs) by classifying them into six different categories: Tangible CP, Intangible CP, Folk CP, Monuments, Cultural Landscapes, and Groups of Traditional Buildings;
DRM for Cultural Heritage in Practice—From Risk Identification to Post-Disaster Resilient Recovery: shows practical experience from Japan for planning and implementing measures to manage and reduce disaster risk at cultural heritage sites. The section focuses on practical approaches and specific examples, and on lessons learned from previous experiences and disasters. It includes relevant practices and measures for specific key hazards such as fire, earthquakes, floods, and landslides;
Community Engagement in DRM for Cultural Heritage: explores how Japanese communities and authorities work together to build disaster resilience for cultural heritage. Communities are crucial because they are the main users and custodians of CPs, play a key role in their conservation and management, and can respond quickly to disasters, knowing the environment and being able to reach affected places before emergency teams.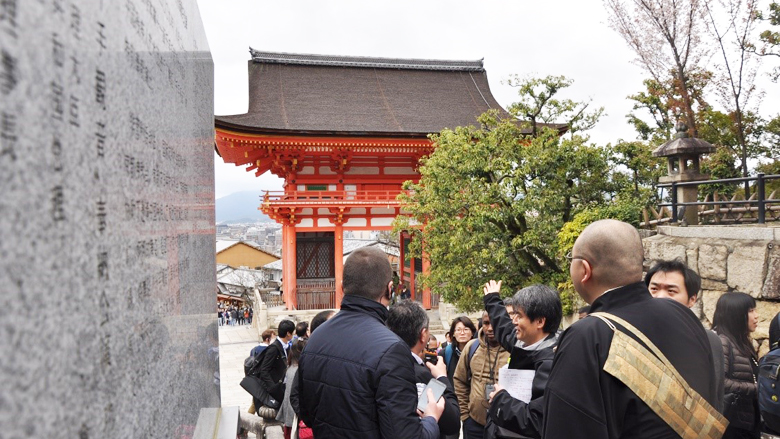 Professor Takeyuki Okubo, Director of the R-DMUCH, during a visit to Kiyomizu Temple in Kyoto, with World Bank clients and teams, in April 2017.
Japanese and international colleagues have contributed to this work, helping present the Japanese experience as a useful set of good practices. Successful pilots of this approach were developed in Uzbekistan and Bhutan, where Japanese experts were deployed to provide support through workshops and site visits, analyzing the specific challenges of the countries' heritage and working on potential solutions.
The involvement of Japanese experts has been critical since the very beginning of the RCHT Program. The Agency for Cultural Affairs, Government of Japan, and the Institute of Disaster Mitigation for Urban Cultural Heritage at Ritsumeikan University in Kyoto, have been involved since the development of the technical deep dive in April 2017. Experts from the Japan International Cooperation Agency (JICA), Hyogo and Kyoto Prefectural Boards of Education, and Yokohama City University, among others, have been also contributing to the development of the knowledge note.
The RCHT Program is closing at the end of FY20. However, the synergies created, the collaborations established, and the learning from Japanese experts, will keep creating new opportunities to help developing countries to strengthen the resilience of their cultural heritage and communities.