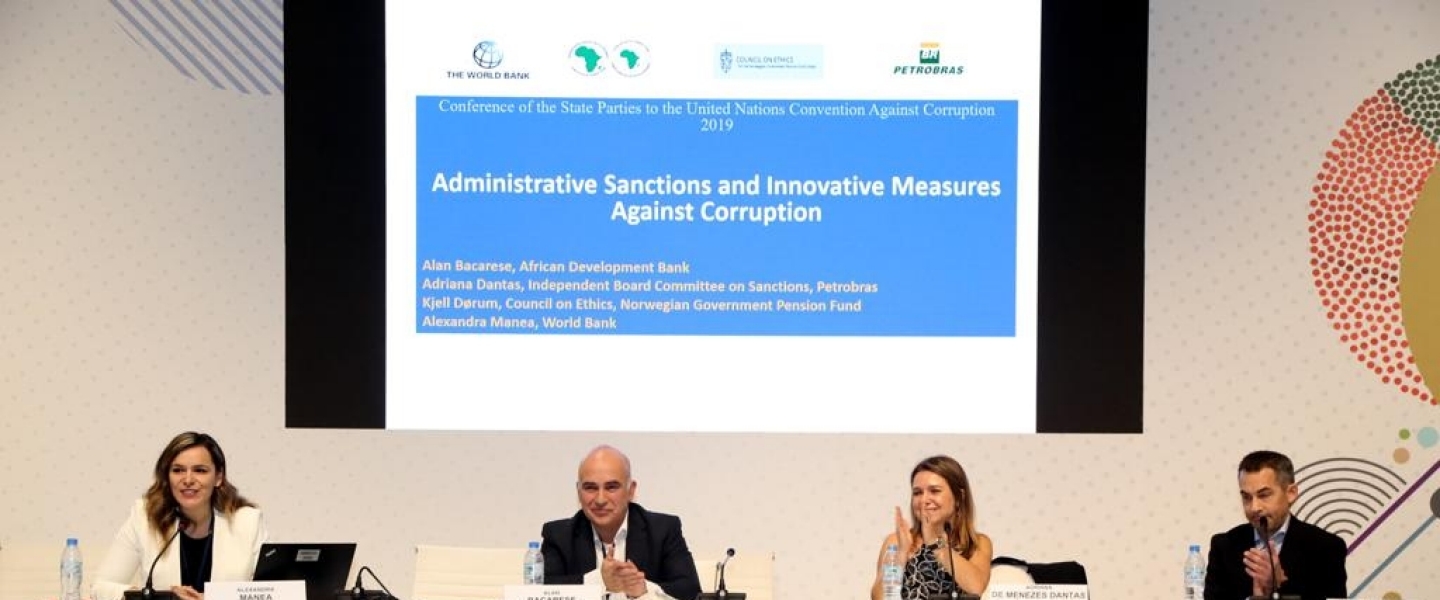 On December 17, 2019, the Office of Suspension and Debarment hosted a panel discussion about "Administrative Sanctions and Innovative Measures Against Corruption" during the Conference of State Parties to the UN Convention Against Corruption in Abu Dhabi, UAE. Building on the premise that reliance on criminal prosecutions is not enough to effectively fight corruption, the panel addressed alternative avenues and innovative mechanisms that can be used with great efficiency while also creating huge disincentives for engaging in corruption. The panelists discussed the anti-corruption administrative systems developed by the major multilateral development banks over the past two decades, the more recently established sanctions system of Petrobras in Brazil – one of the world's largest state-owned enterprises, and the unique anti-corruption system of the Council of Ethics for the Norwegian Government Pension Fund. The panelists highlighted how each of these systems interact with national authorities and engage with the private sector, and to what extent these types of systems can be replicated and adapted to other organizations across the public and private sectors.

The panelists included:

• Alan Bacarese, Director, Integrity and Anti-Corruption, African Development Bank

• Adriana Dantas, Member of Independent Board Committee on Sanctions, Petrobras

• Kjell Dørum, Chief Advisor, Council on Ethics, Norwegian Government Pension Fund

The panel discussion was moderated by Alexandra Manea, Counsel, World Bank Office of Suspension and Debarment.

More information about the event can be found here.