No country can realize its full economic potential without equal participation of men and women. In recent years, Haiti has made significant progress in facilitating access to the job market for women. However, as achieving gender equality is a long-term process, the government, civil society, international organizations, and other stakeholders must all be involved to initiate necessary reforms and promote participation of women in economic and social development.
The latest World Bank Women, Business and the Law report, published in 2020, reports that women worldwide enjoy only 75% as many legal rights as men. In this index, which considers both a country's legal framework, and reforms that facilitate women to access the labor market and start businesses, Haiti achieves a score of 61.3 out of 100.
In recognition of International Women's Day on March 8, six Haitian professionals working in different sectors share their professional journeys and the obstacles they have faced as professional women.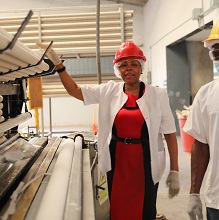 Myrtha Vildon
After 17 years as a representative of an international firm in Haiti, Myrtha Vildon launched Glory Industries, the only company producing toilet paper in Haiti. In addition to creating jobs, her company is helping to strengthen household sanitation.
What led you into entrepreneurship?
For 17 years, I was the exclusive agent in Haiti of an international company. I did this job with a lot of passion, which led to the successful positioning of the brand on the Haitian market.
Following my departure, I embarked on the realization of a dream that I cherished from a young age, the dream of reducing the scarcity of toilet paper in the Haitian community. This dream came true more than four decades later, with the founding of Glory Industries. The company manufactures toilet paper and napkins locally, to serve the Haitian population.
Glory Industries provides Haitian households with tissue paper hygiene products at low cost, which was previously inaccessible to 40% of the population. These products were previously imported at 100% cost, too expensive for the budget of most locals.
Tell us a bit about some of your successes since the start of this project.
The design of tiny toilet paper rolls, among other sizes, has enabled Glory Industries to meet the needs of all levels of consumer income. Our smaller rolls today weigh 30 grams, making them more accessible and encourage their use in low-income households.
We are proud to contribute to:
1. A change in hygiene habits within the Haitian community
2. A healthier, happier, and more dignified lifestyle in households
3. A healthy alternative to a large part of the population, by way of using traditional means
4. We maintain constant awareness of hygiene through education, free hand washing, and product development
5. We promote the financial empowerment of women by micro-financing street vendors of our products, as well as students
6. We create direct and indirect jobs, and contribute to the improvement of the Haitian economy
Are there any barriers that have arisen in your career due to your gender?
1. The underestimation of productive potential among women is a major obstacle to the emergence of female entrepreneurs in Haiti.
2. It is difficult for women to access credit
3. There is an issue of respect for female authority in the workplace

How do you see career development for a young female entrepreneur today?
Difficult times create the best investment opportunities. Despite the various constraints that the business sector in Haiti is facing today, exacerbated by the scarcity of financing, a young entrepreneur should not give up. She can focus on setting up her project and training to improve her knowledge and skills, in order to better seize opportunities when they arise, and ensure her success when the time is right. She must also arm herself with passion, patience, and persistence to achieve success, which does not always come in a direct way. She must be prepared to overcome challenges.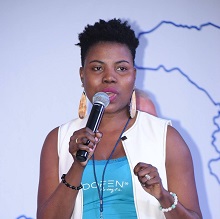 Daniella Jacques
Since 2006, Daniella has developed business plans in a variety of sectors. Together with other partners, she launched a Chamber of Commerce dedicated to women, which facilitates training for more than a thousand women entrepreneurs in setting up business plans.

What led you into the entrepreneurship sector?
My parents were entrepreneurs; they invested in mahogany to make original pieces to be sold to tourists. It was a family business. When we grew up, my siblings and I each chose our own path. In my case, I had a great professional career, working as a political consultant and project manager. In 2006, I got my first US visa to participate in the prestigious US State Department "International Visitor Leadership Program." A few years later, I established my first formal business in Haiti in the events sector together with a partner; this business is still running. Since then, I have become a full-time entrepreneur, and have participated in the creation of several companies. Some have lasted, others have not. But this is how it is… As a serial entrepreneur, I see a business opportunity in every situation, and I love bringing ideas to life by working with partners who share the same values as me.
Tell us a bit about some of your professional successes.
I am a hard worker. I believe that there is no limit to what I can do and that is why I always surround myself with the best people to move forward.
I would say that my success is to support others to build their dreams. This is why I believe that my greatest achievement so far is the creation of the Dofen platform which, day by day, is becoming an empire for the development and empowerment of women. In less than two years, Dofen has created hope for hundreds of young women and given them the desire, motivation, and determination to create their own business that works, creating jobs and income. And I am convinced that we have only progressed 1% of the way. Our vision is great, and I would tell anyone that we can positively change things by harnessing the untapped potential of more than half of the population. I believe Dofen will be one of the catalysts of the active and positive female revolution in Haiti.
Why do you advise other young women become entrepreneurs?
Four years ago, I put together a group of women entrepreneurs and professionals with the task of providing Haiti with a Chamber of Commerce dedicated to women. Since then we have facilitated the training of more than a thousand women entrepreneurs all over the country. We have seen over one hundred business plans, and some have gotten access to loans from our partners. I believe that the development of Haiti must occur through access to the same opportunities for all. We are committed and determined to create a fund: the "Industrial Fund of Women Entrepreneurs". This instrument will allow women to join promising sectors to be able to actively participate at another level in economic growth.
How do you see the market for a young female entrepreneur today?
Today there are many opportunities, especially with new technologies and the Internet. I believe that the next decade will be that of women. "The future is feminine". I encourage young women to train themselves and take up jobs traditionally reserved for men, and to set up businesses in these areas. I encourage them to get into new technologies because some trades are likely to disappear in the next 20 years, at least in their current form.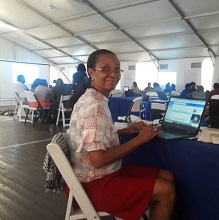 Jocelyne Brunache Pierre-Louis
Dr. Pierre-Louis is a pediatrics specialist who has established herself in the field of public health by successfully participating in several awareness and prevention campaigns against diseases, including the severe outbreak of cholera. Since 2006, she has been responsible for the Department of Health Promotion and Environmental Protection within the Ministry of Public Health and Population.
What led you into the health sector?
My parents told me that since childhood I wanted to be a doctor. I joined the public health sector because I wanted to serve, and I started my career in 1986, in the city of Miragoane, located about 100 KM from Port au Prince.
Tell us a bit about some of your successes in the health sector.
I spent much time working with parents to understand the implications of treatment of their children, and how to apply the doctor's prescriptions accurately. I was able to develop closer ties with parents and a way of communicating with them. This approach that I have developed over the years with patients or their parents has greatly helped me succeed at raising public awareness during the outbreak of cholera in Haiti in 2010. It should be emphasized that this success was also due to good coordination between the different entities involved in the fight for the prevention of this disease.
Another success to report relates to the completion of the first deworming campaign in primary schools in the departments of Sud and Grand'Anse, Nord and Nord-Est, in 2004-2006. The multi sectoral approach developed between the Ministry of Public Health and Population and the Ministry of Education has been effective, through mutual respect and deliverables built toward completion. The goal was common, and we got together to achieve it.
Have you experienced gender discrimination during your career? If yes, how did you react?
Certainly, yes. I was personally victim to discrimination, and I reacted firmly and gently. When you try to be fair without favoritism, to apply the rules, to help the most vulnerable, you come up against difficulties. I wasn't afraid to make the right decisions. In fact, your approach counts for a lot: "iron fingers in a velvet glove."
After so many years of experience, why would you advise other young women to enter the public health sector in Haiti?
I would suggest to young women engaged in the medical field to get started, because women have proven in many circumstances to be good managers. The health system needs the skills of women who are sensitive to the problems of the population, particularly the most vulnerable. However, it is a difficult decision to do this type of work, because it requires a lot of commitment, availability, know-how, selflessness, humility, and above all honesty.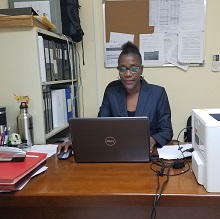 Gislène St Germain
Gislène St Germain started her career in the procurement sector by chance. Trained as a civil engineer, she was introduced to procurement in 2004, as part of a project funded by the Inter-American Development Bank (IDB). 16 years later, she is one of the crucial staff in procurement for the Ministry of Agriculture, Natural Resources and Rural Development.
What led you into the field of procurement?
As a civil engineer professional, I started my career in the Ministry of Agriculture as head of the infrastructure unit in 2004. At that time, a large part of my work consisted of supporting the Head of Procurement. It was through this collaboration that I learned the inner workings of procurement. When my mentor left the project for personal reasons, I was automatically designated as her successor since I had already demonstrated skills in the field. About ten years later, I was promoted to be the Coordinator of the Public Procurement Unit (UPMP).
Tell us a bit about some of the successes you have had since entering this field.
My ability to adapt, despite the complexity that characterizes the job, has always been perceived as a success by my colleagues. I can recall two testimonies that have made a particular impression on me during my work in this sector. First, there was a project manager who admitted that his project had no more procurement problems since my team has taken over the procurement. Then. I can recall a Project Coordinator who initially was reluctant to collaborate with me. However, over time, he said he found that, "the [Procurement] Coordinator is not there to disturb the progress of projects; on the contrary, they protect the Project Coordinators by guiding them in the right direction."
After so many years of experience, why would you advise other young women to work in procurement?
Procurement is not only a job of the future, but also a driver for development. Someone who works in this sector should promote integrity, fairness, transparency, and healthy competition; these elements can contribute to efficient management of resources and, possibly, to the country's development of the country.
How do you see career development for a young woman in the field of procurement today?
Procurement offers good opportunities. However, it requires those who practice it to be relatively strong, because you must not be influenced. Young men or young women who want to enter this sector must be trained, but also must cultivate fundamental values like integrity, and respect for yourself and others.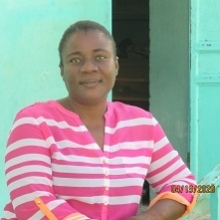 Rosemène Normil
Rosemène Normil has been working in the education sector for 20 years. She trained several generations as a teacher and has significant experience in the management of school infrastructure. For several years, she has been supporting the departmental directorate of the South for the Ministry of National Education to implement the Providing an Education of Quality in Haiti Project (PEQH) funded by the World Bank.
What led you into the education sector?
During my childhood, I was close to a family made up entirely of educators. The commitment and concern that family gave to my education helped me understand very early on the importance of education. When I grew up, I also understood that it is the best gift that adults can bequeath to the next generation. These are among the reasons that guided me on this path. I ascribe to the French proverb that says: "Without education, the child is an orphan."
Tell us a bit about some of your successes.
I have formally worked in the Haitian educational community for 20 years. I climbed the ranks from teacher of fundamentals, to consultant in pedagogy, then director of an institution for basic and secondary education, educational supervisor, and ultimately consultant supporting departmental management of the South as part of the Providing an Education of Quality in Haiti Project (PEQH). As a teacher, I have been able to set aside time for learners having difficulty and provide them with the help they need to push their limits both intellectually and behaviorally.
What are some of the barriers that have arisen in your career because of your gender?
Most often gender issues arise in working relationships between men and women. When I was recruited as director, although my profile and skills were better suited to the job, the employer had first chosen a man because, she said the teachers were 95% men. I was able to get the position the following year because my colleague had resigned for personal reasons.
Why would you advise other young women to enter the education sector?
Often it's that said if you want to make money, never think of becoming a teacher. A driver, or a manager in an NGO receives a salary of up to 2 or even 3 times more than a teacher. This sometimes discourages young girls or boys from taking up this career. When you practice this profession, you must see the reward in terms of personal satisfaction, the recognition of your students, the change in the form of the small miracles performed every day, and especially the benefits to the whole society that will benefit from this job. Taking all of this into consideration, I encourage young people who have a sense of community and pride in their work to embrace teaching as a profession - if you feel the call.

How do you see the career development for a young woman in the industry today?
Building a career in the education sector is not easy for a young woman. However, with will, perseverance, and constant self-improvement, you have hope. This why I want to reiterate what I said earlier: one must be imbued with the desire for self-improvement. What the young woman must know she should not say that with my diploma, I can do everything; this is false. She must understand that education as a practice is dynamic. Models and paradigms are constantly changing.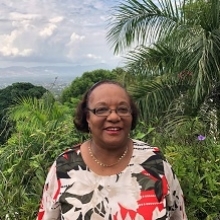 Yolène Surena
A doctor by profession, Yolène Surena began her career in risk and disaster management in 1982 at the Haitian Red Cross. Today, after years as head of the Directorate of Civil Protection, Dr. Surena heads the implementation unit for disaster risk management projects financed by the World Bank.
What led you into Risk and Disaster Management (DRM)?
One observation: We are losing in the short term what we have built from many years of hard work due to the recurrent disasters that have hit the country. As a public health specialist, I know the importance of prevention. We must work to reduce the risk of disasters if we want to develop the country.
Tell us some of your professional successes.
My greatest success consists in my contribution in the design and the implementation of the national system of risk and disaster management, to see this system evolve positively and to note that the issues that we considered when launching this initiative, remain relevant worldwide more than 20 years later. I also have been able to contribute the adaptation of risk mitigation concepts to help provide Haiti with tools for risk understanding and decision-making and the development of prevention strategies at national level. I am happy to note that disaster risk reduction has been permanently institutionalized, and is increasingly considered in our policies, programs, and projects.
Have you witnessed or suffered gender discrimination during your career? If yes, how did you react?
I have witnessed gender discrimination more than once. Women have not taken key positions in enterprises because decision makers unfortunately relegate them to secondary positions. Even today, I have to ensure that women in our national system are not victims of stereotypes. I have often defended their rights when these situations arise, as I was previously an activist for women's rights. Today, I am no longer present in public demonstrations, marches or events, but I keep an eye on these issues on a daily basis, and take into a gender approach into account in all DRM actions. When the situation arises I assist victims of discrimination however I am able.
How do you see career development in the disaster risk management industry today?
Working in DRM requires commitment, a grain of passion. It's not a job that follows a schedule. Crisis situations are not always predictable. You must be ready. As with any career, you must seek harmony between your social life and your career.
What should be done to improve the working environment so that women feel comfortable?
Briefly, I think you must be careful to always involve them in decision-making and listen to their ideas and concerns, take their needs into account. We must recognize their potential and give them responsibilities according to their capacity, of course, offer them training opportunities and continuous reinforcement of their skills.
Last Updated: Mar 06, 2020