ANTANANARIVO, January 9, 2019— Anjaranomenjanahary Yvon Vesantine greets us at her doorstep with a smile. A smile that had long disappeared from the face of this 27-year-old woman raising her two children alone since her divorce, erased by the years of poverty and suffering caused by the drought--or kere as it is known in the south of Madagascar. Between 2013 and 2015, most crops were lost, and more than one million people found themselves facing food insecurity. As an unemployed mother, Vesantine's already precarious situation was compounded by the harsh climate and added to her feeling of exclusion. "During the years of famine, I had nothing to put on the table for my children to eat."
Improving daily life for the most vulnerable
Vesantine is one of the 450,000 people receiving cash transfers disbursed by the government since 2016 to support the 39 communes most severely affected by the drought. Financed with a $35 million grant from the World Bank through the International Development Association (IDA), its fund for the poorest countries, this social protection program, Fiavota (which means "assistance" in the local dialect) combines cash transfers, nutrition services, and recovery funding. The goal? To alleviate three key drivers of poverty simultaneously: challenging living conditions, a lack of economic means and opportunities, as well as low human capital tied to food insecurity and the withdrawal of children from school.
Vesantine receives a monthly allowance of 30,000 ariary, equivalent to $10. "Thanks to this money, I can buy food and clothing for my children," she explains. "It also makes me happy to feel like I am gradually being reintegrated into society, and now my children can go to school." A source of pride for her.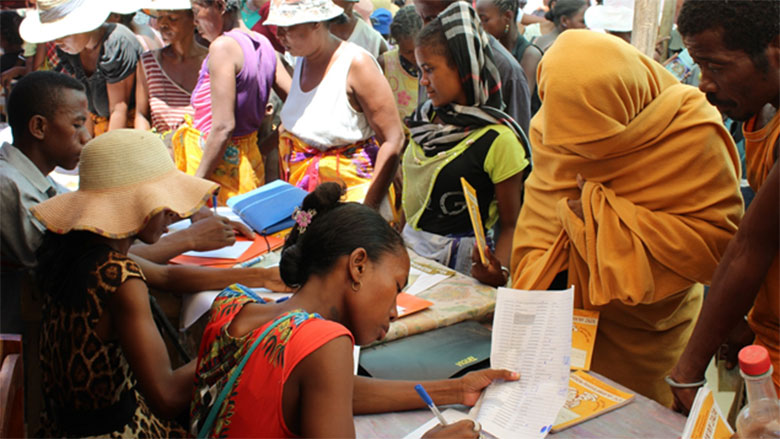 Beneficiaries are collecting their cash allowance. Copyright: Dia Styvanley, World Bank
Building human capital
This financial boost has allowed beneficiary households in the Fiavota program to increase their average incomes, now 40% higher than the average incomes of non-beneficiary households. The food and the nutrition workshops provided by the program have also introduced households to a more diversified diet, contributing to a reduction in the cases of acute childhood malnutrition and to enhanced food security. "Before, we only ate dried manioc. Now, we have rice, maize, and sometimes even chicken," explained May Liavatae. For this 30-year-old mother of seven, health and education are synonymous with the family's well-being and a brighter future. Therefore, with the cash transfer received from the Fiavota program, she decided to enroll her children in school. "Only school will be able to guarantee them a sound future," she said. "I will spare no effort to help them achieve their dreams. The youngest wants to be a midwife," she added, brimming with maternal pride.
And the numbers show that May is not the only one banking on their children's education. Among Fiavota beneficiary households, the net primary enrollment rate increased 12 percentage points compared to non-beneficiary households, at the same time curbing the rate of early entry into the labor market of children aged 5 to 17 years.