ABUJA, December 5, 2019 – A girl born in Nigeria, if she survives her foundational years, has a 40% chance of getting married by the age of 15 and is likely to become a mother before she reaches 17.
Known as the continent's giant, Nigeria is also at the center of the global learning crisis. According to the World Bank Group's Human Capital Index, a child in Nigeria today is expected to spend eight years at school, yet when compared with actual learning – the results show an average learning of only 4.25 years – half what would be expected.
Basic education is free, yet parents are paying high fees for school registration, books and Parent Teacher Associations which represent a huge burden for vulnerable families. As a consequence, parents often prioritize the educations of their sons over their daughters.
Educating and empowering girls is the closest to having a silver bullet in the fight against high fertility, high maternal and child mortality, and inequality. Data show the solution is simple; keep girls in school and there will be fewer adolescent girls getting married, less teenage pregnancies, and more healthy mothers and babies. Hence a multi-sectoral and long-term approach are critical for human capital development. As part of this effort, the World Bank has committed to work with the government and is preparing the "Adolescent Girls Initiative for Learning and Empowerment" project, which will support improvement in access to quality secondary education, and girls' empowerment with market relevant skills and reproductive health education.
Meet three adolescent girls and a teacher from Kebbi in the North of Nigeria, who shared their stories and their aspirations for the future.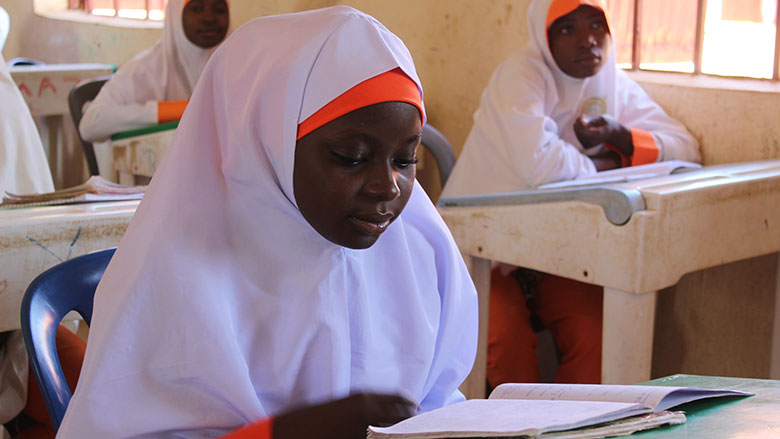 Education to fight for inclusion
Hadiza, 17, does not remember when she lost her hearing following a long illness. She is now in her final year of secondary school and is studying at the Kebbi State School for Special Needs. She wants to go to college to become a teacher and return to her school to share her experience and teach students with hearing impairments.
"When you are deaf, it is difficult to find a job; a lot of us are facing discrimination," signed Hadiza. "If I had the power to change things, I would try to raise awareness and assign roles to different agencies to stop discrimination."
Nigeria has the youngest population on the continent, with more than 40 million adolescent boys and girls. This number will double by 2050. This means that the country will need to ramp up its health and education services and be able to equip young people with the right skills and provide enough jobs for the next generations.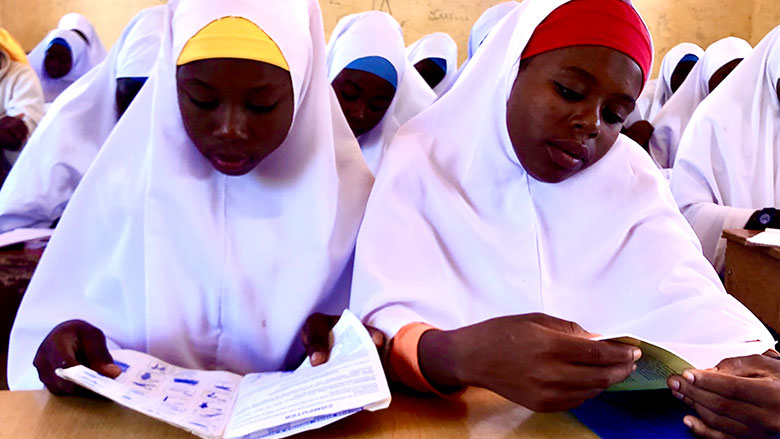 It is because of my father that I started learning how to read and write
Asmau Makiyu Diri is the first born of a family of six girls. She loves singing in her spare time and wants to become a medical doctor. It is with the help of her father, a teacher himself, and her strong will power that she has been able to overcome her challenges at school and learned how to read and write in English. Asmau will graduate from Dr. Amina Abubakar Government Girls College this year and hopes to join a college in Kaduna state where her family lives.
"I know I will face many challenges, but I know I can overcome them," Asmau said with a smile.
"When I started primary school in Diri (a town in Kebbi state), I could not even spell my name…. If not for my dad, I would be sitting at home without knowing anything."