November 20, 2019
Tokyo, Japan
The international symposium on "Managed Retreat as Counter Measures against Disasters with a Diversity/Gender Perspective" was held by Japan International Cooperation Agency (JICA), Japan Women's Network for Disaster Risk Reduction (JWNDRR), and the University of California, Davis (UC Davis), in partnership with the World Bank's Tokyo Disaster Risk Management (DRM) Hub. The event reflected case studies from Nepal, the Philippines, the United States of America (U.S.), and Japan.
Definition of Managed Retreat in this symposium
Managed retreat is broadly defined as the relocation of structures or abandonment of land to manage natural-hazard risk. Managed retreat is entering widening discussion as flooding, coastal erosion, and sea-level rise increasingly threaten human lives and property worldwide.
Source: University of California, Davis website
The symposium kicked off with opening remarks from Mr. Itsu Adachi, Director General, Infrastructure and Peacebuilding Department, of JICA and World Bank's Special Representative Mr. Miyazaki. Mr. Adachi spoke of JICA's continued support to enhance resilience in developing countries worldwide and the importance of utilization of Japanese expertise based on years of experience tackling natural disasters. Mr. Miyazaki emphasized the importance of the continued partnership between the government of Japan and the World Bank, and the work by Tokyo DRM Hub to support the mainstreaming of DRM throughout the project cycle in developing countries.
During her keynote speech, Ms. Akiko Domoto, president of JWNDRR, emphasized the importance of integrating perspectives of various groups of people in the decision-making process for DRM measures. Recommendations from groups such as JWNDRR based on lessons learned from the Great East Japan Earthquake (GEJE) in 2011 were incorporated into guidelines for gender equality in disaster risk prevention and recovery, established by Cabinet office of Japan in 2013. Since then, various needs unique to women are being addressed in preparedness and recovery activities, such as the management and design of evacuation centers in Japan.
Key Takeaways from Panel Discussion
Moderated by Ms. Yumiko Tanaka, Vice President of JWNDRR, the first half of the panel discussion focused on the introduction of the concept of managed retreat including differences between Japan and the U.S., and its advantages and challenges. Drawing from international examples, the latter half shared the social challenges seen in the process of consensus building related to managed retreat and land-use planning, and best practices that are critical in integrating resilience in projects in a sustainable manner.
Mr. Mikio Ishiwatari, Senior Advisor for Disaster Risk Reduction (DRR), JICA, presented key findings of Japan-U.S. research on managed retreat, which compared lessons learned from examples in Tohoku, Japan and Valmeyer, Illinois in the U.S. The main findings were: (i) lessons learned from both countries is that community engagement in the planning process is essential in the smooth implementation of managed retreat (ii) integration of development of industries and commercial facilities in the long-term plans are the strengths seen in Valmeyer, and (iii) the government's provision of disaster recovery homes and the routine 'patrol' services to ensure safety of vulnerable groups are some of the best practices from Tohoku.
Professor Nicholas Pinter from UC Davis, provided a more detailed overview of managed retreat processes in the U.S., using recent case studies of Isle de Jean Charles, Los Angeles and Grundy, Virginia, and shared key lessons learned also drawing from Australian and Japanese examples. These messages included: (i) managed retreat can be a cost-effective and holistic solution (ii) it is an effective way to maintain the social fabric and community ties (iii) there are various lessons to be learned from numerous past examples of managed retreat, and (iv) the increased trend in climate change and flood damages call for a broad portfolio of solutions for the future and managed retreat is one of them.
Ms. Lumanti Joshi, founder of Not-for-Profit Organization (NPO) LUMANTI in Nepal, presented her experiences working with engagement of women and empowerment of communities in the reconstruction process after the 2015 Gorkha earthquake. Spaces where women could gather were established through the NPO, which allowed women to gather and organize workshops to discuss ideas for reconstruction shelters in coordination with local and national government. By engaging women, women's cooperatives and the community in the planning process the reconstruction process was cost effective, preserved better the local cultural heritage, and improved overall service delivery.
Ms. Keiko Sakoda, DRM Specialist of the World Bank, emphasized the importance of integrating needs of people with different backgrounds, often tend to be excluded, as part of the project design to enhance the resilience of "all" people. She shared relevant example of analytical and advisory work initiated in South Asia to develop project-specific action plans for better social inclusion in existing or new World Bank-financed DRM projects in the South Asia Region. For example, in Sri Lanka's flood mitigation project, the analytical work successfully provided social inclusion ideas for the newly approved Climate Resilience Multi-Programmatic Approach (CRes MPA, P16005) as part of its project design to improve connectivity between river and local communities; provide options for female-male joint ownership for land and assets as part of the resettlement assistance; and improve early warning message delivery mechanism for persons with different challenges (e.g. hearing, visual and other impairments).
Mr. Hitoshi Ara, Group Director for Urban and Regional Development, Infrastructure and Peacebuilding Department, JICA, provided an overview of how hazard maps were shared with local authorities and community members to raise awareness of risks each neighborhood may be facing, and how this process helped the project stakeholders enhance land-use plans to mitigate these risks. The integration of inputs from community members through numerous workshops at the barangay level led to a more comprehensive and well-accepted land-use plan.
Community engagement and inclusion of various social groups in the planning and decision-making process at all levels to reflect their needs and perspectives is critical in enhancing the resilience of the urban infrastructure in the local context and ensuring sustainability of projects. The World Bank continues to commit to ensuring integration of gender/diversity perspective and gender specific needs in investments through the Global Facility for Disaster Reduction and Recovery (GFDRR)'s Gender Action Plan (GAP) . The World Bank and GFDRR also provides recommendations and an action plan on how investments can further improve the inclusion of persons with disabilities in their DRM activities, as well as improve their relationship to the Sendai priorities.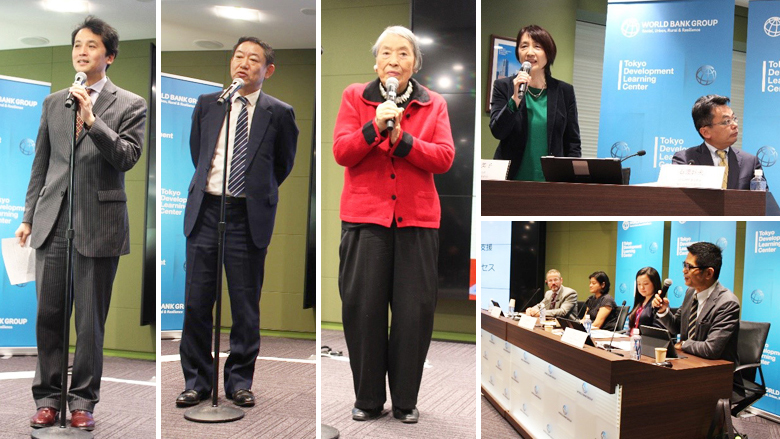 (from left): Mr. Miyazaki, Mr. Adachi, and Ms. Domoto giving their welcome remarks and keynote speech.
(top right) Left – Ms. Tanaka moderates the panel discussion. Right – Mr. Ishiwatari from the panel discussion.
(bottom right) from left – Mr. Pinter, Ms. Lumanti, Ms. Sakoda, and Mr. Ara present during the panel discussion.