October 7-12 , 2019
Kyoto, Tokyo
In Indonesia, many large and small dams have faced the common challenges which are not limited to: i) the decreasing functionality and safety of the existing dams, especially with the exposure of seismic hazard; ii) the reduced performance and structural due to the prolonged accumulation of sediments and increasing climate uncertainty; and iii) limited capacity of older dams to accommodate the predicted change in run-off and increasing rainfall variability. In January 2019, 3-days of heavy rainfall forced Indonesian dam operators of the Bili-Bili to release the water from the reservoir, which caused serious flooding in downstream areas of the Jeneberang River. This flood has urged relevant stakeholders to improve the flood management in dam operations. In response, various stakeholders from the Government of Indonesia (GoI) visited Japan to learn dam safety and management issues with a focus on flood forecasting and cascade operations of multiple dams in Japan.
To enhance efforts of the GoI, Tokyo DRM Hub supported a knowledge exchange and exposure visit to Japan from 7-12 October 2019. The delegation from the GoI included 8 senior and technical representatives from the Meteorology, Meteorological, Climatological and Geophysical Agency, Ministry of Development Planning (BAPPENAS), National Authority of for Disaster Management (BNPB), and the Ministry of Public Works and Housing (MPWH). In addition, Deputy Director General, Central Project Office of Vietnamese Ministry of Agriculture and Rural Development, who is the Project Director for Vietnam-Dam Rehabilitation and Safety Improvement Project in Vietnam, also participated in the exposure visit with World Bank staffs. The study tour was hosted by the Japan Water Agency (JWA) and included a full-day discussion and knowledge exchanges with JWA on water resources management, dam operation, facilities management, and disaster management system. This was followed by field trip to the Hiyoshi Dam, Yodogawa Dam and Amagase Dam in Kyoto, and discussions in Tokyo on flood forecasting and warning systems for dam operation at the World Bank Tokyo Office.
The objective of the study tour was to enhancing participants' ability to implement resilience of dam operations in Indonesia and Vietnam. The knowledge exchanges and exposure visits share Japan's experiences on dam safety management, including the utilization of technology for integrated water resources management and flood early warning systems; and management issues focusing on flood forecasting and cascade operations of multiple dams, including seismic event response system, earthquake early warning system, Standard Operation Procedure (SOP) for earthquake, emergency response and disaster preparedness at dams.
During the exchange, participants learned the key roles and activities of Japan Water Agency (JWA), including the institutional structures, mechanisms, and protocols established for river management, flood control, water management, environment conservation, and how these processes are based on a medium-term plan to ensure effective service delivery and operational administration. The delegation from Indonesia and Vietnam were able to learn how these processes support dam safety, including dam infrastructure and facilities, dissemination of dam operational information to downstream area, and coordination with stakeholders. Furthermore, participants learned how JWA plays an essential role in disaster preparedness/responses, and conducts disaster drill every year, based on the Disaster Management Operation Plan.
Accompanied by JWA, participants visited 3 dams and the Integrated Dam Management Office in Kyoto. During the visits, the delegation learned how disaster preparedness measures were implemented to mitigate flooding, especially occurred in lower areas of Katsura River after typhoons in 2013 and 2018. Integrated dam operators across the three dams and neighboring ones showed participants how dam safety operations and disaster risk management procedures are informed by hydrological and flood forecasts-based data collected through river information and radar rainfall systems. Similarly, dam operators also highlighted how risk management procedures also consider drought simulation and water availability calculations. For instance, dam operators discussed the protocol to manage water supply during droughts including how water supply reductions are cascaded across agricultural, industrial and household usages to ensure that access for essential needs are sustained. Furthermore, participants were able to see how Japan is working to reduce disaster risks and accommodate future projections in flood volume through the construction of a new discharge tunnel in Amagase Dam that will increase water flow capacity and ensure sufficient water level for hydropower production. Indonesian delegation showed their strong interests to integrate a series of Japan's dam operation lessons of structured measures and non-structured measures into their actual operations including Bili-Bili dam.
Key takeaways from Japan
The study tour highlighted several key lessons from Japan's knowledge and experiences. Participants emphasized the importance of learning from the past (historical data and reports) as well as accessing to weather/hydrological data from relevant stakeholders, while ensuring systems are in place to provide regular capacity building for dam managers and officers on operation, maintenance, and monitoring. Furthermore, the importance of regularly updating Emergency Action Plan and maintaining good communication and coordination among relevant stakeholders was seen as essential for disaster preparedness (including early warning systems for downstream communities). These actions also need to be sustained in parallel with the regular improvement of dam operation and maintenance activities, such as the installation of good monitoring equipment and development of dam rehabilitation plans.

Way forward
The delegation of Indonesia and Vietnam gained good practices and lessons from the past experiences from JWA and actual dam operators of the field. They emphasized it is urgent to conduct detail inspection for aged dams in Indonesia, which of 70 percent were built 20 years ago, as well as consider rehabilitation and upgrades of dams to increase the function and safety of existing dams. The World Bank regional offices, Tokyo DRM Hub and GFDRR will continue to seek opportunities to strengthen dam safety activities in Indonesia and Vietnam through the technical assistance, the deployment of expertise, and dissemination of knowledge and lessons learned from Japan. These efforts are also being expanded through GFDRR's Resilient Water program, which is working to strengthen dam infrastructure and practices to adverse impacts of natural disasters in World Bank operations globally.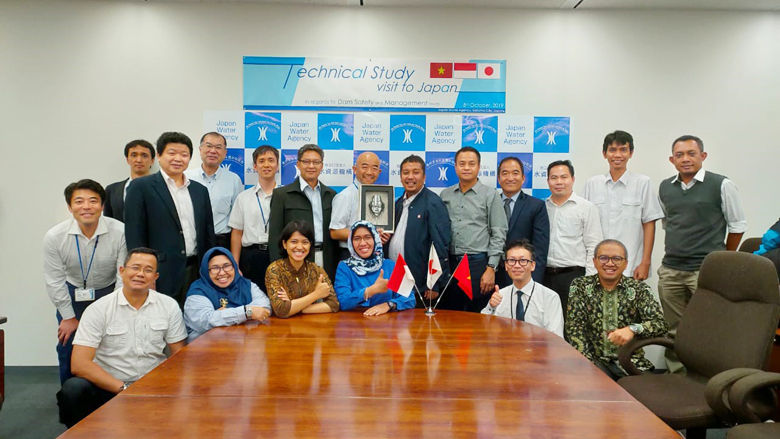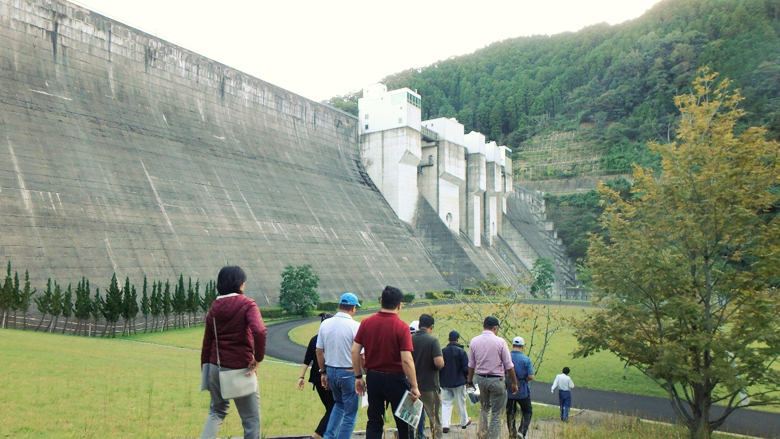 The participants learned the mechanism of Hiyoshi Dam.