July 12, 2019
Mini Studio in Bogor, Indonesia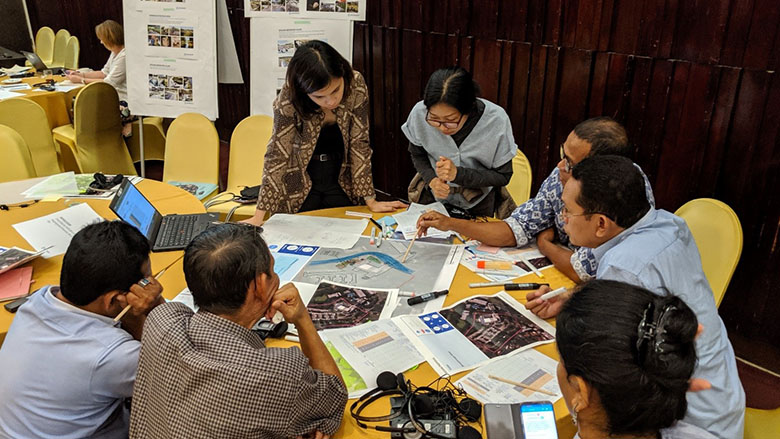 Delegates from Bima and Ambon discuss and design innovative solutions for stormwater management in the design site with facilitator (Photo Credit: World Bank)
On July 12, 2019, local government representatives from five Indonesian cities, Ambon, Bima, Manado, Padang, and Pontianak participated in an interactive design studio to learn firsthand the challenges and opportunities for integrating nature-based and green solutions to enhance urban flood resilience. The design workshop was implemented as part of the Technical Assistance Program on Urban Flood Resilience in Indonesia, supported by the Indonesia Sustainable Urbanization Multi-Donor Trust Fund (IDSUN), and GFDRR's, Japan-World Bank Mainstreaming DRM in Developing Countries Program.
The workshop utilized a "mini studio approach" whereby participants collaborated with the facilitators to develop a vision and investment proposals on "what a flood resilient urban development looks like" based on a process of site analysis, stormwater runoff calculation, and conceptual design of nature-based and green solutions. In three teams, participants explored various ways to reduce stormwater runoff within the target hotel ground site, through application of various nature-based and green infrastructure solutions within their proposed designs. Through the exercise, teams were encouraged to explore innovative solutions and creative ideas within the specific site context, in order to enhance the flood resilience of the site, while simultaneously fulfilling other aspirations for sustainability and place-making – the design of unique and inclusive spaces that serve people.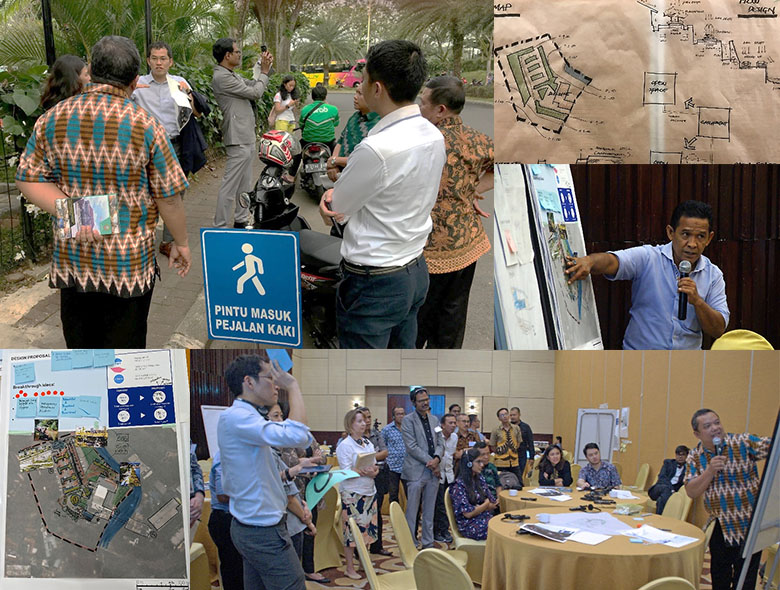 Delegates actively participate in the site analysis and share their visions for intervention strategies and flood resilient urban design. (Photo Credit: World Bank)
"I really enjoyed the experience of exploring ideas and designing solutions on the site. It allowed us to take the various ideas on our vision and strategies for making our cities flood resilient one step further, and to see and feel concretely how we may be able to apply them into their own cities' context." – Representative from Bima
"We deliberately took a radical approach to our design as we really wanted to test how we can best leverage the unique topography and geographic condition of the hotel located in Bogor, the city of rain. We really didn't want to waste the rainwater and wanted to propose a design that can utilize it to the fullest. This allowed us to come up with a very innovative and green design. We also discussed about financing, and feel that nature-based solutions, if done well, may have significant potential for people to be willing to pay for it." – Representative from Pontianak
"We learned a lot from the experience, especially through connecting the proposed design solutions with the stormwater runoff calculations. After improvements were made to a certain degree, it was extremely difficult to find a way to improve the last 1 % of stormwater management capacity within the design site without changing the functionality of the space drastically. This was a very important way to understand and think concretely about the various tradeoffs and efficiencies of implementing nature-based solutions." – Representative from Manado
The interactive "mini studio approach" was adopted from a similar exercise implemented during the Integrated Urban Flood Risk Management Technical Deep Dive, organized jointly by Urban Floods Community of Practice (UFCOP), Tokyo DRM Hub, and TDLC, and held in Tokyo in April 2019 with nine World Bank client country participants and task teams, and Japanese rainwater design coordinators. While Bogor and Tokyo have different scales, densities, and urbanization contexts; the hands-on exercise catalyzed new perspectives, ideas and inspiration through introducing the science and art of water-sensitive urban design. The visions and strategies to integrate nature-based and green solutions will be furthered in the next step to develop urban flood resilience plans for selected Indonesian cities, in partnership between the Government of Indonesia and the World Bank.