Globally, over 500 million women and girls lack adequate facilities for menstrual hygiene management (MHM). When there are no separate toilets for girls, no ways to safely dispose of used sanitary pads, or no water for washing hands, women and girls can face considerable challenges in maintaining their menstrual hygiene in a private, safe and dignified manner.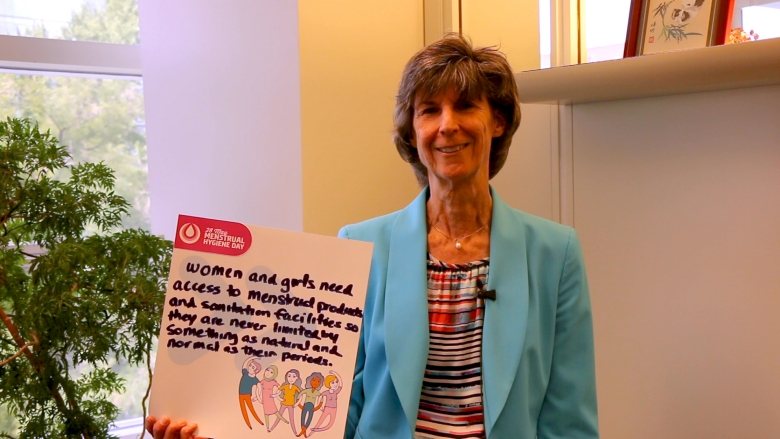 Laura Tuck, Vice President for Sustainable Development, World Bank
However, improving MHM is not just about sanitation. Poor menstrual hygiene caused by a lack of education, persisting taboos and stigma, limited access to hygienic menstrual products and poor sanitation infrastructure undermine the educational opportunities, health, and overall social status of females around the world. As a result, millions of women and girls are kept from reaching their full potential.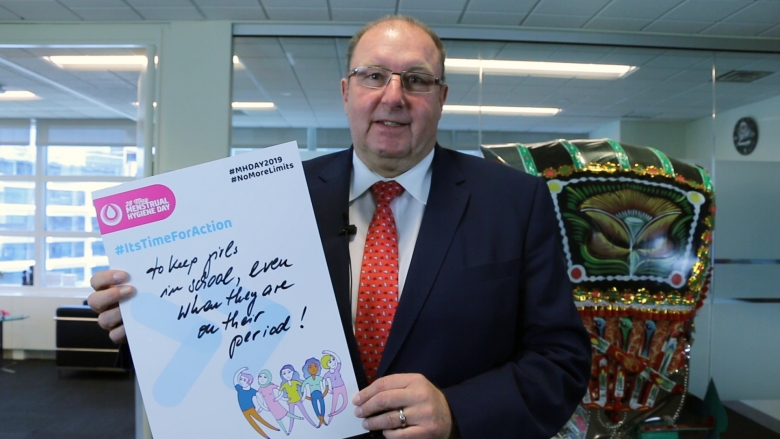 Hartwig Schafer, Vice President for South Asia, World Bank
MHM and human capital are inextricably intertwined. Millions of adolescent girls miss school while they are menstruating due to lack of sanitation facilities in schools to manage their menstrual hygiene needs.
Recent research from the World Bank's Water Supply, Sanitation & Hygiene (WASH) Poverty Diagnostics sheds light on MHM issues in several countries and their impact on human capital. In Nigeria, 25 percent of women lack adequate privacy for defecation or MHM. In Bangladesh, only six percent of schools provide MHM education, and over one-third of girls surveyed claim that menstrual issues adversely affect their school performance. In Panama, school attendance is negatively impacted by inadequate MHM; girls in sixth grade are more likely to miss at least one day of school during the past six months, compared to boys in the same grade or girls in lower grades.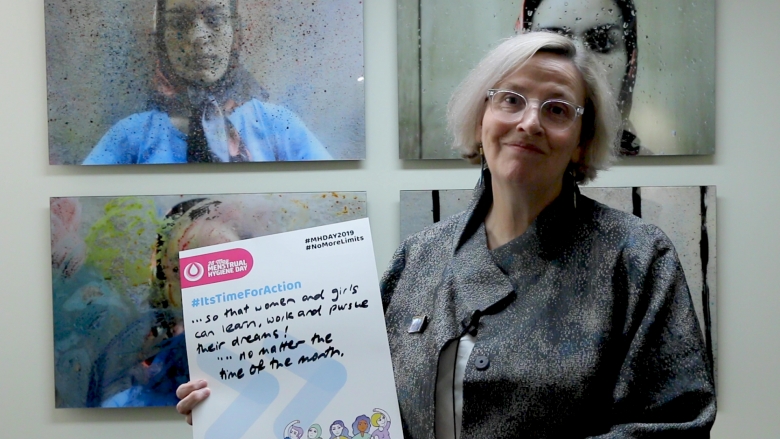 Annette Dixon, Vice President for Human Development, World Bank
Low educational attainment of girls due to poor MHM may reduce the productivity and labor market outcomes of women –women with low levels of education often have fewer employment opportunities.
Problems associated with inadequate MHM facilities may compound in the workplace, resulting in possible absenteeism among menstruating women. This, in turn, lowers overall productivity and potential earnings.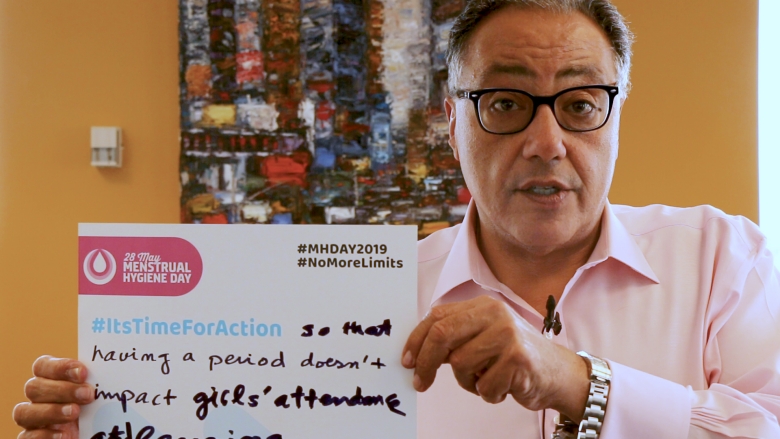 Hafez Ghanem, Vice President for Africa, World Bank
While human capital is measured using health and education indicators, these are in turn driven by many other factors, including access to water and sanitation Lack of access to clean water and adequate sanitation has direct impacts on many aspects of a person's life, including incidence of disease, healthy growth, and premature death. Indirectly, these health risks have dire effects on a person's educational attainment and lifetime earnings. Indirectly, these health risks can have dire effects on a person's educational attainments and productivity. In recognition of the important role that water and sanitation plays in increasing human capital, the World Bank's Africa Human Capital Plan set a target of increasing the number of World Bank projects in Africa that provide schools and health care facilities with basic WASH requirements, , including facilities for girls and women to manage menstruation.
Water projects can increase accumulation of human capital. Hardware approaches include provision of improved water, sanitation, and hygiene facilities to schools and other public spaces; software approaches include raising awareness or behavior change on issues around menstrual hygiene and breaking the taboos. Both are proven to result in higher school attendance, improved reproductive health, and increased productivity – the building blocks of human capital. Females with higher human capital play a pivotal role in contributing to a better economy.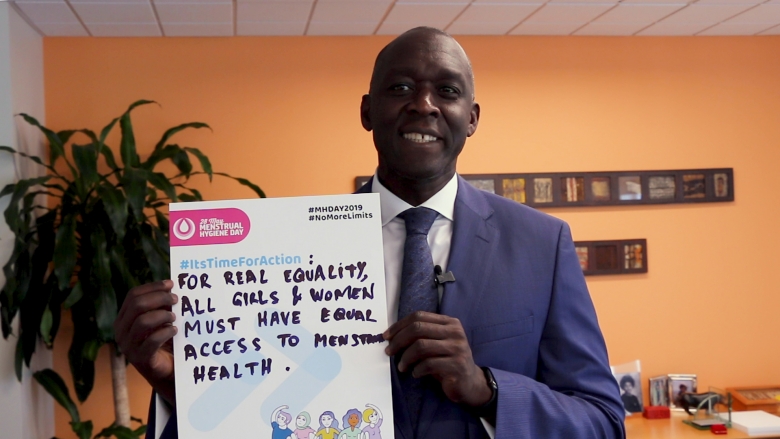 Makhtar Diop, Vice President for Infrastructure, World Bank
At the World Bank, we recognize the importance of MHM as a critical contributor to accumulated human capital, as demonstrated in these recent examples from World Bank operations:
A multi-sectoral WASH project in Lao PDR (US$25 million) employs a nutrition convergence approach with infrastructure service delivery and behavior change at the community and household level. the project aims to address low attendance of adolescent girls in schools by ensuring that school sanitation facilities provide functional single-sex toilets with a reliable supply of water and soap. Educational materials on hygiene and MHM will also be provided and dispersed.
In Tanzania, a program (US$350 million) provides separate latrine blocks for girls and boys, with lockable doors to ensure privacy and hand-washing facilities to promote MHM. The program also incentivizes schools to have a designated and active menstrual female counselor to increase awareness of and provide support for girls on MHM.
A project in Uganda (US$280 million) aims to improve access to WASH services and integrated water resources management by providing sanitation facilities in schools and public spaces that are gender segregated, in addition to building MHM and handwashing facilities. Improved sanitation facilities are expected to contribute to women's willingness to work outside of home and to encourage girls to attend school.
Ongoing projects already showing results related to improving MHM for girls include:
A WASH project in Ethiopia completed the construction of separate improved latrines with handwashing facilities in many project areas. The project also carried out numerous awareness-raising activities in schools to promote MHM practices. Moving forward, the Government of Ethiopia is developing a design and construction manual on MHM, which will be supported by the One WASH-Consolidated WASH Account Project (One WASH-CWA) through the allocation of additional resources for the construction of MHM rooms.
A large-scale water and sanitation upgrade project in Accra, Ghana, has committed US$24 million for institutional sanitation facilities. As part of the project, an in-depth qualitative study was conducted to understand the influences of MHM interventions in schools on adolescent girls' educational engagement. The findings of this study informed the design for gender-friendly sanitation facilities. To date, the construction of most institutional sanitation facilities has been completed, reaching 257 schools across the Greater Accra Metropolitan Area. The facilities all include separate toilets and changing rooms for girls.
On Menstrual Hygiene Day (May 28), spare a thought for the millions of women and girls still being held back by their periods. Join us in advocating for the actions needed to break the silence, build awareness and invest in menstrual hygiene management for all women and girls.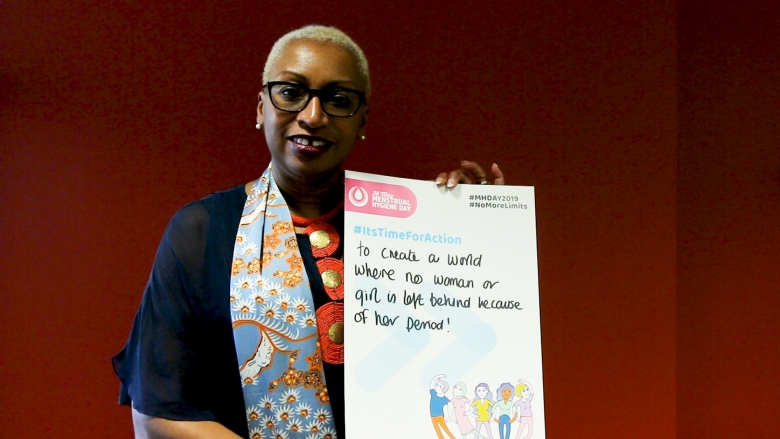 Sandie Okoro, Senior Vice President & General Counsel, World Bank Group