March 19, 2019
New Delhi, India
The Government of India in collaboration with United Nations International Strategy for Disaster Reduction (formerly known as UNISDR) hosted the Second International Workshop on Disaster Resilient Infrastructure (IWDRI) in New Delhi on March 19. The Indian government sponsored a Building Regulation for Resilience session at this workshop. This sponsorship underlines India's continued leadership on disaster risk management (DRM) and resilient infrastructure. This is significant in light of the global trend towards spending more on disaster response and reconstruction than on preparedness and risk management measures. In 2005, at least $3.3 billion was committed after the Kashmir earthquake and the Indian Ocean tsunami, which is equivalent to a quarter of the total $13.5 billion spent on DRM in all countries over a period of 20 years.[1] Prime Minister Modi's government strong advocacy for this work will certainly yield a number of examples and best practices that can be replicated around the world in the years to come.
The session on Building Regulation for Resilience brought experts from around the world, who shared their thoughts for how building and land use regulation has proven to be an effective risk mitigation measure in many developed countries. For example, Japan developed one of the world's most effective approaches to building codes, land use planning and governance systems in response to an extensive history of devastating earthquakes. Building regulation is not simply a technical issue but requires policy and institutional development to create enabling environment for better compliance and maintenance of buildings, as summarized in the World Bank's publication "Converting Disaster Experience into a Safer Built Environment".[2] There is much to learn from the Japanese example as well as other countries' experience. Speakers offered insights based on their experience for how their lessons could be applied in low- and middle-income countries as not only a tool for disaster risk reduction but also as a means to support a competitive economy and attract investment.
Russell Muir, senior advisor of the World Bank Group, emphasized that affordability should not be disregarded during the process of ensuring compliance to building regulations. He also added the importance of considering building design, which is contextual to a location's hazard and culture situation. Dr. Sudhir Jain, Director of the Indian Institute of Technology Gandhinagar and Mark Johnson, Executive VP & Executive Vice President, International Code Council based in America reemphasized these points by stressing the need for codes to be simple and contextualized. Toshihiro Kamatani, Director, The Ministry of Land, Infrastructure, Transport and Tourism, Japan shared examples of how proactive support to builders and building owners can help support and ensure compliance with building regulation. Out of this session emerged a clear call for investment in an enabling environment for the implementation of building codes, not just development of them. With speakers from across the globe with a broad array of country experiences, the session was able to highlight the variety of ways different countries are placed with regard to the work required to advance this agenda. For example, some countries may not have a building code at all while others will be thinking through effective strategies for enabling compliance with the building code. As such, contextually relevant solutions are critical to promote risk-sensitive development.
[1] GFDRR, Financing Disaster Risk Reduction: A 20 Year Story of International Aid.
[2] https://pubdocs.worldbank.org/en/162361520295760910/jp-publication-drmhubtokyo-convertingdisaster-experience-into-a-safer-built-environment.pdf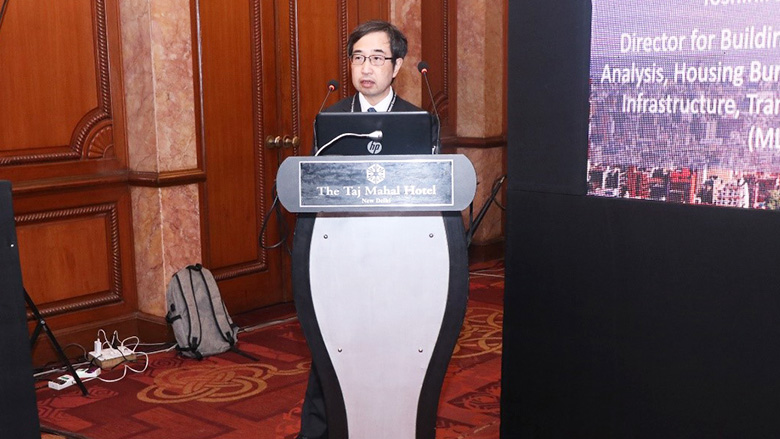 Photo: Mr. Kamatani explaining the Japanese government's initiatives in improving its building regulation systems
The session also benefited from the participation of three other panelists: Mr. Matt Crossman, Head of Resilience, National Infrastructure Commission in UK (Chair of the Session); Jimmy Scott, General Manager of Operations, Queensland Reconstruction Authority in Australia; and Philip Rizcallah, Director, National Research Council in Canada.
The Building Regulation for Resilience session emphasized the significance and reaffirmed the momentum towards advancing this agenda in India and in the region. Out of the session a consensus emerged that effective building regulation should always be incorporated in public debates and policy on DRM and climate change adaptation. To action this point, the Building Regulation for Resilience (BRR) Program has recommended setting up a dedicated working group as part of the IWDRI process to keep stakeholders engaged and maintain momentum for this work in advance of the 3rd IWDRI conference.
With support from the Japan-World Bank Program for Mainstreaming Disaster Risk Management in Developing Countries, the BRR Program has been able to support countries around the globe to better understand their regulatory capacity and the action-oriented next steps they can take to strengthen their legislation, administrative processes, and ability to effectively implement building regulation for their context.