One Basin, Shared Challenges
In the late 20th century floods wreaked havoc on millions of Sudanese and South Sudanese because they were unaware of heavy rainfall upstream in Ethiopia. Without information about upstream flows adequate preparation and responses were difficult. The costs of limited cooperation were clear.
While the waters of the Nile underpin current economic development and livelihoods, and offer significant further potential, cooperation around this remarkable shared resource is critical to reducing water-related risks and building long lasting economic development.
Solving the lack of cooperation seemed an intractable problem. While the Nile basin countries shared similar challenges in growing water demand, environmental degradation, recurrent flooding, droughts, and energy insecurity, distrust and unilateral perspectives was ingrained. In addition, the countries had inadequate information, institutions and capacity, which crippled the ability of countries to cooperate.
Today, however, the story is a different one.
Now we see a Nile region that comes together on a regular basis, making decisions that benefit not just the people of one country, but those of several. Now the countries share information; in Sudan and South Sudan, for example, early flood warnings are issued when rainfall in Ethiopia reaches a threshold. Notwithstanding challenges, we see countries collaborating to conserve and share a vital resource rather than simply scrambling to claim it.
Progress made towards cooperation around shared water resources in the Nile basin has not gone without challenges. Language and culture barriers, differences in wealth and capacity, and issues of conflict and fragility have beleaguered cooperation efforts through the years. But with poverty alleviation and economic growth in the region being highly dependent on the sustainable use and management of the shared Nile waters, the countries persisted.
Finding the Common Ground
The formation of the Nile Basin Initiative (NBI) – an intergovernmental technical partnership of ten Nile basin countries – 20 years ago created a powerful forum for discussion and exploration of the possibilities of cooperative water resources management. But the NBI has provided more than a central meeting place. Through efforts in capacity and institution building, the generation and sharing of knowledge, and support for project preparation and ongoing monitoring, the NBI has been able to break through the so-called glass wall that separated Nile basin countries before its founding.
Through its robust and cross-cutting support of cooperative efforts in the Nile basin, the NBI has been able to help basin countries negotiate, agree to, and prepare 30 projects with regional, shared benefits. Support for institutions and policies at the national level has led to increased capacity within the basin to advance a cooperative development agenda for water resources.
Nile Basin Initiative
The journey of cooperation over the Nile region has been a long one, but the fruits of the effort are evident. The establishment and work of the NBI has led to a pipeline of nearly US$6 billion for investment projects. At the 20th anniversary of the NBI in February 2019, nearly US$1.5 billion of funding is under implementation.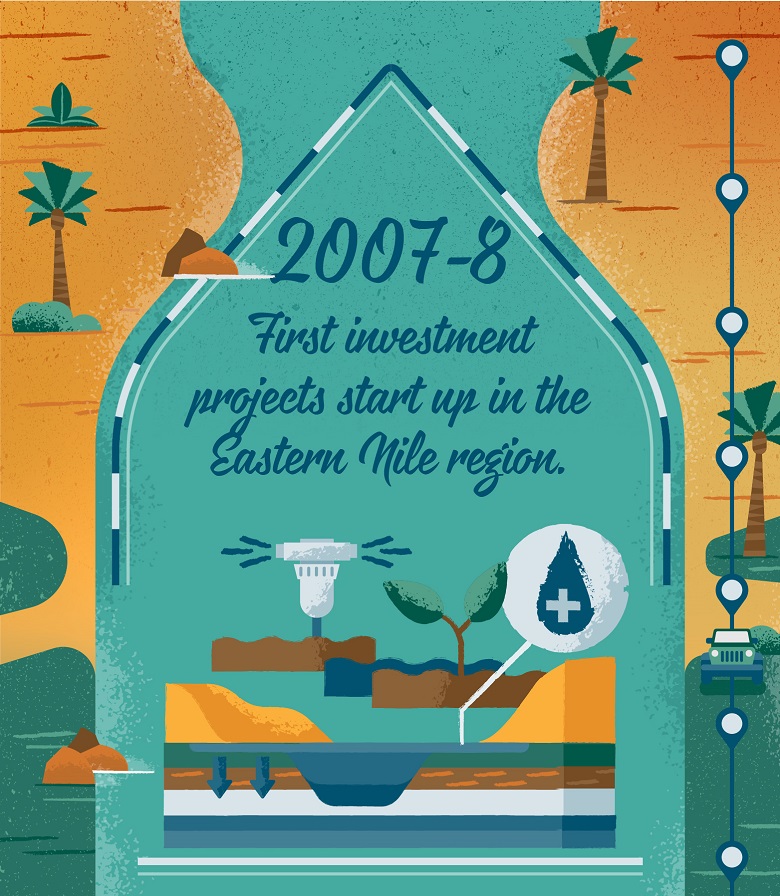 View the full timeline to learn about the important moments in the 20-year history of NBI
From gender inclusion to information gathering to power generation and transmission, the NBI supports cooperation in several key areas for the Nile basin. For example, the NBI has facilitated a number of energy projects, from those that extend and link transmission lines to achieve interconnections to those that promote responsible development and generation of hydropower. They've also worked to ensure that projects build climate resilience, conserve and restore watersheds, and provide benefits to women. Further, the NBI's institutionalization of knowledge sharing means less devastation from floods, and the adoption of regional dam management standards means less risk of dam failure.
The breadth and depth of projects facilitated and implemented by NBI and its subsidiary organizations ultimately mean they are bringing change to millions of people living in poverty.
Strategies for Success
The structure of the NBI enables it to tackle the complex problems and needs of a diverse and large geographic area. It unites the Nile countries under one umbrella via the Secretariat (Nile-SEC) focusing on knowledge generation and cooperation, and two sub-basin subsidiary organizations – the Nile Equatorial Lakes Subsidiary Action Program (NELSAP) and the Eastern Nile Technical Regional Office (ENTRO) – focusing on regional investments and capacity building while collaborating and coordinating with Nile-SEC. Nile-SEC provides unified critical technical and analytical support, timely information, and strategic direction.
Demonstrating their strong institutional capacity, NELSAP recently began using an innovative mechanism to help leverage private sector technology as well as supplement limited public-sector resources.
Meanwhile, ENTRO is showcasing the power of shared information by providing seasonal and weekly flood forecasts for eight consecutive years. The forecasts allow farmers to plan their crops for the season and inform the operations of governmental and relief authorities, all of which reduces property damage and disruption to productivity. Furthermore, daily forecasts and early warnings during the flood season help avert loss of life and livestock. ENTRO is now working jointly with Nile-SEC to develop a short-term-to-seasonal river flow forecasting system for the whole Nile basin.
World Bank Support
The World Bank has been supporting Nile Cooperation since the NBI's inception. The Nile Basin Trust Fund (NBTF) was created in 2001 as a partnership between ten development partners – Canada, Denmark, the European Union, France, Finland, Netherlands, Norway, Sweden, and the United Kingdom – with the World Bank as the administrator of the program. The NBTF inspired the creation of the broader Cooperation in International Waters in Africa (CIWA) trust fund, which supports transboundary cooperation in multiple basins across Africa. CIWA continues the work the NBTF started: helping build a platform for cooperation in the Nile region, expanding the investment portfolio, and providing analytical and technical support to the Nile countries.
Looking Forward
Collaboration in the Nile basin has increased dramatically in the 20 years since the establishment of NBI, but there is still much to be done, including the establishment of a more formal river basin organization once political agreement has been reached. Fortunately, successfully negotiating and completing a cooperative project, be it small or large, often means the countries involved are primed to work together on bigger and/or more complex projects. Since Nile countries have successfully collaborated to plan and secure funding for projects of all types and sizes, they are able to build on their ability to tap into the benefits of cooperative water resources management and protect people and livelihoods from water-related risks.