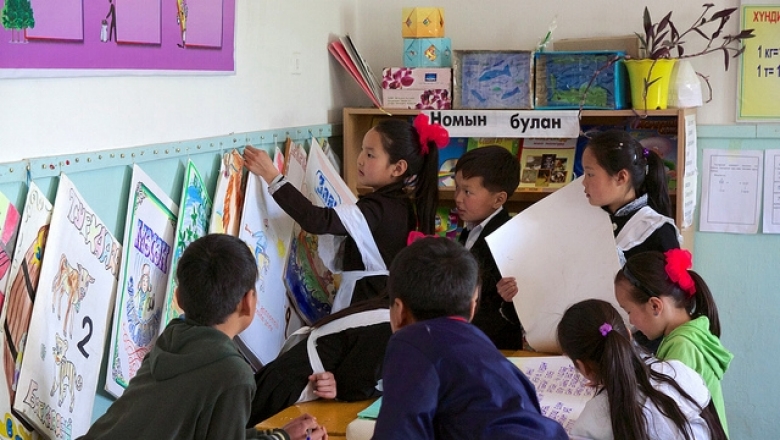 On April 25, 2018, a group of Kazakh parents whose children were attending the Bayannuur School joined a consultation meeting with the project team of Mongolia's Education Quality and Reform Project (EQRP) to share their thoughts on their children's learning needs and experiences at school. The school is located in a rural district near a beautiful freshwater lake, in the far east part of the Bayan-Ulgii (BU) province of western Mongolia. Like most districts in the BU province, the Bayannuur district is predominantly inhabited by the Kazakhs—Mongolia's most populous ethnic minority. One mother from a nomadic family, who traveled 60 kilometers from her remote village to attend the consultation meeting, called for adequate support for children learning the Mongolian language: "Our children need more support for both building foundations in their native Kazakh language and improving their capacity in Mongolian as a second language. Although they learn Mongolian at school from early grades, they still find it hard to pick up and understand the language. After all, it's not our mother tongue, and our children are at a disadvantage in the learning environment." As other parents listened to the mother, they nodded to each other in agreement.
Mongolia is committed to improving the quality of basic education through conducting the assessment of student performance and understanding learning gaps in early grades and strengthening the quality of both summative and formative assessments, The Bank-supported EQRP, which has been implemented by Mongolia's Ministry of Education, Culture, Sciences and Sports (MECSS) since 2014, aims to improve the quality of education for primary school children, with a special emphasis on enhancing native language and mathematical skills, and strengthening school-level planning. One of EQRP's key components supports the national rollout of the early grade reading and math assessments (EGRA and EGMA) of students in grades 1 and 2. Coupled with the training of teachers and on-site monitoring on their appropriate use, these assessments are designed to help Mongolia establish the student learning outcome baselines and monitor their progress in reading and mathematics. The first rounds of EGRA and EGMA were conducted in April and May 2017 in randomly-selected public-school classrooms in Ulaanbaatar and 21 provinces across the country. In total, 1,386 first-graders and 1,380 second-graders participated in these assessments.
The ultimate usefulness of student assessment data such as EGRA and EGMA depends on whether it is properly analyzed, interpreted, and disseminated to policymakers, education authorities, school administrators, teachers, and parents. With the support of a grant from the Russia Education Aid for Development (READ) 2 Trust Fund, Mongolia is working to enhance stakeholder capacity to use assessment data (such as the EGRA and EGMA collected under EQRP) to improve teaching and learning.
Supported by the READ 2 Trust Fund Grant, the analysis of the first rounds of the EGRA and EGMA conducted in 2017 revealed certain learning gaps between children from ethnic minority backgrounds and their Mongolian peers as well as highlighted the overall underperformance of the BU province. In particular, Kazakh students performed worse than their non-Kazakh peers, with an up to 5% gap in EGRA subtest scores and an up to 10% gap in EGMA subtest scores. The analysis also showed that these learning gaps tended to widen as children advanced from grade 1 to grade 2. The ethnic and regional differences in scores corroborated the findings from other recently conducted studies and assessments of other cohorts. For example, five-year-old ethnic minority children who were enrolled in kindergarten lagged behind in cognitive, language, and socioemotional skills and in the grade 5 national assessment, students in the BU province (both ethnic Mongolian and minority students) fell behind their peers in other provinces in all subjects.
In response to these findings and in conjunction with the subnational EGRA/EGMA dissemination workshop in April 2018, which was supported by the READ 2 Trust Fund Grant, the EQRP project team met with local education authorities, teachers, and parents in four rural districts of the BU province to discern needs, concerns, and expectations for children's learning. The meeting with parents at the Bayannuur School and at other schools in the region revealed unmet learning needs and challenges of Kazakh children and identified three major areas that seem to adversely affect Kazakh children's learning.
1. Across the BU province, there is a mismatch between the language of instruction and the learning materials and the centrally-administered state exam. In the BU province, where most children are enrolled in so-called "dual-language" schools, Kazakh is the primary language of instruction and textbooks in grades 1 through 5. While Mongolian language and literature are introduced in grade 2, all other subjects are taught in Kazakh. This mismatch has created challenges that interfere with Kazakh children's acquisition of foundational literacy skills in Mongolian and their achievement in other subjects. As a result, most Kazakh children attain only limited proficiency in Mongolian by the time they take the state exam in grade 5 (which is administered in Mongolian for Science and Mathematics and in Kazakh for the Mongolian language), and thus their scores lag behind their Mongolian peers.
2. Kazakh children and teachers have limited access to adequate and appropriate teaching and learning materials, such as textbooks, teaching aids, and learning supplies (both in Mongolian and Kazakh). Not only are these materials in short supply across Kazakh schools in BU, but Kazakh-language textbooks in all subjects (which often comprise substandard translations of Mongolian textbooks) are of poor quality, out-of-date, and lack cultural and linguistic relevance to Kazakh children. Both parents and teachers expressed concerns that the continuing use of inappropriate materials creates confusion and hinders students' conceptual understanding of subject content.
3. There is a lack of Mongolian-language primary school teachers with adequate training in how to teach Mongolian as a second language, which inhibits Kazakh children's second language acquisition and learning across all subject areas. Most primary school teachers are Kazakhs who grew up in Kazakh communities in Mongolia, graduated from local Kazakh schools, speak Mongolian as a second language, and received pre-service training in the BU province primarily in Kazakh due to their language deficiency in Mongolian. Consultations with the local teacher training college confirmed that most pre-service teachers admitted to having a lack of proficiency in the Mongolian language upon entering the college and that only about half of the college graduates speak decent Mongolian. Moreover, all Kazakh teachers, especially primary school teachers, report that they lack adequate in-service training and professional development opportunities to help them strengthen their pedagogical skills, knowledge, and methods. Despite the advantage of having locally trained teachers in understanding Kazakh children's unique education needs, the language deficiency, when coupled with inadequate and ineffective teacher training, has led to poor teaching practices and classroom instruction.
Based on the findings from the consultations, the EQRP, within its scope and timeframe, will address the identified learning needs of ethnic minority children by customizing certain activities that have been planned under the project. To improve early grade learning (especially in reading and math) and the professional development of teachers in dual-language schools, the EQRP will support the development of: (i) an adult language learning program to improve the Mongolian language skills of teachers from ethnic minority backgrounds, (ii) a teacher training program to introduce children from ethnic minority backgrounds to reading in Mongolian, and (iii) a package of activities to improve native language reading skills among children from ethnic minority households, starting with the Kazakh language. Furthermore, supported by the READ 2 Trust Fund Grant, the project team is developing formative assessment instruments that will track reading and math skills in grades 1 and 2, as well as associated teacher training plans and manuals on the use of such formative assessments to inform teaching practices.
Ultimately, these initiatives are expected to close learning gaps in Mongolia and improve the learning environment and outcomes for children in dual-language schools. Progress on this front can be tracked in future rounds of EGRA and EGMA, expected to be conducted next in Mongolia by 2020.