Situated around the "Pacific Ring of Fire," APEC economies face significant threats from natural disasters and recognize the need to develop more robust financial management solutions for mitigating disaster risk. With the aim of tackling this common agenda, the APEC Workshop on Financial Management of Public Assets against Disaster Risks was held on June 21-22, 2018 in Tokyo, Japan, as part of a series of activities of the Working Group (WG) on Regional Disaster Risk Financing (DRF) Solutions for APEC economies, under the co-chairmanship of the Philippines and Japan, with technical support from the World Bank Group's Disaster Risk Financing and Insurance Program (DRFIP) and the World Bank Tokyo Disaster Risk Management (DRM) Hub.
This two-day workshop convened practitioners from finance ministries in APEC member economies to exchange knowledge and experiences specifically on (i) database management, (ii) disaster risk and damage assessment, and (iii) public asset insurance arrangements against climate and disaster risks. Designed as an informal and interactive knowledge exchange, the meeting enabled participating economies to share experiences and practical lessons for public asset management against natural disaster risk, and discuss future plans towards strengthening operational frameworks and implementation of the schemes. The workshop was followed by a visit to the Kanto Regional Development Bureau of the Japanese Ministry of Land, Infrastructure, Transport and Tourism where participants had the chance to learn more about the ministry's road and river asset management database system.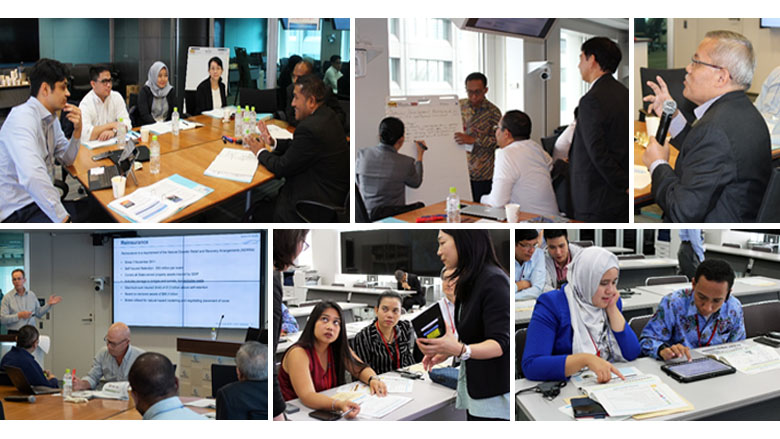 Photo: Participants engaging in discussions at the workshop and learning about MLIT Kanto Regional Bureau River and Road Data Asset Management System
In attendance were representatives from the finance ministries of the following APEC economies: Chile, Taiwan, China; Indonesia, Japan, Malaysia, Mexico, New Zealand, Papua New Guinea, Philippines, Russia, and Vietnam. Also in attendance were the representatives of the following organizations: Queensland Government Insurance Fund (QGIF) and Queensland Reconstruction Authority (QRA) from Australia, Asian Development Bank (ADB), Tokio Marine & Nichido Fire Insurance Co., Ltd. (a Sherpa of Asia Pacific Financing Forum), Fujitsu Ltd. (on behalf of Japan Bosai Platform), Japan International Cooperation Agency (JICA), Risk Management Partners Ltd, and World Bank (WB).