South Asia is home to a quarter of the world's population and accounts for 36% of the world's poor and nearly 50% of the world's malnourished children. The sub-region remains plagued by major development gaps towards which greater regional integration can help devise joint solutions.
In light of this, over 100 top economics undergraduates and faculties from seven countries in South Asia convened in Chittagong, Bangladesh for the 14th South Asia Economic Students' Meet (SAESM) to discuss how regional integration can help achieve the Sustainable Development Goals (SDGs) in South Asia.
Launching the meet, Professor Rehman Sobhan, Chairman for the Centre for Policy Dialogue (CPD) of Bangladesh, shared his thoughts on how we need to build the road to re-integrating a once integrated South Asia. "In my lifetime, I stood for 3 national anthems – for India till 1947, Pakistan till 1971 and Bangladesh since then. South Asia has become a permanent casualty of the territorial division and historic conflicts. There is life ahead of you – you can stretch your imagination to build the region or divide it, the choice is yours!"

Stirred up with the spirit of One South Asia, students shared their vision of creating a sustainable integrated region, presenting prospects for realizing the SDG themes of no poverty and zero hunger, good health and wellbeing, quality education, gender equality, clean water and sanitation, affordable and clean energy, and sustainable cities and communities in South Asia. Their papers were judged by eminent academicians, picking a winner in each sub-theme. Students from India and Pakistan jointly won the Sen-Haq award for best overall paper.
With a unique spirit of competition and collaboration, students also participated in debate competitions, quiz contests and the budding economist competition – one of the most intense competitions involving paper submission, a written exam on micro-, macro- and development economics, a visual round where pictures have to be creatively described using economic theories, and finally a publicly held panel interview. Archit Jain from St. Stephen's College, Delhi, won the Budding Economist of South Asia 2018 award.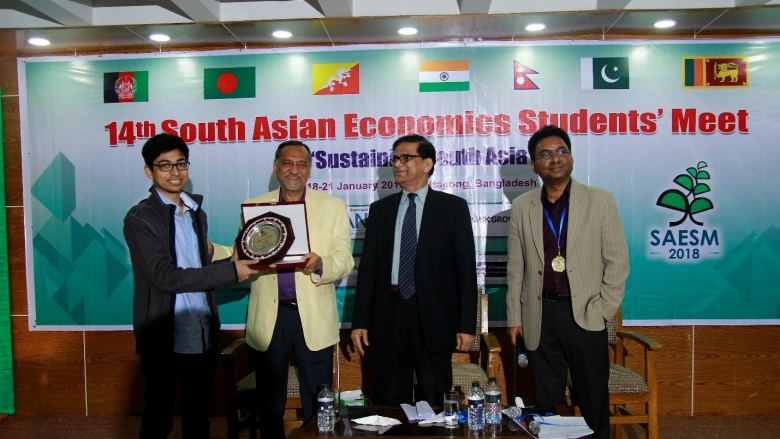 In all the competitions, students were challenged to apply economics theories learnt in the classroom to real time issues of the region. Eminent economists shared their experiences with students addressing various aspects of promoting regional integration in a South Asian context. Talking about trade, Sanjay Kathuria, Lead Economist at the World Bank said, "today, it's cheaper for India to trade with Brazil than with Pakistan. Land-locked countries and other pockets of isolation suffer disproportionately from the lack of intra-regional trade. We need to look at win-win possibilities for regional cooperation."