While Japan is a technologically advanced country, it is also one of the most exposed countries to natural hazards in the world. Given this unique context, Japan is a pioneer in garnering innovative solutions and creating knowledge to develop and utilize science and technology as a critical tool to strengthen resilience – of its people, infrastructure and built environment, and its governance systems.
On February 23, 2018, the Government of Japan, the World Bank, the Global Facility for Disaster Reduction and Recovery (GFDRR), and the Japan International Cooperation Agency (JICA) hosted an event, "TECH 4 BOSAI: Leveraging Japanese Technologies for Resilience," at the World Bank headquarters in Washington D.C. The event showcased how Japan utilizes science, technology, and innovation (TECH) in its disaster risk reduction and management efforts – also known as "BOSAI" in Japanese.
Technology and digital solutions are rapidly increasing importance within the World Bank as critical elements to the solutions we can provide to support client country partners achieve poverty reduction and shared prosperity. By showcasing Japan's expertise on leveraging technologies for disaster risk reduction, the session catalyzed discussions on how TECH solutions can strengthen resilience within a larger development context.
Technology for Disaster Risk Reduction in Japan: An Overview
Incorporating Science and Technology for Disaster Reduction, the Japanese Experience (PDF)
Dr. Satoru Nishikawa, Executive Director for Research for Japan Center for Area Development Research, highlighted key enabling environments (including but not limited to the disaster history, policy context, the roles of government, academia, and private sectors) and showcased why and how Japanese technologies have evolved to strengthen disaster risk identification, risk reduction, and disaster management.

Innovative Science and Technology for Reducing Water-related Disaster Risk (PDF)
Professor Toshio Koike, Director of International Center for Water Hazard and Risk Management (ICHARM), introduced Japanese innovative science and technology initiatives & tools of ICHARM and DIAS. The initiatives cover Climate Change, Data Integration, Rainfall Runoff and Inundation (RRI) simulation model Agricultural Drought Monitoring and Prediction, and others as a holistic approach.
TECH 4 BOSAI: Role of the Private Sector and JICA
As an expert on innovation and the Sustainable Development Goals, Mr. Hiro Nishiguchi, President of Japan Bosai Platform, highlighted the importance of joint efforts among the World Bank Group, JICA, and Private Sector to have the highest social and business impacts and introduced two Japanese TECH firms which are Japan Bosai Platform members. Following their presentations, JICA presented their initiative to connect Japanese technologies with needs in developing countries.
Uses of Information and Communication Technology (ICT) for Disaster Risk Reduction (PDF)
Mr. Toshihiro Hatta, Senior Specialist at NTT Data Corporation introduced examples of how ICT strengthens DRM capacities in Japan and in ASEAN countries. Examples was shared on ICT applications for: (1) Integrated Early Warning System, (2) Disaster Information Sharing System, and (3) SNS Data Analysis System. NTT DATA Corporation is one of the major system integrators in Japan. Drawing upon their extensive experience in both public and private spheres, Mr. Hatta provided lessons learned and good practices on developing, operating and maintaining IT systems that enhances disaster resilience of national and local governments, as well as critical infrastructures and industries.
Implant Structure Technology for Disaster Risk Reduction (PDF)
Mr. Hisanori Yaegashi, Operating Officer for International Business, GIKEN Ltd introduced cutting edge technologies to strengthen resilience of critical infrastructure in face of disasters such as earthquakes and tsunamis. Drawing upon design and application of GIKEN Implant Foundation, Mr. Yaegashi showcased how their unique technology for slope stabilization and strengthening foundation enabled disaster risk reduction in Japan and internationally.

JICA's Experiences of Connecting Japanese Technologies for Disaster Risk Reduction in Developing Countries (PDF)
Mr. Junji Wakui, Deputy Director General of Disaster Risk Reduction Group of JICA, introduced JICA's initiative on the Science and Technology Research Partnership for Sustainable Development (SATREPS), and shared lessons learned in applying cutting edge technical research to strengthen resilience in developing countries. Mr. Wakui highlighted some of the key operational requirements that would enable STI to be more applicable and used on the ground.

TECH 4 BOSAI From Futuristic to Realistic (PDF)
Taking the lessons learned of developing and applying TECH solutions to strengthen resilience in Japan, the panelists explored how the knowledge and solutions may contribute to supporting middle and low- income countries better reduce disaster risks. Prof. Kimio Takeya, Distinguished Technical Advisor to the President of the Japan International Cooperation Agency (JICA), explained that applications of innovative DRM TECH solutions require extensive pre-investment in human resources, data collections, and system architectures through building standards and legal and institutional frameworks. While creating such an enabling environment for innovation takes time, Mr. Takeya reiterated that innovative TECH solutions are essential to achieve sustainable development goals. The panelists concluded the session highlighting the importance of strengthening partnerships among major development partners, country governments, and the private sector to further integrate technology for disaster risk reduction.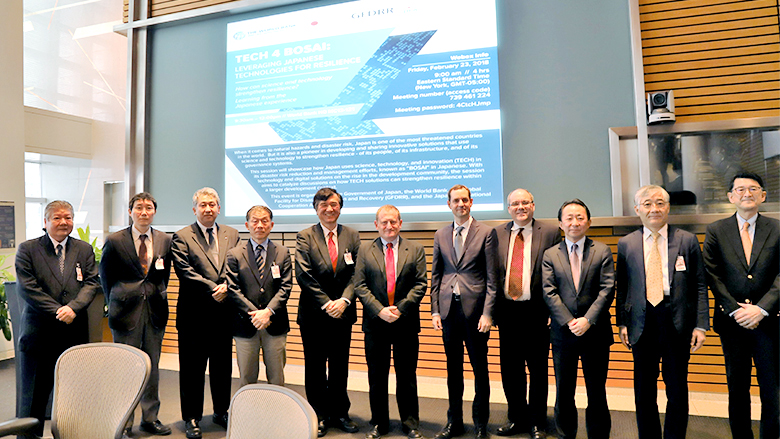 Group Photo after the event (from left: Mr. Toshihiro Hatta, Senior Specialist, NTT DATA Corporation; Mr. Junji Wakui, Deputy Director General for Disaster Risk Reduction Group, Global Environment Department, JICA, Mr. Hisanori Yaegashi, Operating Officer, International Business, GIKEN Ltd, Prof. Kimio Takeya, Distinguished Technical Advisor to the President of the Japan International Cooperation Agency (JICA)/ Visiting Professor, Tohoku University, International Research Institute of Disaster Science (IRIDeS), Dr. Satoru Nishikawa, Executive Director for Research, Japan Center for Area Development Research, John Roome, Senior Director for Climate Change, Francis Ghesquiere, Head of GFDRR, Ede Jorge Ijjasz-Vasquez, Senior Director, GSURR, Mr. Hiro Nishiguchi, President, Japan Bosai Platform (JBP), Prof. Toshio Koike, Director of International Center for Water Hazard and Risk Management (ICHARM) under the auspice of UNESCO, and Mr. Kazuhiko Koguchi, Executive Director for Japan at the Board of the World Bank Group) – Photo Credit World Bank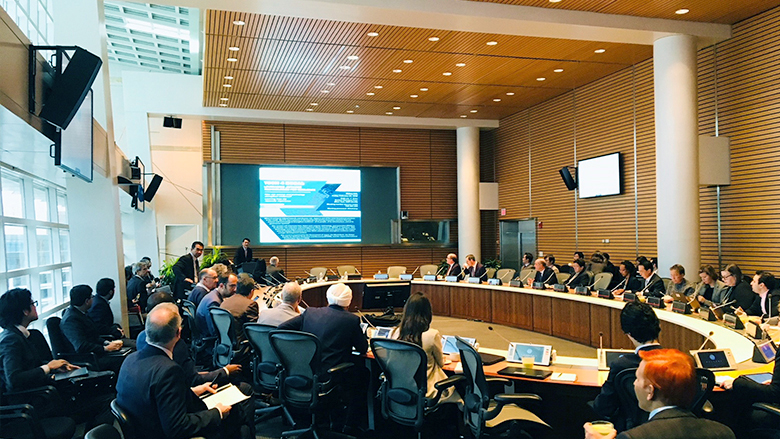 Participants at the TECH 4 BOSAI event at the World Bank Headquarters on February 23, 2018 – Photo Credit World Bank